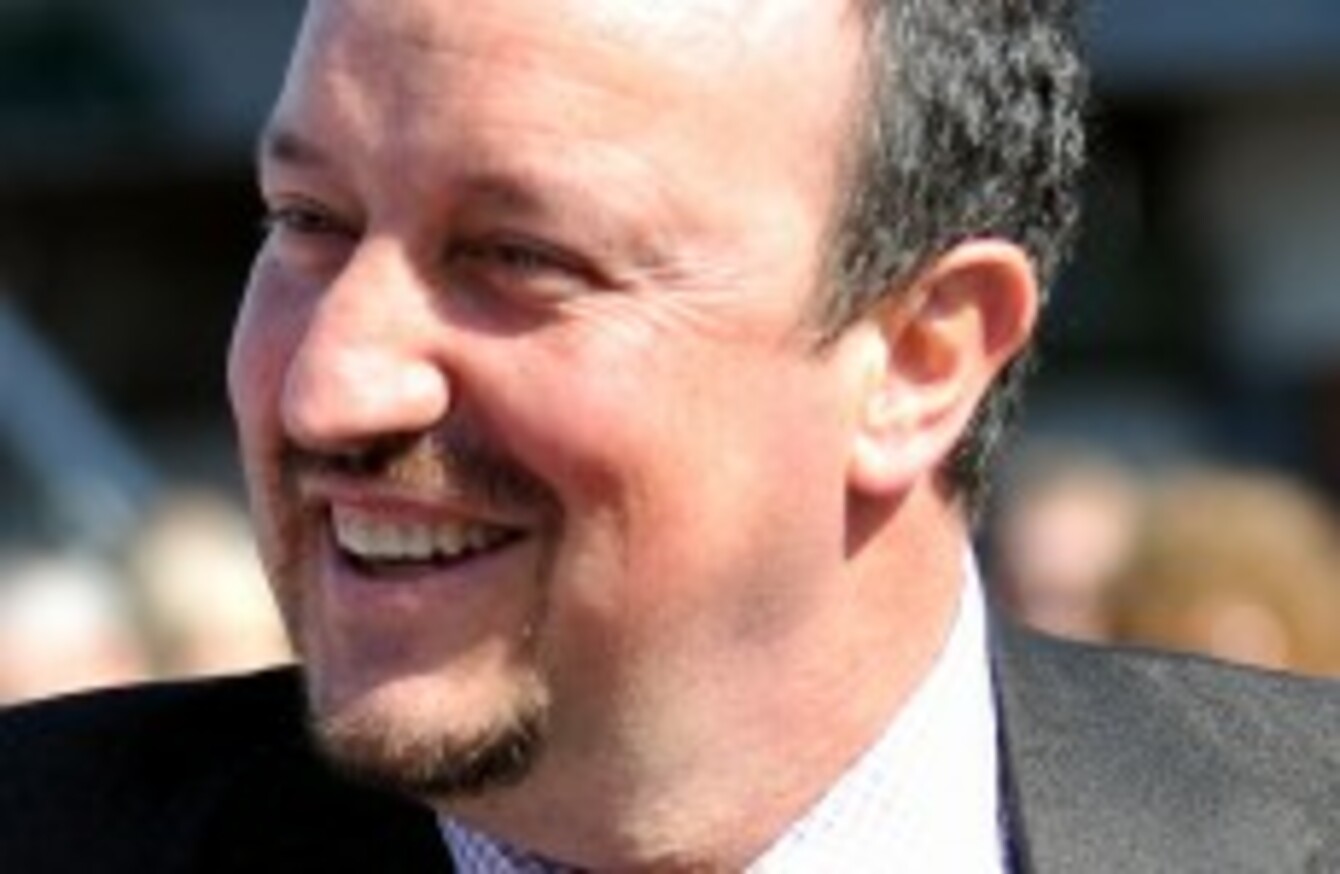 Rafa Benitez
Image: Neal Simpson/EMPICS Sport
Rafa Benitez
Image: Neal Simpson/EMPICS Sport
RAFAEL BENITEZ HAS said that he will listen to any offers that come his way but insists that he is looking to manage a club that will fight for trophies and preferably in the Premier League.
Speaking to TheScore.ie last night in Dublin, the former Liverpool boss would not be drawn on the specifics of a possible offer from Chelsea but did not rule out the possibility of taking up the reins at Stamford Bridge following the weekend departure of Andre Villas Boas.
"I don't like to talk about what will happen," he said when asked about the possibility of moving to Chelsea. "So I think that the first thing is that if someone wants to make an offer, I will listen to the offer and after we will analyse it. But at this moment you can say – because it depends on the offer – that you never know."
The 51-year-old was speaking after being awarded the Gold Medal of Honorary Patronage from The Philosophical Society at Trinity College Dublin. Benitez was cited for his 'outstanding contribution to sport' and gave a talk on his career and his managerial style entitled: 'Belief, Determination and Success'.
Benitez has been out of work since he left Inter Milan in December 2010 but has continued to play an active role in football, regularly appearing as a pundit on Sky Sports' coverage of Spanish football as well as developing a coaching and tactics programme for the iPad which he hopes to market at some point in the future.
He told TheScore.ie that if he was to take up a managerial role he would want the opportunity to compete for trophies and said that while there had been big money offers to manage clubs, he did not feel they were right for him.
"You want to win trophies, you want to have the opportunity to fight for trophies," he said. "I have received offers from different countries, some of them massive money but it wasn't the money. My idea now is to have a good team.
"The priority is [to manage in] the Premier League. Why? Because I know the league, I know the style, I think that we can do well. My family is settled down here. If I cannot find a top side that you can fight for trophies, okay I will look around. But now I am waiting because the offers, they were not the right offers."
Liverpool days
Benitez continues to live at his home in Wirral where he was based during his time at Liverpool between 2004 and 2010. He plays an active role in raising money for local charities in Merseyside through his wife's organisation, the Montse Benitez Foundation.
Devoting a large amount of his talk to students and invited guests at Trinity last night to his time at Anfield, he sought to challenge some of perceptions of his team whom he guided to European and FA Cup success as well as second place in the Premier League in 2009.
He pointed out that during two of his seasons at Anfield, his side were the best in the league at defending corners using the much-criticised zonal marking system and challenged the portrayal of him as consistent rotator by pointing out that Alex Ferguson rotated his Manchester United team more during the time when the pair were adversaries.
On media criticism during his time at Anfield, he said: "It's difficult because when I had the conversation with the journalists after the press conference or we had the press conference before the game everything was fine. But little by little some of them would say 'Oh no, I think this…' Maybe they were not analysing the figures. You have seen the numbers, so it's strange but it was like this."
Of the current Liverpool regime, Benitez offered his belief that Kenny Dalglish needed to remain in charge "for a while" but said the club made mistakes in the aftermath of his departure after the club finished seventh in 2010.
"The problem is that people are talking about Liverpool: 'Oh they have changed, it's a work in progress'. But you had Hodgson in the middle and all the signings of Hodgson were not good enough. You had just one, Meireles, and they sold Meireles. So I think they made too many mistakes, the club," he said.
Benitez said he had enjoyed his brief trip to Dublin and hoped to return with his wife next time. Admitting to being "a little bit surprised" at being invited to speak at Trinity, he attempted to learn a bit more about the historic TCD.
"I was trying to know exactly what was going on and a little bit about the history and the Book of Kells and all these things and I was really impressed," he told the press.
"I say that I will bring my wife because she's a lawyer and she used to be in this environment all the time because she was a teacher also in a university. So I think that she will enjoy it."
Stay tuned to TheScore.ie for more from Rafael Benitez on Ireland, Robbie Keane and their chances at Euro 2012 later this week.