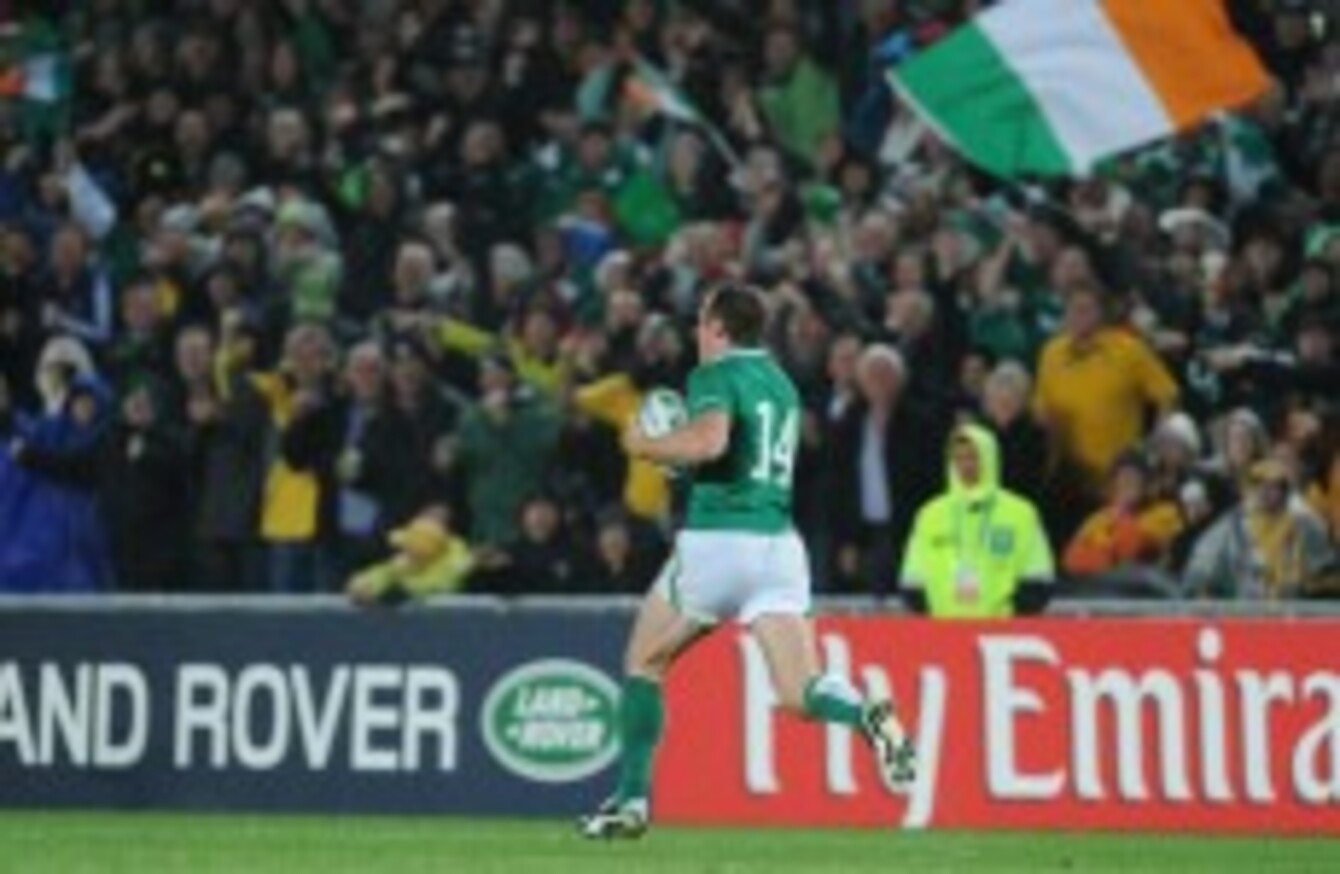 Tommy Bowe races towards the Australian line in the game's dying moments.
Image: Ross Land/AP/Press Association Images
Tommy Bowe races towards the Australian line in the game's dying moments.
Image: Ross Land/AP/Press Association Images
Ireland 15-6 Australia
HOPE IS ALWAYS the most painful thing to hang on to in sport, and when it flickered to life in the opening half, Irish people had to ask if they wanted to put themselves through it all again.
It was one of those away games where the fans proved themselves a powerful force, ever more so as the game raced on.
In spite of all the negativity over the last year, the collective belief grew and grew, coming first from the players on the field, then to the fans, then back to the players, until all 55,000 happy shamrocks in Eden Park decided that this just wasn't a day to be denied.
It was a performance plucked from the gods.
There was no form line to go on, besides the blip that was the England Six Nations win, but right from the off they were changing the point of attack with O'Driscoll and O'Connell making line breaks; D'Arcy leaping up to take an Australian 22 dropout; and Rory Best, of all people, bursting past a defender before deftly switching inside to Keith Earls.
Over and over, you had to remind yourself this was Australia, Tri-Nations champions and habitual ender of Irish World Cup dreams.
Schoolyard bullies
In his short but brilliant career, never has Will Genia been bottled up and driven backwards like a small child, Stephen Ferris the enforcer on that occasion.
Nor has Quade Cooper been folded in half like cardboard, Cian Healy putting in one of the all-time great shoulder tackles on the out-half. It turned out to be one of many significant plays from Healy as he trundled and barrelled and scrummaged his way to a man of the match performance.
The 10 out of 10s came all over the field, in truth, with O'Connell, D'Arcy, Ferris, O'Driscoll and Sean O'Brien all looking the great players they always were.
Indeed, there were more quality offloads and constructed line-breaks in the first half-an-hour than in the previous five games combined, and there was even a Donncha O'Callaghan hack-through for good measure — always a portent of great things.
It was 6-6 at the break, and it could have been better if not for an incredible decision by referee Bryce Lawrence and two missed penalties by Sexton. It robbed Ireland of what would have been a deserved lead, but the body language running into the tunnel was alpha male, and the standing ovation from the crowd didn't do them any harm either.
The second half was better again. The intensity grew, the scrum dominated, Ferris and O'Brien ran around like schoolyard bullies, and that strange mutated defensive technique designed by Les Kiss began to bear fruit as the turnover count went in Ireland's favour.
There could have been a try to cap it all too, Tommy Bowe intercepting near his own line only to be caught by James O'Connor just shy of the Australian line.
Wide open
The players and coaches wouldn't admit to it in the post-match press conference but this feels better and bigger than the grand slam, because rugby union is ultimately measured by what the southern hemisphere do, and what you do to them.
In all the great things this group has accomplished, an important win over a Tri-Nations side was never within reach.
The quarter final isn't quite here yet, but this wasn't a last fling, it was a concrete foundation on which to build for the rest of the tournament.
A tournament that's now been blown wide open for Ireland and for all the other contenders.