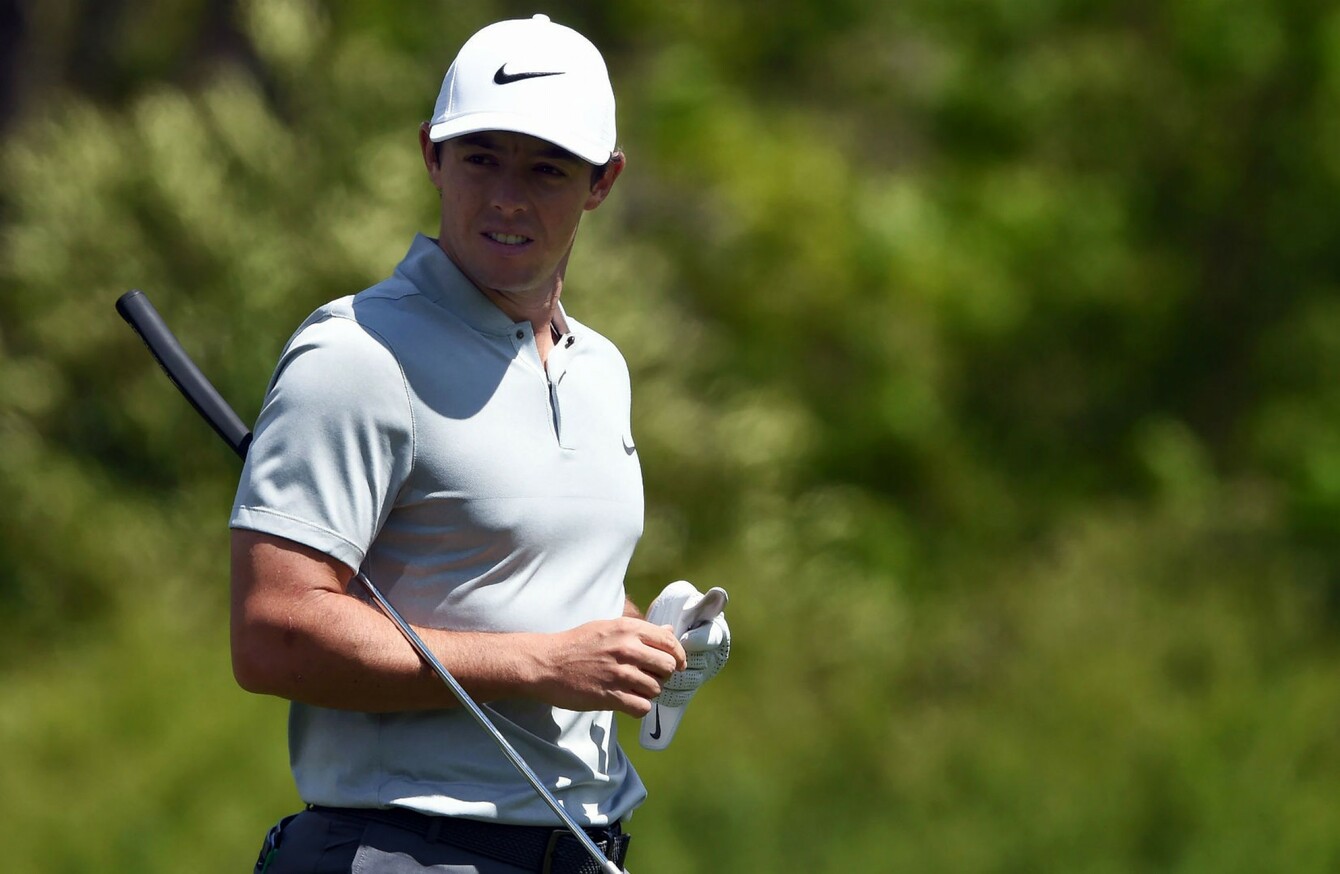 Rory McIlroy on his way to a second-round 71.
Rory McIlroy on his way to a second-round 71.
AN EXCITED Rory McIlroy is looking forward to battling against tough Augusta conditions this weekend after putting himself firmly in contention for a first green jacket.
With swirling winds and fast greens playing havoc with scorecards on round two, McIlroy contended brilliantly with the elements, a back-nine charge taking him to three under for the tournament.
The Northern Irishman was just one of a handful of players to break par as round two neared a conclusion, birdies at 13, 15 and 16 helping him close in on reigning champion and leader Jordan Spieth, who was six under with three to play.
McIlroy saved par at the last with a terrific up and down, his strong finish offering a welcome contrast to bogeys on the 16th and 18th the previous day.
"It feels great [to be under par], the course is playing awfully difficult out there as you can see and the scoring is reflecting that," he told Sky Sports.
"Once I made bogey at 11 I knew that the two par fives [at 13 and 15] were gettable for me and if I could maybe sneak one or two more in then I'd be really happy.
"Thankfully that's what I was able to do. I came off the golf course last night disappointed with how I finished but I'm feeling a lot better after that finish. It's a great position going into the weekend.
"I'm very excited, obviously. This is my best position going into the weekend at Augusta for some time and hopefully I can go out there tomorrow [Saturday] and battle away again.
"I think the conditions will be similar so I have to battle away, play another good round of golf and hopefully I can give myself a great chance on Sunday."
At one stage it looked as though Spieth – a wire-to-wire winner of the Masters in 2015 - would pull clear as he birdied two of the first three holes to get to eight under.
However, a double bogey at five curtailed his momentum and the Texan had to work hard to maintain his lead thereafter, as playing partner and amateur Bryson DeChambeau produced a stunning display to reach four under.
McIlroy admitted he could not resist checking on his rival's progress.
"Yeah, I knew what was happening," he added. "I'm a bit of a leaderboard watcher, I like to know where I stand going into the weekend.
"I think three under par is the best in the clubhouse at the minute and if no one really does anything on the back nine [I will stay there].
"I want to try and get in that final group, that's the position I'm in at the minute. It was my objective over the last few holes and thankfully I played them well."