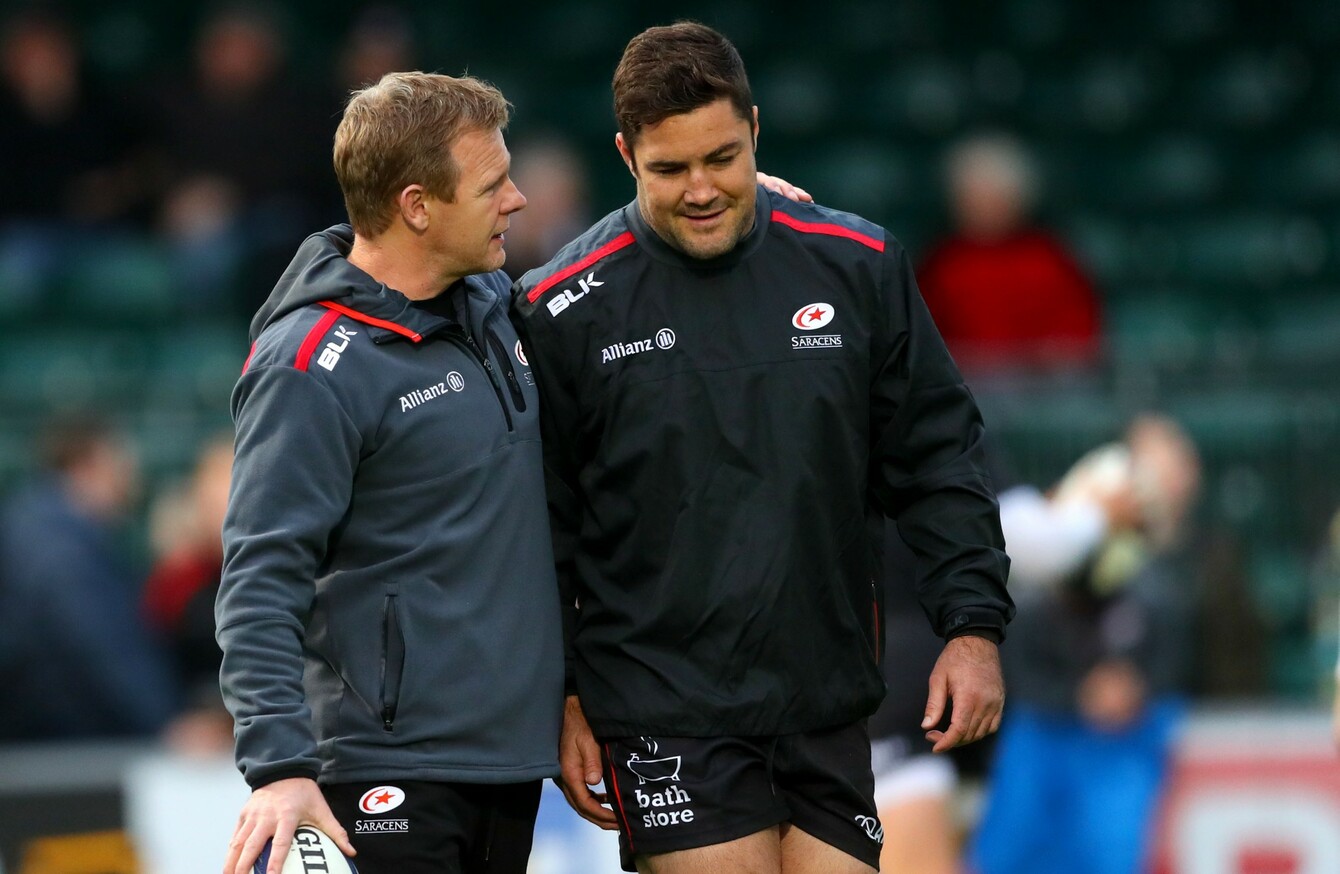 Image: James Crombie/INPHO
Image: James Crombie/INPHO
SARACENS ARE THE most formidable foe for Munster to take on in the Champions Cup semi-final tomorrow.
And yet, being an English club and coming here so soon after another Grand Slam drive was derailed in Dublin, it's easy for the positive side of our national psyche to cast them into a certain bracket.
There's no getting away from it, Irish provinces love few things more than the prospect of a frenzied ambush of a Premiership high-flier.
Saracens though, are far from your garden variety English club. They are the self-styled Wolf Pack, the willful pooper of parties, a well-oiled machine that is entering the European Cup semi-finals for the fifth year in succession. The champions know their way around this tournament and centre Brad Barritt doesn't expect anyone emerging from his dressing room to be over-awed by the atmosphere at the Aviva Stadium.
"As rugby players, to play in these big arenas in front of packed crowds is why you pick up a ball. To not enjoy, to not savour it, would be a waste," the Durban born centre contended across a phone line that crackled and cut out like he was already walking underneath the Aviva's mesh of concrete and steel.
"We don't see it as an intimidating factor. We know it will be a galvanising force for Munster, but on the flip-side we know what a galvanising force it is for Saracens. Such is our culture and togetherness we love the opportunity to fight for one another and this weekend is going to be no different."
Saracens certainly have form in upsetting what could have been fantastically festive home occasions. Just last May they went to the south of France and kicked their way to their overdue first European title. In 2014, they went to a Ravenhill so freshly refurbished that you could literally smell the paint. Ulster somehow kicked in to overdrive after Jared Payne was red carded in the opening minutes. But Sarries' stubbornness held out longest and they ground out the ugliest of wins.
They would take another two-point win tomorrow, certainly, but as their years at the top have worn on Saracens have developed a much more rounded gameplan based on lightning quick breakdown ball and electric outside backs.
"The basis of what we're about has always stayed true. We've always prided ourselves on our defence and being a team that can have a pragmatic way, but in the last two or three seasons a cutting edge to what we do in attack which has allowed us pull away from teams.
"Each year the team has evolved and that's been the hallmark. We've never stood still, always a hunger and desire driven by Mark in terms of the team evolving year in and year out."
That's Mark McCall Barritt is heaping praise towards. The former Ulster coach will complete his eighth season with the club this summer. First as coach and now director of rugby, his tenure has coincided with an incredible rate of success.
Mark is the rock and he's at the core of everything good about Saracens. He has an unbelievable rugby brain and widely admired across the rugby world.
"More importantly, he echoes everything we do on the field: his work-rate is second to none and he brings a humility to the job which is probably underplayed.
"He's at the core in terms of coaching and a brilliant man to have as part pf the team. We're lucky to have him as  such a huge component of this Saracens team."
Only a matter of time then, before a national team comes to seek his services?
"Without a shadow of a doubt, I think he's one of the best coaches in rugby. He'd be an unbelievable international coach. It comes down to what he wants to do. Speaking on Saracens part, it would be a sad day if he decided to do that."
It's a sentiment that rings true for Munster these days too. What Rassie Erasmus has delivered in his first 10 months in charge is incredible, but success at provincial level inevitably gives national unions a taste for change. For now, and hopefully much longer than that, Erasmus and defence coach Jacques Nienaber will present a team to pose anyone in Europe problems.
Champions and perennial challengers or not.
"(Munster) have been a phenomenal defensive team and you can see that right through the Pro12 and Champions Cup games. They're just very streetwise in their ability to either see the opportunity at the breakdown or leave it alone. The line-speed has been a constant weapon for them throughout the season, that definitely sets up the game….
"It's always fine margins when you get to play against the best. It often comes down to discipline, it comes down to staying on task and making sure the hype of the game doesn't get to you.
Having the experience tells you what's required to win at that level. But an away semi in Ireland is a new challenge for us. We're all excited about playing in the Aviva Stadium against a great team like Munster.
"We understand how well Munster fans travel and we expect there to be 50,000 Munster men at the game. It's very much going to be an away game for us, but this Saracens team has always thrived on these scenarios in the past. Going to great arenas in front of an away crowd, it's one we really relish."
The42 is on Instagram! Tap the button below on your phone to follow us!