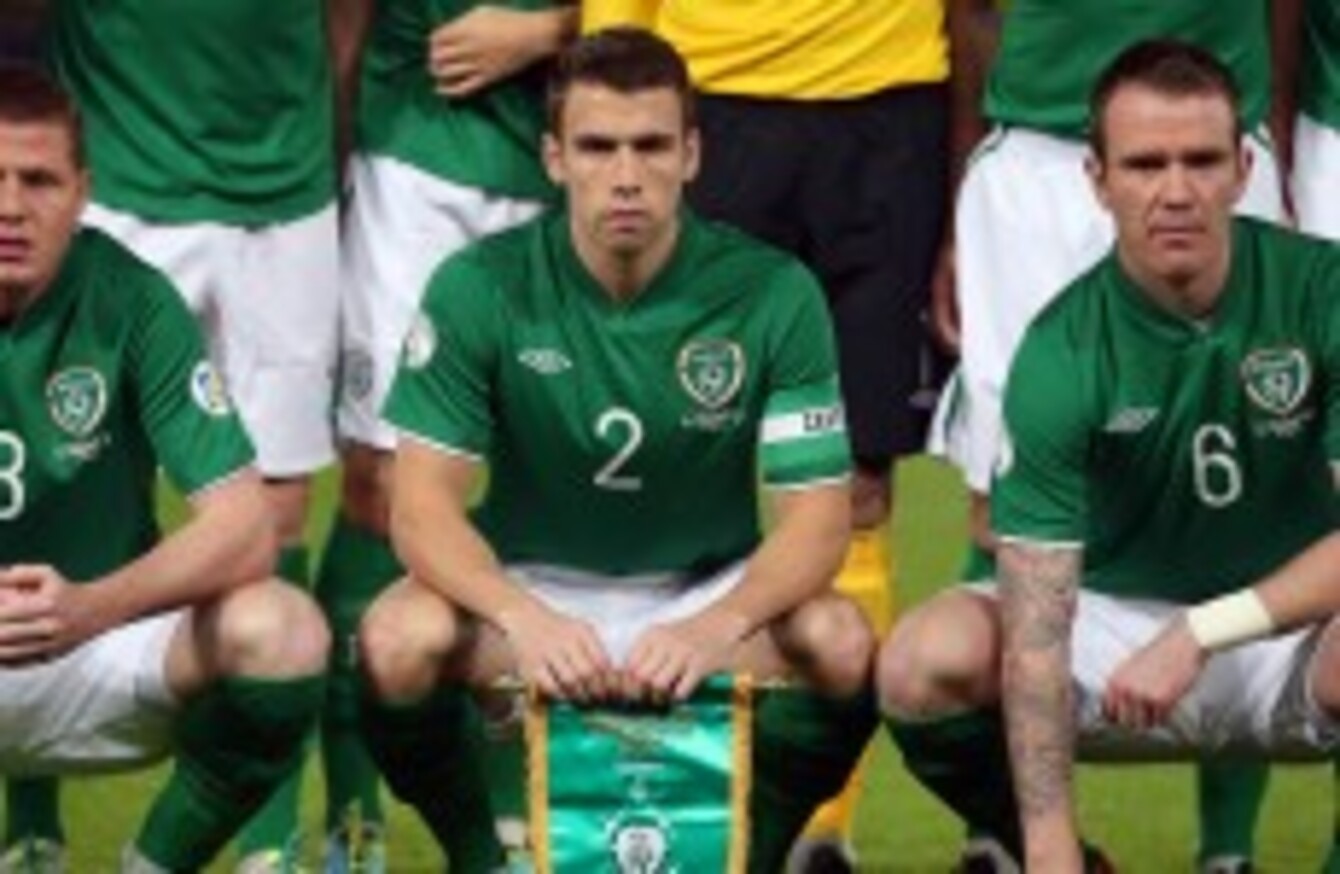 Seamus Coleman was named as captain against Germany.
Image: INPHO/Donall Farmer
Seamus Coleman was named as captain against Germany.
Image: INPHO/Donall Farmer
IT MAY HAVE been something Seamus Coleman has always dreamed of doing, but he doesn't see his brief stint as Ireland captain under Noel King as an honour he can expect again in the near future.
Indeed, the Everton star is convinced that current captain, Robbie Keane, will be around for a long time to come.
"It was a massive honour for me, something you always want to do as a kid and thankfully I got to do it. I really enjoyed it but I'm just looking forward to getting playing again. Robbie will be about for a while. He's still scoring goals and he's someone we need. We'll see what the new managers think.
"I'm happy to be in the starting 11."
While most observers would say Coleman undoubtedly deserves a place in the starting XI, the Donegal native takes nothing for granted when it comes to making Ireland squads, and treats every game as if it's his debut.
"I've been around quite a while. My caps probably haven't shown that but I've been in the squad for about four years. I'm very comfortable with everyone but when I get on the pitch I just treat it like it's my first cap. I'm really enjoying it and hopefully we can have a successful time."
The 25-year old thinks it's important that Ireland ends the year on a high after the disappointment of missing out on World Cup qualification and that a pair of good results in the up-coming friendlies could kickstart the Martin O'Neill/Roy Keane era.
"For some of the games against Germany and Sweden we had a full house and the atmosphere was brilliant and we just didn't get the results. It would be nice to get the atmosphere up and running again.
"The European Championships qualifying campaign feel like a long way away but that's what we're aiming for now. All these friendlies are important for us to show the manager what we can do and for him to show us the way he wants us to play. That's the long-term aim."
And just what does Coleman make of the new management team?
"I think everyone is excited. Everyone knows about Roy who was a fantastic player and someone we can all learn from, and Martin has been a fantastic manager so it's a brilliant appointment for Ireland. It's up to us now on the pitch to impress them.
"There's no games for quite a while so it's up to us in this short period, if we get selected for the games, to do as well as we can. Then when we go back to our clubs we've got to play well because I'm sure they will be watching most club games. It's up to us to do as best we can."

Coleman talking to the media.
Image: INPHO/Cathal Noonan
And if Coleman performs as Irish fans know he can, then it's unlikely he'll have to face the bad cop Martin O'Neill has threatened to unleash on the players.
"I haven't seen that side of [Keane] yet. Hopefully I'll never be on the receiving end. In every job, your assistant manager and your manager, you have to have some kind of fear and respect for them. As players you know when you've done wrong. If I've done something wrong and a manager has a go at me, I'll take it on the chin because I think it's good that they've pointed out that you've made a mistake.
"It'll be no different under these two managers."