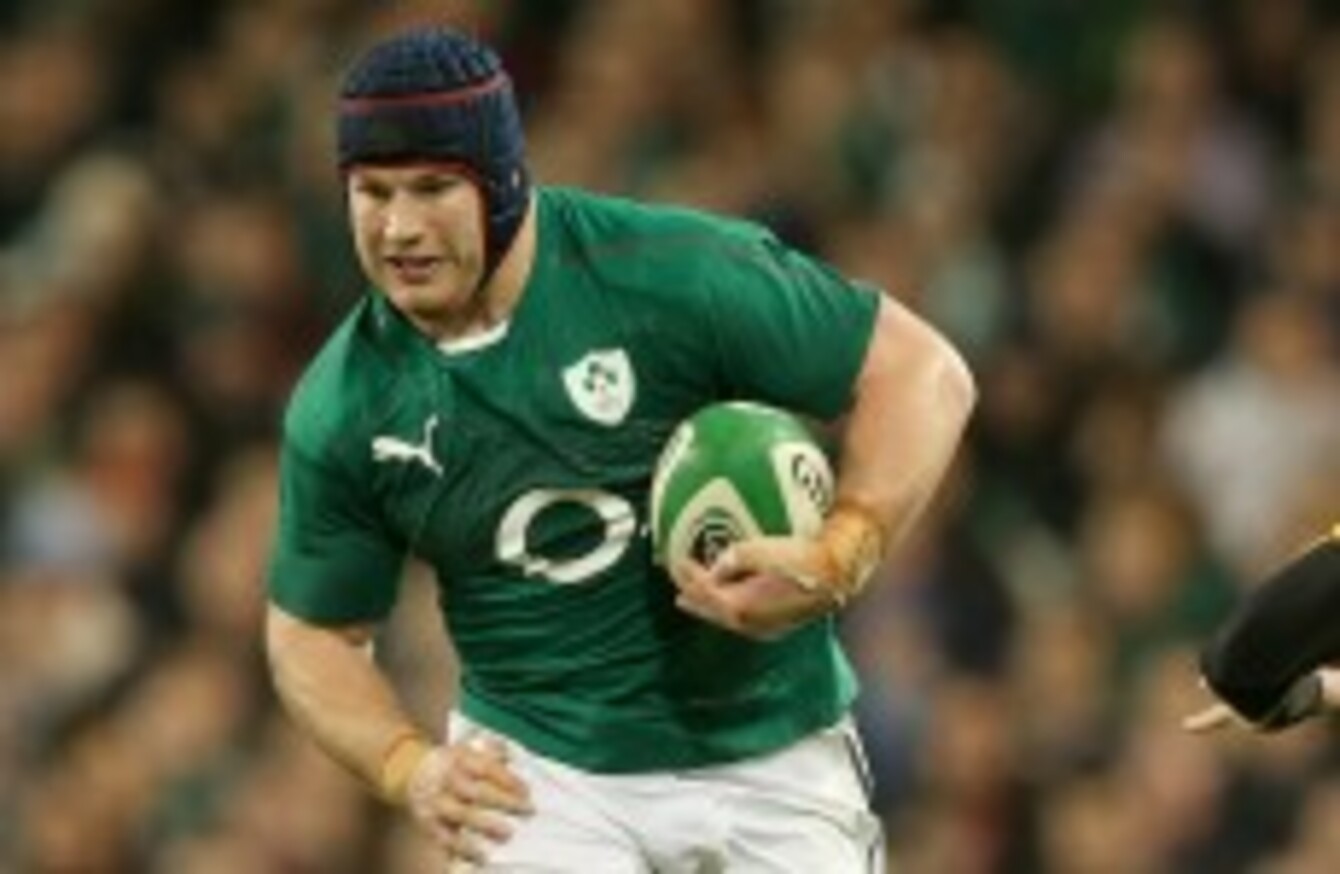 O'Brien feels he has some catching up to do in Ireland colours.
Image: Dan Sheridan/INPHO
O'Brien feels he has some catching up to do in Ireland colours.
Image: Dan Sheridan/INPHO
AS HE ENJOYS the opening weeks of pre-season free of injury, Leinster's Sean O'Brien is certain that one of the Irish sides can be first to have their name etched onto the new Rugby Champions Cup.
Last year's Heineken Cup final was contested by Toulon and Saracens, who have emerged as wealthy and physically powerful forces on the European scene. However, O'Brien says Leinster will be looking to lead the Irish resurgence in 2014/15.
"I'm asked the question, 'Do you think the provinces are good enough to compete in Europe now?' I think we are. I genuinely do," explains O'Brien.
"You look back at that Toulon quarter-final [last season] and we lost by 15 points and didn't play any rugby. It was 6-6 at half time. With teams like that, you just have to get on top of them and keep going.
There's loads of potential, there's loads of rugby in this team and we've worked hard. On our day, I believe we can beat anybody. It's just about getting that consistency and making sure we're ready to rock when the time comes."
O'Brien plans on being better prepared than ever before, having been given the summer off as Joe Schmidt decided not to include him on Ireland's tour to Argentina after the back row recovered from shoulder surgery more swiftly than originally expected.
The first week and a half of pre-season has been "tough, very tough," but the 27-year-old is feeling structurally "great." He kept his strength and conditioning topped up during the holiday period, while taking time out to visit Las Vegas and work on the family farm.
Of his shoulder, which he dislocated last December, O'Brien says, "It won't move again, I guarantee it won't move again. It's back to the same size as the other one, it's strong.
"It's probably one of the things I'll be working on through the year, making sure to do rehab and making sure I don't give it a chance to get weak."
While O'Brien despised missing out on games at the time, he looks back on his stint on the sidelines as a positive now. The fact that 37-year-old Marty Holah has come out of retirement to play ITM Cup rugby for Waikato is an encouraging sign for the Tullow man.
He had a few years there where he didn't play much rugby either and what not. These breaks, breaks like I had last year, off for four or five months, you miss 10 games maybe. It does stand to you when you go back the following year.
"The key is not to get injured again! But I do believe that having those breaks gives you longevity and gives you that extra year or two maybe at the end of your career."
Such a scenario would be welcomed by Leinster, who will have one of their most important players back to full fitness by the time the new season gets underway. For his part, O'Brien wants the eastern province to return to the pinnacle of European rugby.
"That's the target every year. We're not panicking or we're not saying 'Jesus, it's done now for a few years.' It's just that there are certain games during last year that we didn't perform well in."
Watching Ireland during the 2014 Six Nations was a strange experience for O'Brien, combining the joy of seeing his teammates prosper with the jealousy of not being an integral part of it on the pitch.
With Chris Henry, Peter O'Mahony and Jamie Heaslip having dovetailed well in green last season, O'Brien is aware he must earn his starting spot this season.
Obviously I'm going to have to fight for my place back. I think the back row that was there for the Six Nations has done incredibly well and the bench is very strong. I'm under no illusions, Joe is not just going to pick me or let me get back in there without fighting for a place.
"I'm looking forward to that challenge."