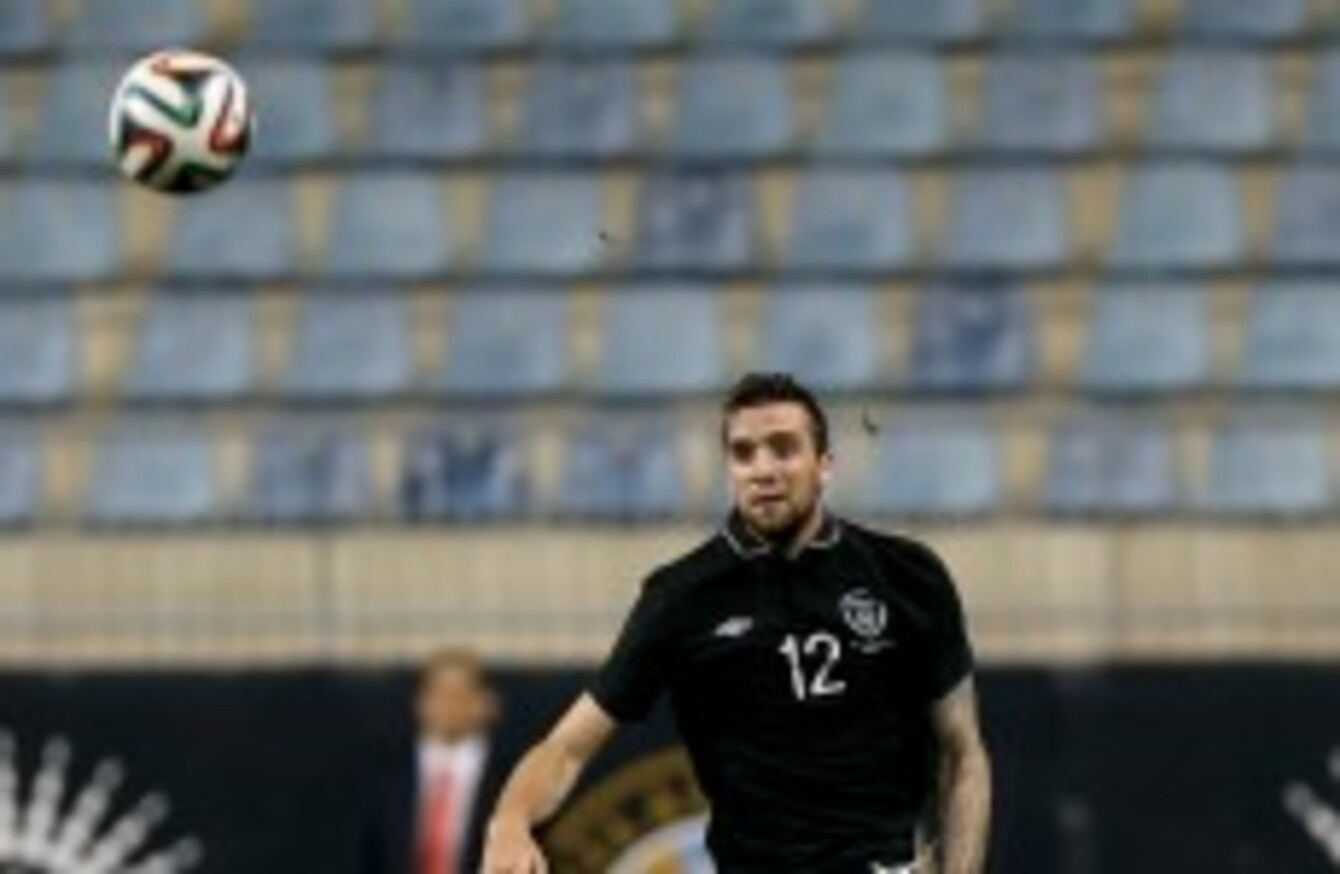 Duffy made his full senior debut for Ireland against Costa Rica the other night.
Duffy made his full senior debut for Ireland against Costa Rica the other night.
IRELAND'S SHANE DUFFY admits there is "no hiding" with Martin O'Neill, and says the Irish manager is frank in his assessment of players' performances.
Duffy made his full senior debut in Ireland's 1-1 draw with Costa Rica at the weekend, and claims the manager was partially happy while being bluntly honest in his appraisal of the 22-year-old's display.
"He said I did some good things and I did some bad things, which I need to improve on, which is what you want to hear because hopefully that means he cares about me, so it was good.
"He just tells you straight up. It's good for players as well, there's no hiding."
More specifically, O'Neill feels Duffy's movement could be better.
"Well that's one of my weaknesses that I've been working on with Everton for a while. He said that to me and it's one of those things where I just have to keep improving. But to have someone like that coaching me and teaching me, hopefully I will get better."
And for a young player who grew up as a Celtic fan admiring O'Neill's managerial ability, the fact that the 62-year-old is now coaching Duffy is another part of his fairytale-esque rise to prominence.
"Me and James [McClean] were just speaking about that. We used to go to the [Celtic] games and now he's picking me to play for his team. Everything has happened so quick for me, it's still a blur really. Playing for Ireland, my country, there's no prouder feeling to be here.
"[O'Neill] has been brilliant since I came in and I have enjoyed it, really."
Duffy was therefore thrilled to be given the opportunity to represent Ireland — something he has dreamed about for years.
"Obviously when you start playing football, you want to play for your country, so I was delighted when it actually came true."
It is now four years since Duffy was first invited to train with the Ireland senior squad during Giovanni Trapattoni's tenure, when a freak accident during a training match resulted in a doctor having to perform life-saving surgery on the youngster after serious damage to his liver.
"It's been a long four years," he says. "I don't know, I was just focusing on club football to see if I could get back to where I was, and hopefully this season I have shown that.
"Playing the other night was sort of a reward for four years ago, what happened, so I was just delighted."
(Duffy has just spent a season on loan with Yeovil Town)
Duffy is currently with Everton though spent last season on loan at Yeovil, but despite some impressive displays, he unfortunately couldn't help prevent their relegation to League One.
While he admits that the Costa Rica match was a step up from playing in the Championship week in, week out, Duffy insists he was not nervous owing to the regular game time he has received this year.
"I felt good," he says. "I felt like I was ready for it, just from the season. I would have been nervous if I hadn't played football all year and then had just been thrown in.
"It's a lot different [to the Championship], but it's been brilliant for me down there and it's got me where I am now, so it's credit to Yeovil for bringing me down there and giving me a chance to be in the senior squad."
And Duffy was not the only player in distinctly unfamiliar surroundings. After first-choice full-back Marc Wilson had to depart the game prematurely owing to injury, winger James McClean was asked to slot into the defence.
"That was the last thing I wanted… But fair play to him, he did alright, he was good going forward," he says. "He gives everything for his country and I was buzzing to play in the same team as him."
The number of times Duffy does ultimately play in the same Irish team as McClean could, of course, be heavily dependent on his Everton future.
With one year left on his contract and the emergence of promising teenage English centre-back John Stones at Goodison, opportunities for Duffy to break through may be limited.
However, Everton have said they'll at least give the Derry native a chance to prove his worth, and assistant boss Graeme Jones even sent Duffy a congratulatory text message after he made his Ireland debut the other night.
"I'm going back to Everton for pre-season and the manager is going to see if I'm up to the standard," he explains. "If am, I'll stay and try to get into the team and if not, I'll have to try and move on somewhere else.
"There are not many clubs better to be at than Everton and when you're there you've got to try to stay there. Hopefully, with a bit of luck, I can impress in pre-season and try to get into the team. 10 July we're back, so I've a month to relax."