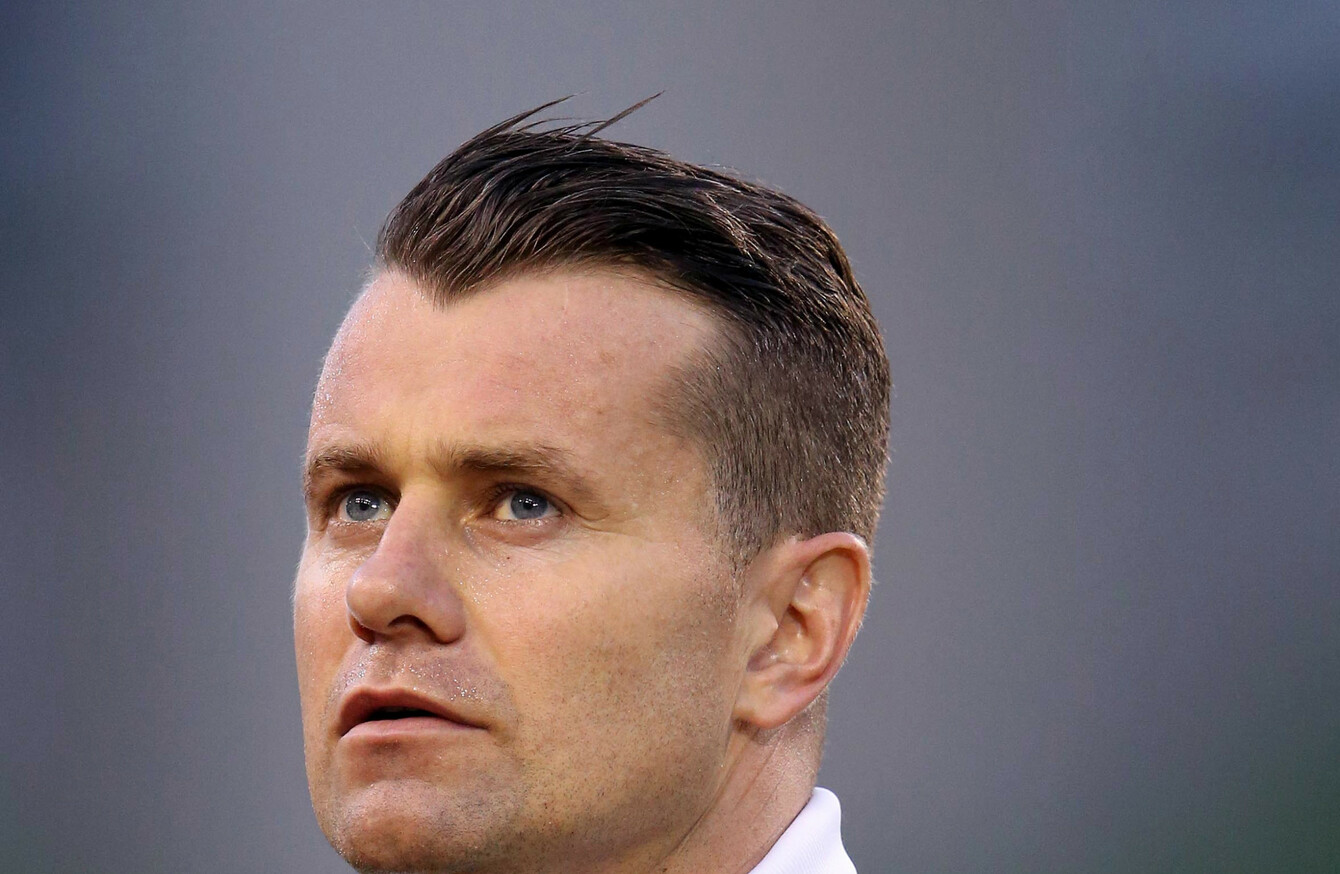 Shay Given (file pic).
Image: Cathal Noonan/INPHO
Shay Given (file pic).
Image: Cathal Noonan/INPHO
THE FOLLOWING PASSAGE is an extract from Any Given Saturday by Shay Given in which the goalkeeper poignantly reflects on his mother's death, which occurred when he was just four years old.
As the end approached, Dad sat up every night at Manorhamilton for 31 nights on the trot. Shuffling around Mum's bed, he'd watch the sun go down and the moon come up from her side, hoping to bring her some comfort, some ease, to let her know how loved she was by him and by all of us.
We went in to see her as well to say our final goodbyes. We were all sat in the little dentist's room again, squashed around this dentist's chair, waiting for our turn to go in and see our mum. They'd tried to make her look like her old self but you could tell she was frail and ill. She could barely speak and was just having her lips wet with a sponge. That was the last time I ever saw her.
Mum said a few words to each of us, she told Liam and Kieran to be big, strong boys and look after the rest of us. It was tough. Really tough.
We left the hospital and on the way home, Dad did his best to take our minds off it. "You're all getting a present," he said, and our imagination ran wild about what it was.
It was his attempt to stop us thinking about Mum and to break the silence in the car that seemed to last forever. As he pulled up the drive, we all got out of the car. The house was pitch black and all locked up. It was dark, it was cold, it was empty, it had no life in it – and that seemed about right.
We got in the house and there were our presents; a pencil case for all of us. Marcus got a Liverpool one, Kieran a Manchester United one – they were thrilled to get a little gift, a little something to remind them that life was not supposed to be like this.
I can't remember what I got because that period is not something I go over too often in my mind. I suppose that's a combination of me being too young when Mum died plus it's not something I want to really explore, even now.
On the evening of February 4, Dad was as close to broken as a man can be so a nurse called Maureen Rooney grabbed him and sent him down to the room set aside for the medical staff to get some sleep.
Dad went down there at about 10pm and fell fast asleep on the bed, barely capable of pulling the covers back. At 1.15am, the door opened.
"Mr Given, Mr Given, you're to get up," Maureen told him. "You're to get down to the ward, immediately."
Mum died at 12.15pm that day.
I was only a wee child and, today, here and now, it feels as if I had no real idea what was going on but one look at our photos on the day of the funeral tells a different story. Six children, dressed in their Sunday best, saying goodbye to their 41-year- old mother.
Five children plus Dad walked behind the coffin into St Patrick's Church, Murlog, but not Liam. He was head altar boy that year so he carried the cross at the front of the coffin before serving on the altar. That can't have been easy.
After the service, we all surrounded the grave as Mum was committed to earth. You can actually see Mum's grave from our house, that is how close we lived to the church. Uncle Packie is a keen photographer and he took a lot of photos of us all at the graveside, the six of us looking down at Mum's coffin. Dad decided we were going to be at the forefront of the day, and rightly so.
Sometimes you do need to confront the way the world works, even at such an early age. Mum had a massive wake in the home that she had loved; it went steady morning, noon and night for a couple of days with us kids sent over to our neighbours, the McKinneys, for some of it. In those days, you didn't go to a hotel for tea and sandwiches or anything like that for a wake. There was a sit-down meal at the home of the deceased and something like 160 people milling around at ours.
The food was served in two sittings at a time, until everybody had been fed. Men – uncles, friends, brothers, whoever – were all dashing in and out, not knowing what to say, occasionally wandering to the Rossgier Inn down the road to try and find enough courage to speak to us children.
At one stage, towards the end of her life, Mum had made one simple request of Dad. "Seamus," she had told him, reaching for his hand in the hospital bed. "Hold them together, Seamus. You're to hold them together."
Even in her dying moments, Mum was still thinking about us, still worrying about her kids more than herself.
As the wake progressed, Dad's sisters were in the kitchen, serving the meals along with Mrs Kerrigan, and Dad was so tired he went upstairs and lay on the bed for an hour. He didn't even have the energy to kick his shoes off. He fell fast asleep until Mrs Kerrigan came into his bedroom and roused him.
"Seamus, you're to get up now," she said. "It's your sisters. They want to take a child each." Dad's five sisters had decided amongst themselves that they would all take a child to help lessen the load, leaving him with just Sinead. Don't forget, this was the 1980s in Ireland, a different time, and it was felt that a man couldn't possibly bring six young children up on his own.
"Dad's sisters were only doing what was normal at the time, what they thought was best, and the offer came from love, out of the goodness of their hearts. If anything, it shows how close a family we were that they were willing to take an extra child on and I know Dad was extremely grateful for the extraordinary offer.
Dad's five sisters, Susan, Ambrose, Eileen, Kathleen and Mary were stood around in the kitchen when he sprung down the stairs. Eileen began to explain the plans but Dad jumped in.
"Eileen, they are not going anywhere, they're staying here," he said, refusing to even consider it.
"I'll look after them – they're my children. You're more than welcome to help out as much as you can, but they're staying under the one roof."
Dad had promised Mum that one thing, her words as clear as day to him, even through his grief.
'Hold them together, Seamus. You're to hold them together.'
And he did. And he has.
That period of my life is not something we really talk about. In fact, I only found out recently that it was cancer of the spine rather than cancer of the womb that took my mum. I know people who lose their mum at a young age these days get counselling but there was none of that then. It was more about family and the community sticking together. We just had to deal with it and cope with it as best we could.
Keeping the family together – thanks to Mrs Kerrigan's help – was so important. It meant we could grieve together and grow up together. Dad coped so well too, which helped. When Mrs Kerrigan left at 7pm, all he had to do was put us to bed and comfort us, which I suppose we all needed from time to time. Staying together, and getting in scrapes as a family, was exactly what we needed to do.
We had each other, if nothing else, and it would have been one hundred times worse if we had been split up.
When I think of Mum now, I don't think her passing is something I'll ever get over. I think you just learn to live with it and learn how to manoeuvre your way around it so that you don't let it affect you too much.
Any Given Saturday by Shay Given is published by Trinity Mirror Sports Media. More info here.
The42 has just published its first book, Behind The Lines, a collection of some of the year's best sports stories. Pick up your copy in Eason's, or order it here today (€10):