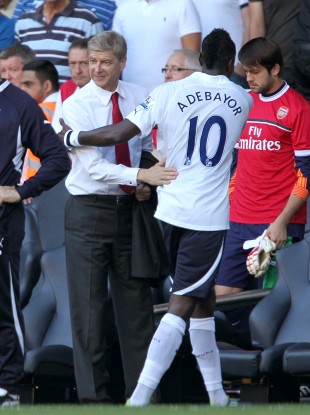 Arsenal manager Arsene Wenger shakes hands with his former striker at half time in yesterday's North London derby. Tottenham won the match 2-1.
Image: Stephen Pond/EMPICS Sport
SPURS BOSS HARRY REDKNAPP was quick to condemn the "disgusting" terrace chants aimed at striker Emmanuel Adebayor during yesterday's North London derby against Arsenal.
Goals from Rafael van der Vaart and Kyle Walker helped Spurs to a 2-1 win at home to their rivals, but the action on the pitch was tarnished by the abuse levelled at the former Gunners striker and Arsene Wenger from the stands.
A section of the Arsenal support audibly mocked Adebayor who survived an gun attack which killed three of the Togolese camp during the African Nations Cup in Angola last year.
Redknapp slammed the chants in his post-match comments, saying: "It was disgusting, yeah, disgusting."
There was some pretty disgusting chanting at me but that's life. How do you chant something like that to someone? You can't be right mentally. You need help.
Wenger, who once again found himself on the end of unwarranted personal abuse from opposing fans, added to Redknapp's outrage, saying "We respect everybody and we want to be respected."
Yesterday's abuse is the latest act in a bitter relationship which has developed between Adebayor and the Emirates faithful since the striker's departure for Manchester City in the summer of 2009.
The Togolese international, who scored 62 times during his four seasons in red, famously ran the length of the pitch to celebrate in front of the visiting supporters after scoring in a 4-2 win over Arsenal shortly after the move to Eastlands.