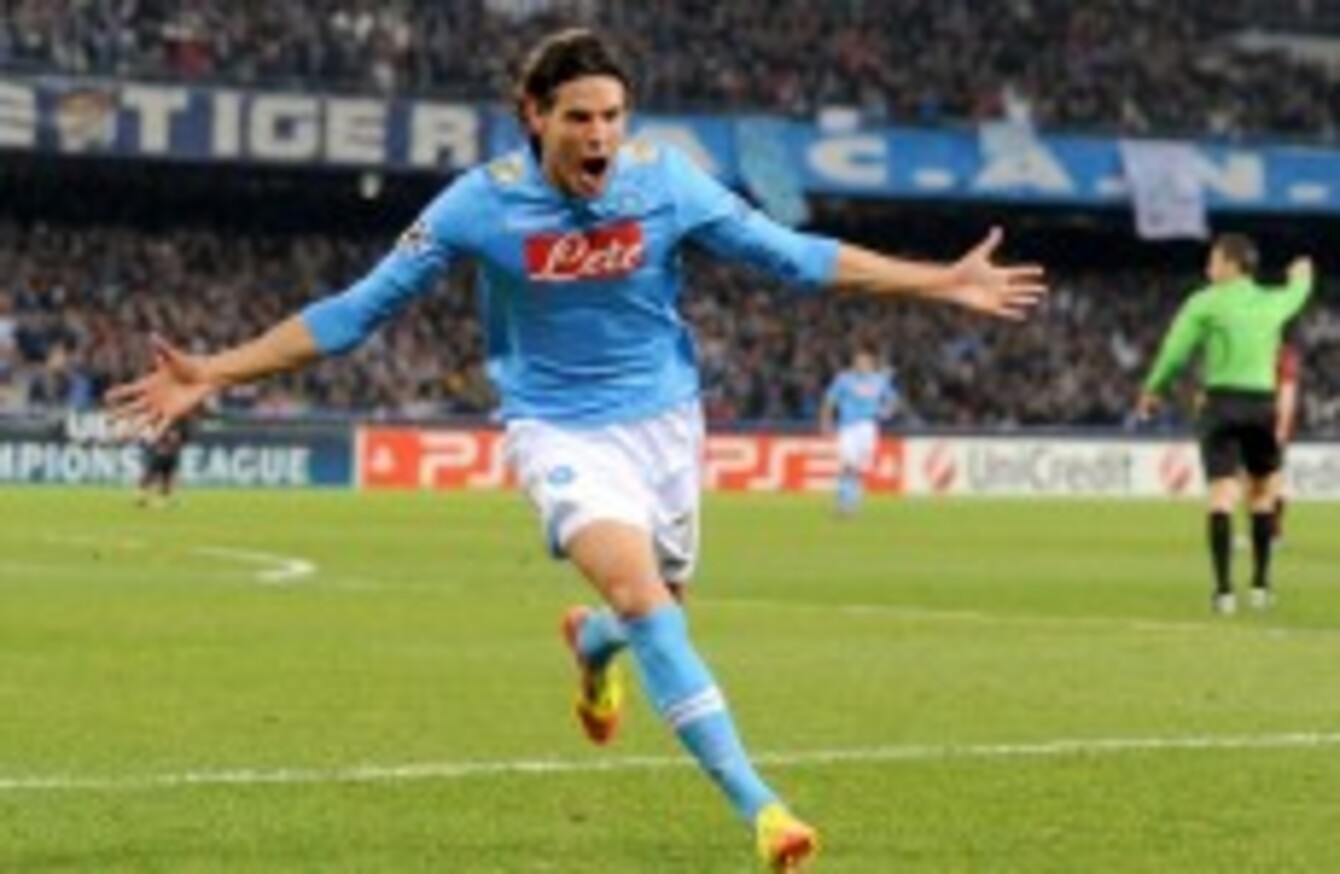 Edison Cavani celebrates scoring against Man City last night.
Edison Cavani celebrates scoring against Man City last night.
1. #CHAMPIONS LEAGUE Man City suffered a setback last night, as their hopes of progressing past the first round group stages were put out of their own hands, following a 2-1 loss away to Napoli.
Man United, meanwhile, will need a point in their final match to secure qualification, after drawing 2-2 with Benfica.
In addition, Bayer Levekusen v Chelsea and Arsenal v Borussia Dortmund are among the fixtures taking place tonight.
2. #ATP WORLD FINALS Roger Federer secured a surprisingly straightforward win over Rafael Nadal last night.
The Swiss player beat his Spanish rival 6-3 6-0, advancing to the semi-final in the process.
3. #GAA New Wexford manager Liam Dunne has vowed to make significant changes to the side this year.
The ex-All Ireland winner, who took over from Colm Bonnar as boss, has said he will look to cull some of the older members of the squad.
4. #RFU Departing New Zealand boss Graham Henry is the latest person to rule himself out of taking the England manager's job.
Following Martin Johnson's recent decision to leave the post, a number of names have been linked with the vacant role, including Henry and Conor O'Shea.
5. #RACISM DEBATE Legendary Dutch footballer Johan Cruyff has defended an alleged racist remark he made to Edgar Davids.
In a meeting with the Ajax board, Cryuff allegedly told Davids: "You are only on the supervisory board because you are black."
However, he subsequently explained in his Dutch newspaper column that he was alluding to the multicultural make-up of Ajax.