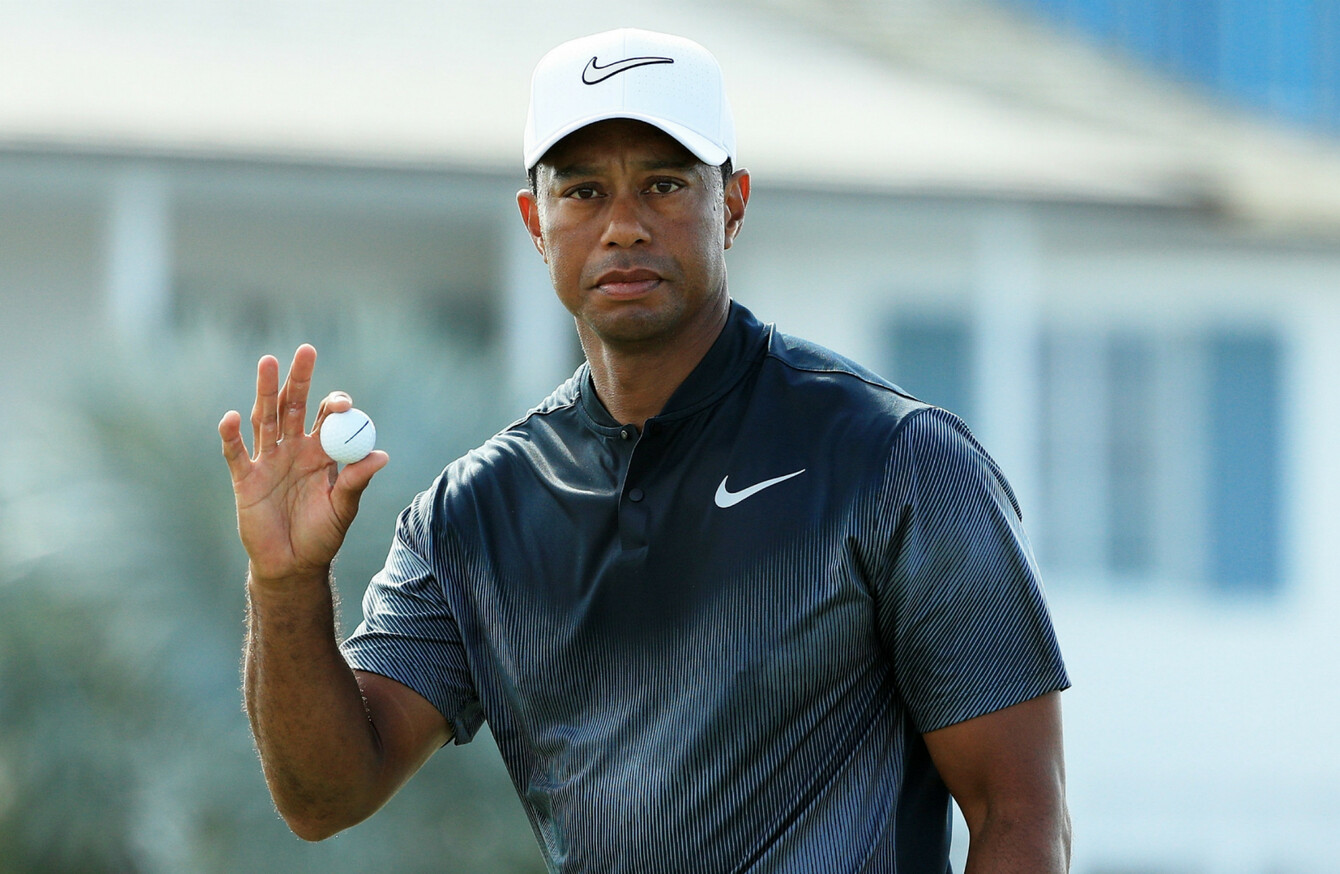 14-time major champion Tiger Woods.
14-time major champion Tiger Woods.
TIGER WOODS HAS spoken of his desire to play a full schedule in 2018 after making a successful comeback from an injury that left him struggling to walk at this month's Hero World Challenge.
The 14-time major champion competed for the first time since April after his troublesome back problems again reared their ugly head.
It was a solid outing from Woods, who placed ninth and even led the tournament in the Bahamas at one stage to provide hope that he can again compete at the highest level.
Woods admits the fact he has to manage his body so carefully makes it difficult to nail down his schedule, but the American remains as hungry as ever.
"I was very encouraged by my performance at the Hero World Challenge, and hope it was the start of something big," Woods wrote in a blog published on his website.
"I honestly wasn't sure what to expect after being away from competitive golf and came away excited about my health and my game.
"Before I went to the Bahamas, I played practice rounds with Justin Thomas, Rickie Fowler, Rory McIlroy and Dustin Johnson at home.
"They were all trying to get me to go out to practice and play, and that was nice. They wanted to help me come back and wanted to see me play well.
"There wasn't a lot of time to fully prepare for the tournament; about a month to be honest. My surgeon was fantastic in guiding me through the rehab process.
"It was slow and tedious, but paid off. It was a big step for me to go out there and play four pain-free competitive rounds. I practiced after two of the days, so that was nice as well.
"I took a week off after Hero to train and build up my body because as a tournament week goes on, we all degrade a little bit. That's just the nature of playing competitive golf.
"Now, I feel I've taken it to another level. I've started practicing again and was out with Justin the other day and had a good time.
"I'm continuing to progress and trying to get strong enough to where I can handle a workload again. I would love to play a full schedule in 2018.
"What that entails, including back-to-back events, I don't know. I just have to continue to work on my body and game and see where I pan out.
"I wish I knew where I was going to play and when I was going to play – it's a lot easier to prep for that – but we really don't know. This is all unchartered territory."
Woods added that the pain in his back was so bad he needed assistance walking, and spoke about the tweaks he has made to his game
"I appreciate competitive golf now more than I ever have," he commented. "During that 10-month period I was away from the game, I had a hard time walking and often needed assistance getting out of bed.
"To go from that and be able to play golf – I hadn't played without pain for a long time – it was nice to just go out there and chill out, have fun with the guys and needle them. The next step was competition.
"My swing is definitely shorter and I can't turn as far. My back is fused and that's as far as it's going to go. But I was surprised at how explosive I was and on top of that, how well I putted.
"I had been rolling it well at home, but it's totally different when you have adrenaline in your system.
"I'm more than a full-club longer than when I shut it down. I wasn't hitting it very far and was struggling to hit it solid. That's a bad combo."
The42 has just published its first book, Behind The Lines, a collection of some of the year's best sports stories. Pick up your copy in Eason's, or order it here today (€10):