Liveblog
The Sky Sports cameras are all warmed up in Thurles and the world is ready to witness the undoubted tie of the first round of qualifiers in this 2014 edition of the All-Ireland Senior Hurling Championship.
As always, we'd love to hear your thoughts on the action. Email sean@thescore.ie, tweet @TheScoreGAA, post a message to our Facebook wall or leave a comment below.
You may need to manually refresh for embedded content to display correctly.
We hope you hurling fans have had a chance to take a wee lie down after watching Clare's incredible effort to come back and force a replay against Wexford. Because we've got what up until an hour ago, looked like the game of the weekend.
It's Galway v Tipp and Sky's inimitable broadcasting talents are set to bring us every swing live.
Before we go any further, here's a quick reminder of the team news you may have missed yesterday.
Tipp welcome back Lar Corbeet as one of three changes. Ronan Maher of Thurles Sarsfields makes his Championship debut in a new look midfield with Drom-Inch's James Woodlock.
Galway have also made three changes from the side that lost to Kilkenny. Johnny Coen, Padraig Breheny and Cathal Mannion drafted in as the full forward and full back lines escape alteration.
Tipperary: Darren Gleeson; Cathal Barrett, Padraic Maher, Michael Cahill; James Barry, Conor O'Mahony, Brendan Maher; Ronan Maher, James Woodlock; Gearoid Ryan, Patrick Maher, John O'Dwyer; Noel McGrath, Seamus Callanan, Lar Corbett.

Galway: Colm Callanan; Fergal Moore, Ronan Burke, David Collins; Johnny Coen, Daithi Burke, Iarlaith Tannian; Andy Smith, Padraig Brehony; David Burke, Joe Canning, Conor Cooney; Cathal Mannion, Johnathan Glynn, Jason Flynn.
It looks like there's still a few bugs Sky's marketing mix for gaelic games yet to be ironed out.
Thanks to Colm for sending us this.
Don't turn back, get parked and head for your seat. The TV is great, of course,  but it's not infallible.
On Sky, Brian Carney putting the questions to Ollie Canning about 'Baby brother Joe'.
As you might expect, Ollie reckons Joe can cope with the pressure.
Late change for Tipp as Paddy Stapleton comes into the side in place of injury worry Conor O'Mahony.
Right, the teams are out, Eamon O'Shea is moving intently towards his touchline and the national anthem is being played to tear-jerking sights of a flag in slow-motion.
I bet the Crowe household isn't the only one under siege from Sky-less neighbours…
Throw-in:
We've a minor scuffle as Galway break into a first attack, but Tipp win the free and another one soon after to allow O'Dwyer to get a range-finder in. But it trails wide.
3 mins: Tipperary 0 – 1 Galway 1- 0
GOAL! Jason Flynn buries Galway's first chance after a sweeping move that followed Seamus Callanan's opening free.
5 mins Tipperary 0 – 2 Galway 1 – 1
That goal came about after a tremendous free out from Tannian, but a soft free allows Callanan get his second of the game.
Joe Canning opens his account with a fine score from play.
6 mins: Tipperary 0 – 2 Galway 1 – 1
Goal chance for Tipp as Bonner Maher broke through, but he placed shot was well tipped up by Colm Callanan.
9 mins Tipperary 0 – 3 Galway 1 – 2
Maher and Canning trade brilliant scores from play. Tipp still clinging on in there, but haven't clicked in attack as yet.
12 mins: Tipperary 1 – 4 Galway 1 – 2
Click!
GOAL! Callanan turns Fergal Moore and sends a bouncing finish into the corner. Noel McGrath follows up that score with one from play.
14 mins: Tipperary 1 – 4 Galway 1 – 3
Conor Cooney keeps Galway's oar in with a brilliant free from near halfway on a difficult angle.
15 mins: Tipperary 1 – 5 Galway 1 – 4
It's a real open game now as Cathal Mannion responds for the Tribesmen after McGrath popped up in space again to send over his second point of the game.
17 mins: Tipperary 1 – 6 Galway 1 – 4
Just the six points now for Callanan, his third free is his handiest one.
Joe Canning takes a sideline ball from the left wing and sends it flying well wide.
20 mins:  Tipperary 1 – 6 Galway 1 – 5
Canning goes again from an almost identical angle and he nails it this time.
21 mins Tipperary 1 – 7 Galway 1 – 5
After a (relatively) quiet few minutes, John O'Dwyer finds room to manoeuvre his way to his first score of the game.
23 mins Tipperary 1 – 7 Galway 1 – 7
Conor Cooney strikes again from a massive distance out near on the right sideline and Galway take the puck-out to send Canning raiding down the left and in the evening sunshine, he takes his score to level the game.
This is one for the purists.
25 mins Tipperary 1 – 8 Galway 1 – 7
O'Dwyer linking up well with Lar Corbett and sends his second score cruising over to restore Tipp's lead.
28 mins Tipperary 1 – 8 Galway 1 – 8
As Jamie McCormack points out in the comment section, this is exhibition stuff. And Conor Cooney is putting on a clinic of free-taking, his third flawless placed ball has the sides level again.
31 mins Tipperary 1 – 8 Galway 2 – 8
GOAL! It looks like David Burke with the touch after Cooney lofted a high ball in around the square.
The goal swings the game back Galway's way after Ronan Maher had opened his account from midfield.
31 mins Tipperary 1 – 9 Galway 2 – 8
GOAL! It looks like David Burke with the touch after Cooney lofted a high ball in around the square.
The goal swings the game back Galway's way after Ronan Maher had opened his account from midfield.
33 mins Tipperary 1 – 11 Galway 2 – 9
Breheny strikes from range to cancel out O'Dwyer's latest score. But there is no let-up in this game, Callanan striking over from play to give Tipp the better of that skirmish.
As we enter stoppage time Jason Flynn tries to add to his early goal with an effort from range, but it drifted right and wide.
Johnny Coen was booked a little earlier and when he grapples with McGrath Tipp fans want a little more than just a free, which Callanan converts.
HALF-TIME: Tipperary 1 – 12 Galway 2 – 9
Courtesy of the good people at Sky, here's a quick recap of who rattled scores over or in during that first-half.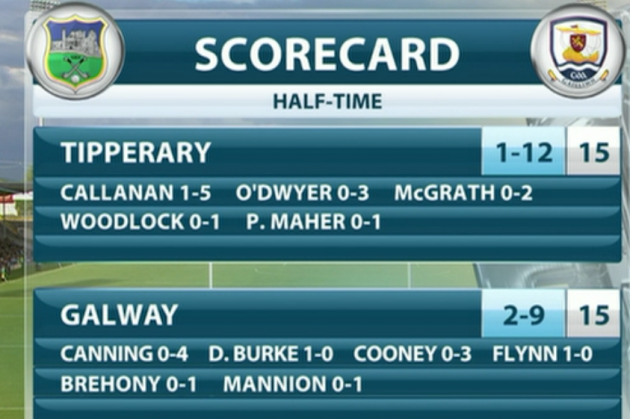 Galway come out on the field through a guard of honour from the rest of their panel.
It's loser leaves Championship and it's all down for decision in the next 35 minutes.
Galway have got the second half off to the start they wanted. Conor Coonery getting another long-rnage free on target before O'Dwyer ties it up again.
37 mins Tipperary 1 – 13 Galway 2 – 10
As the sun gets a little lower, the temperature of the game is beginning to rise as the crowd stirs. They're soon shocked into silence though as Jonathan Glynn ghosts in behind the Tipp defence and calmly picks his spot.
39 mins Tipperary 1 – 13 Galway 3 – 10
41 mins Tipperary 1 – 15 Galway 3 – 10
Lar Corbett wins a free to instantly allow Callanan begin drawing Galway back and McGrath sends another glorious effort sailing through the evening sky and the posts to make this a one-point game.
44 mins Tipperary 1 – 15 Galway 3 – 11
Cathal Mannion comes up with a brilliant score from a difficult angle to give Galway just a little bit more breathing space….
…and they follow it up with a GOAL
Jonathan Glynn claims Canning's long ball into the square and the big centre forward spins out of the tackle to blast a close range shot into the roof of the net.
45 mins Tipperary 1 – 15 Galway 4 – 11
The sun comes back out and it's give us long shadows towards the Galway goal.  Dave Glennon had no problem with rays in his eyes, though, the sub superbly jinks in off the left flank and sends Galway further ahead.
50 mins Tipperary 1 – 15 Galway 4 – 12
CHANCE! Callanan steals in towards the small square as a low ball comes in, but he can't quite find an angle to direct the sliotar on target.
51 mins Tipperary 1 – 16 Galway 4 – 12
John O'Dwyer sends over another lovely score to bring Tipp within five points. They need a goal though.
53 mins Tipperary 2 – 16 Galway 4 – 12
And they have it! Callanan sending the ball low into the net at the second attempt.
Game on – as if it was ever off.
54 mins Tipperary 2 – 17 Galway 4 – 12
I hope you have your seatbelts fastened, because Seamus Callanan has made it a one-point game.
57 mins Tipperary 2 – 18 Galway 4 – 12
Was there any ever doubt?  Noel McGrath rifles over the levelling point with 13 minutes on the clock.
I haven't been able to keep track, but Sky have counted 5 times the sides have been level.
59 mins Tipperary 2 – 19 Galway 4 – 12
Incredible! Lar Corbett's first score of the game is a timely one. The veteran finds space in the left-hand channel and steers over a score to send Semple Stadium absolutely crazy
61 mins Tipperary 2 – 19 Galway 4 – 13
Joe Canning delivers Galway's first score for 10 minutes and it gives us a draw game for the sixth time.
Where's your money now?
63 mins Tipperary 2 – 20 Galway 4 – 13
Cometh the hour…
Lar Corbett takes aim from under the stand and lets his wrists do the rest. A glorious second score.
65 mins Tipperary 2 – 21 Galway 4 – 13
Sky reporting that Corbett was about to hooked off just moments before he fired over his first score. Is that fate for Tipp?
Fergal Moore incurs a yellow card after fouling Bonner Maher and Callanan is in no mood to miss from 40 yards.
67 mins Tipperary 2 – 23 Galway 4 – 13
Ciaran Bergin increases Tipp's lead to four after McGrath had  sent over an absolute monster of a score.
This is Tipp's to lose now.
70 mins Tipperary 3 – 23 Galway 4 – 13
GOAL! Seamus Callanan has a serious sense of timing. Just as he had been named man of the match, he took the ball in space in the fading sunshine and sent the sliotar rolling into the net to claim his hat-trick.
71 mins Tipperary 3 – 25 Galway 4 – 13
O'Dwyer brings up a second dozen of points for the home side and Shane McGrath makes it 25.
They've been really impressive in the final quarter of this game. That's when games are won and Galway have managed just a single point in that period.
FULL-TIME! Tipperary 3 – 25 Galway 4 – 13
It's all over. Tipperary have their first Championship win since 2012 and Galway will go back across the Shannon to draw up the blueprints for 2015.
So there you have it, as open and attacking game as you'll find ends with Tipp rattling over an absolute hape of points. They won the final 20 minutes by to 2 – 10 to 0 – 01.
We may well back on today as the day the Championship really caught fire.
Thanks for calling in to check out how the action unfolded. We'll have much more small-ball action to bring you tomorrow, but until then, happy hurling.
Contribute to this story: