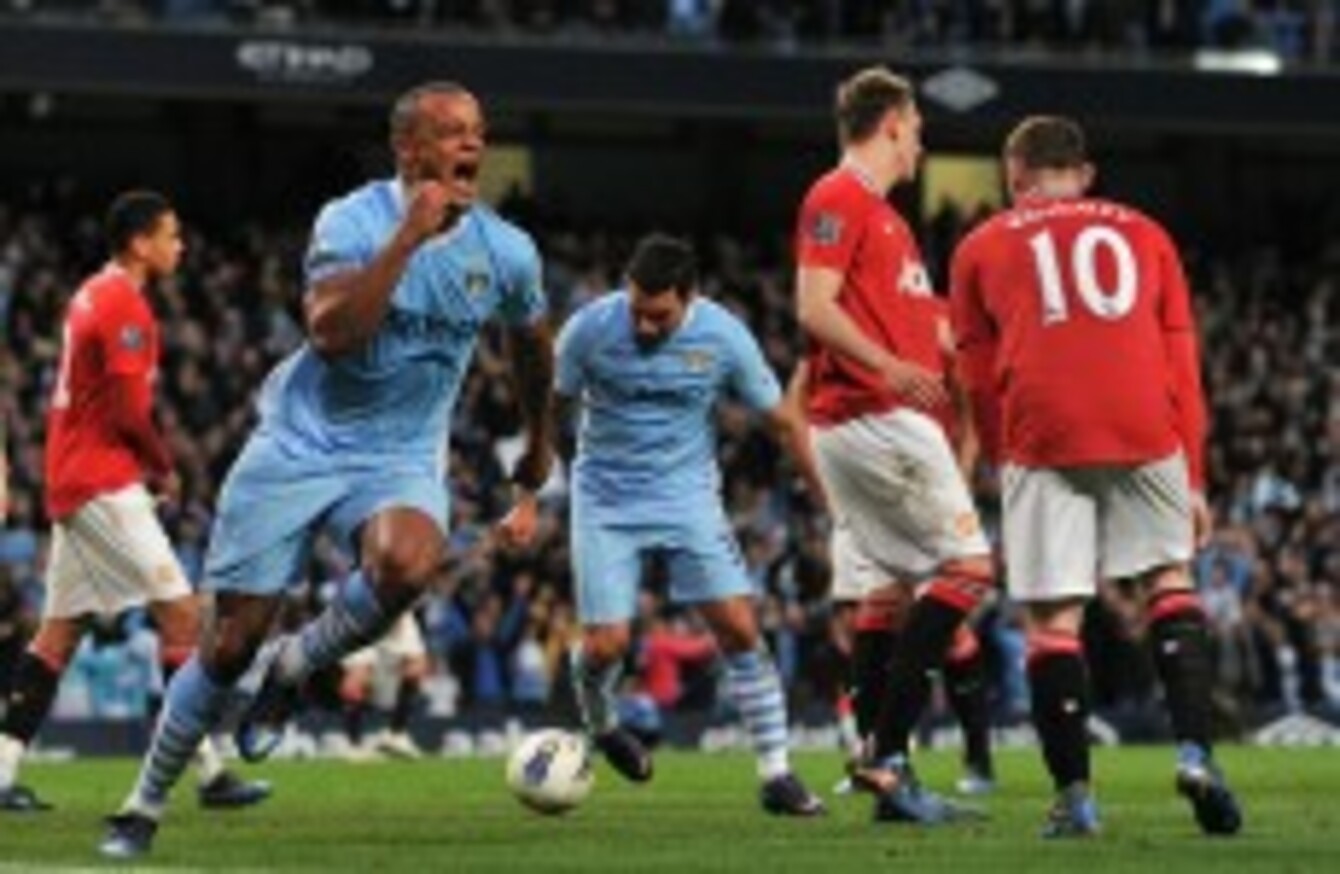 Lift-off: Vincent Kompany gives City the lead... in every sense
Lift-off: Vincent Kompany gives City the lead... in every sense
SO IT'S ADVANTAGE Manchester City again.
But, after a run-in that has taken more drastic and far-reaching turns than pretty much any in the Premier League era, it was perhaps out of keeping with the general campaign: there was simply never any doubt about the result.
City were superior in pretty much every department: attitude, approach and application. Indeed, that was reflected in a stat even starker than the scoreline: United didn't have a shot on target.
But then tonight featured a few fair elements that we're not really accustomed to seeing, and we don't mean a shifting landscape or a touch being passed.
For one, there was the rather undignified sight of Alex Ferguson confronting another manager on the line. The United manager may regularly get riled but not usually to that level: a clear sign the game was getting to him.
Then there was the fact that a typical United siege never really came. They never even really suggested an equaliser and, as the clock ticked down, they seemed to have trouble just getting on the ball as opposed to even getting it where they needed it.
City's players just seemed more focused, more driven, more sure of their jobs. They won the majority of the minor battles which all obviously added up to the major victory.
Of course, such an attitude also reflected the general approaches of the team. City, after all, were trying to grasp what United had, the defending champions trying to protect it: top spot.
In that sense, a brave line-up from Mancini a somewhat calculated one from Ferguson was predictable.
That, it should be said, was something we have seen a lot from United recently. And it was perhaps particularly timely given the recent discussions about competitive morality and purism after Chelsea's victory over Barcelona.
The truth, however, is that defensive football is only itself capable of being defended if your players fulfil their jobs in it correctly. United didn't, allowing Vincent Kompany to rise, plunder and lift his team above Ferguson's in the table.
But, even if City's victory was ultimately down to a United error, it would be hard to argue they wouldn't have found another opening somewhere else. The goal, after all, surprised nobody. It was coming as United retreated further and further into their area. City, meanwhile, got closer and closer.
Of course, that itself was a microcosm of the recent nature of the race. And, as we said at the top, it's interesting that it's come down to this. For a Ferguson United to blow an eight-point lead at this point of the season is absolutely unprecedented. And there can be no denying that a complacency has given rise to slipped results that have gradually eroded their confidence… as we saw tonight.
By contrast, once the pressure of a lead went off City, they started from scratch and built their belief again. And, in the meantime, it simply took off.
After that, it's hard to see them not winning the league. But that very issue begs the most interesting question still left in this title race: since City are now back on top and since Mancini has been so desperate to talk them down as underdogs, will the weight of the potential crown start to affect them?
It shouldn't be forgotten, after all, that Mancini's team have two games left against two sides that have a lot to play for: Newcastle and QPR. United, meanwhile, face matches against mid-table sides with nothing to play for: Swansea and Sunderland – in other words, the sort of teams against whom you usually build up your goal difference.
Before even thinking of that, though, United have to find an appropriate response to this dispiritingly meek performance.
The momentum is unquestionably with City. But that has been said before in this helter skelter campaign.
Final thoughts
Ferguson's formation made sense in terms of balance but not in terms of personnel. Park Ji-Sung's last appearance was 10 minutes away to Tottenham well over a month ago and it told tonight. He looked exhausted half an hour in.
Roberto Mancini will deserve praise should City win the league, particularly the manner in which he's handled and prodded the mentality of the City players over the past few weeks. But he still can't shake off certain characteristics that will always provide caveats to CV. Against a team as notorious as United for late rallies, it was very dangerous to cede the initiative by bringing on Nigel De Jong for Carlos Tevez. He was arguably fortunate that United were simply so weak tonight.
For all United's experience in these situations, their recent record isn't exactly resounding. In the last five seasons, they've lost four of the five final games against the other team in the top two: Chelsea 2-1 in April 2008; Liverpool 4-1 in March 2009; Chelsea 2-1 in April 2010 and now tonight. The aberration was the win at Old Trafford over Chelsea last year. It's hard not to argue this is all a consequence of the club's post-Glazer minimalism.  But, until the destination of the title is actually decided, that discussion can wait for another day.
How difficult is it to pick a City man of the match? All of Toure, Nasri, Zabaleta and – of course – Kompany stepped up in emphatic fashion.