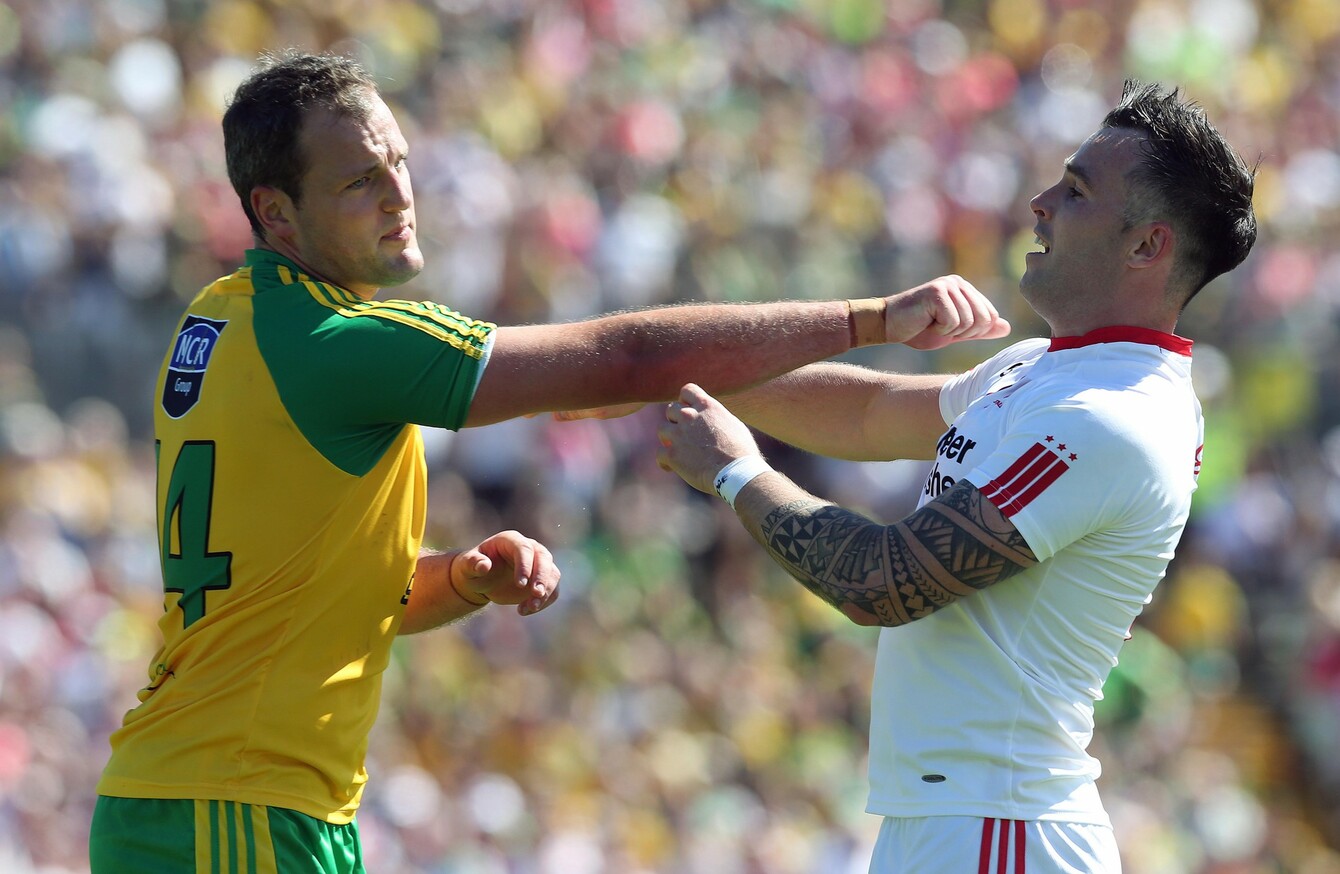 Michael Murphy and Cathal McCarron disagree during last year's Ulster final.
Image: Lorraine O'Sullivan/INPHO
Michael Murphy and Cathal McCarron disagree during last year's Ulster final.
Image: Lorraine O'Sullivan/INPHO
THE TALE OF The Rose Tattoo got an airing this week during a radio item discussing the 60th anniversary of the Dublin Theatre Festival.
The first festival in 1957 included the Pike Theatre's staging of Tennessee Williams' play of that name.
The story of an Italian-American widow tempted by the advances of a handsome stranger, one alarming scene featured a contraceptive being flung across the stage.
Alas, this depraved act had to be mimed, due to condoms being in rather short supply in 1950s Ireland.
Nonetheless, the owner of the theatre, Alan Simpson, was arrested and prosecuted — unsuccessfully — for indecency. Needless to say, The Rose Tattoo played to packed houses.
As far as I am aware, no-one has been arrested for playing in the Ulster Football Championship lately, but it has retained the ability to shock and appal long after the theatrical world's most lurid excesses became passé.
With it's mix of malevolent physicality and ultra-defensive tactics, many outside the province regard it as an ugly tribal conflict that really ought to be policed by the Geneva Convention rather than the CCCC.
Oh, and it also gets packed houses.
Those modern-day moral arbiters, The Sunday Game panel, pass most severe judgement. During last year's Ulster final against Donegal, Joe Brolly tweeted that "Tyrone are trying to beat the masters of shit football by playing shit football," completing the cycle of bodily functions associated with the Red Hand county begun by Pat Spillane's puke football back in 2003.
The disapproval spreads beyond Montrose.
I can sense the disgust in the room while watching Donegal matches on TV with my Limerick in-laws, as if I'm forcing them to endure some depraved snuff movie on a Sunday afternoon.
Jaws hang open and heads shake disapprovingly as another misplaced handpass leads to a mass bout of UFC-style ground and pound.
Sometimes even those of us who enjoy the fare for its relentless cutthroatedness find ourselves wondering just why two bunches of athletes of very similar cultural backgrounds seem to dislike each other so much.
But of course, as Kavanagh (Patrick not Rory) points out, Homer made the Iliad from such a local row.
I've been listening to an an excellent GAA podcast in advance of this weekend's opening fixtures called 'We Are Ulster – It Matters More'.
Does it? Is that why stakes seem higher, the hits harder and no holds are barred? Cork and Tipperary fans renewing one of the great historical rivalries on Sunday afternoon, or Mayo folk starting yet another quest for Sam Maguire earlier in the day may disagree.
And yet Ulster GAA fans to seem to operate with a zealousness frequently lacking elsewhere: witness the massive crowds for McKenna Cup games and the fact that in Gaelic Life, the province supports the only weekly GAA newspaper in the country.
Could it be that, like early Christians guarding their faith in the catacombs of Rome, the oppressive environment of the Troubles hardened the resolve of the GAA faithful in the North?
This unique context can leave outsiders baffled and suspicious. Reading up on past unseemly Ulster rammies, I came upon an Evening Herald column by former Dublin player Paul Curran after a spiteful encounter between Derry and Monaghan in 2009.
Curran referred to Brian McEniff's view that Ulster championship games should not be refereed by outsiders, as they didn't understand northern ways.
"I came away thinking that if that's your game Brian you can have it," Curran wrote, "It was a disgraceful affair and an extremely damning advertisement for 'our' game."
'You can have it' long summed up the attitude of many to what went on up north. Like the bishops in 1950s Ireland, afraid the filthy likes of Tennessee Williams might corrupt the nation, it was felt that Ulster's excesses should be guarded against, lest they spread south.
In many ways, they did – and to Ulster's detriment.
Most counties adopted the defensive organisation and physical robustness once particular to Ulster — including Dublin and Kerry, who, adding those things to superior skills, are again the game's dominant forces.
And, sadly, Ulster has taken something from the other provinces in return. 2016 saw the most unbalanced Ulster championship in some time, with an average winning margin of 8.4 points giving lie to the province's reputation for competitiveness. Will the bitterness and bile of Ulster survive the general stratification of Gaelic football into elite and also rans?
That said, while Tyrone, Donegal, Monaghan and arguably Cavan are miles better than the rest, it remains easily the most intriguing of the provincial championships. Donegal and Monaghan had encouraging league campaigns, with both showing a little more attacking weaponry.
Donegal have been like a sulky teenager refusing to come out of their room in recent seasons, but now there are some support runners for Ryan McHugh, whose solo breaks from defence hitherto reminded one of the baby iguana in Planet Earth II being chased up the beach by a phalanx of racer snakes.
In Conor McManus and now Jack McCarron, Monaghan have two of the best forwards in the country, and Tyrone will bring physicality and pace, if not quite enough scoring power.
The fact that there isn't a genuine contender for the All-Ireland among them is unlikely to bother the faithful.
No one likes us, we don't care, is the motto – and until the business end of the summer it will be up to Ulster to fascinate and scandalise the nation, the football equivalent of an imaginary condom tossed across a theatre in 1950s Dublin.