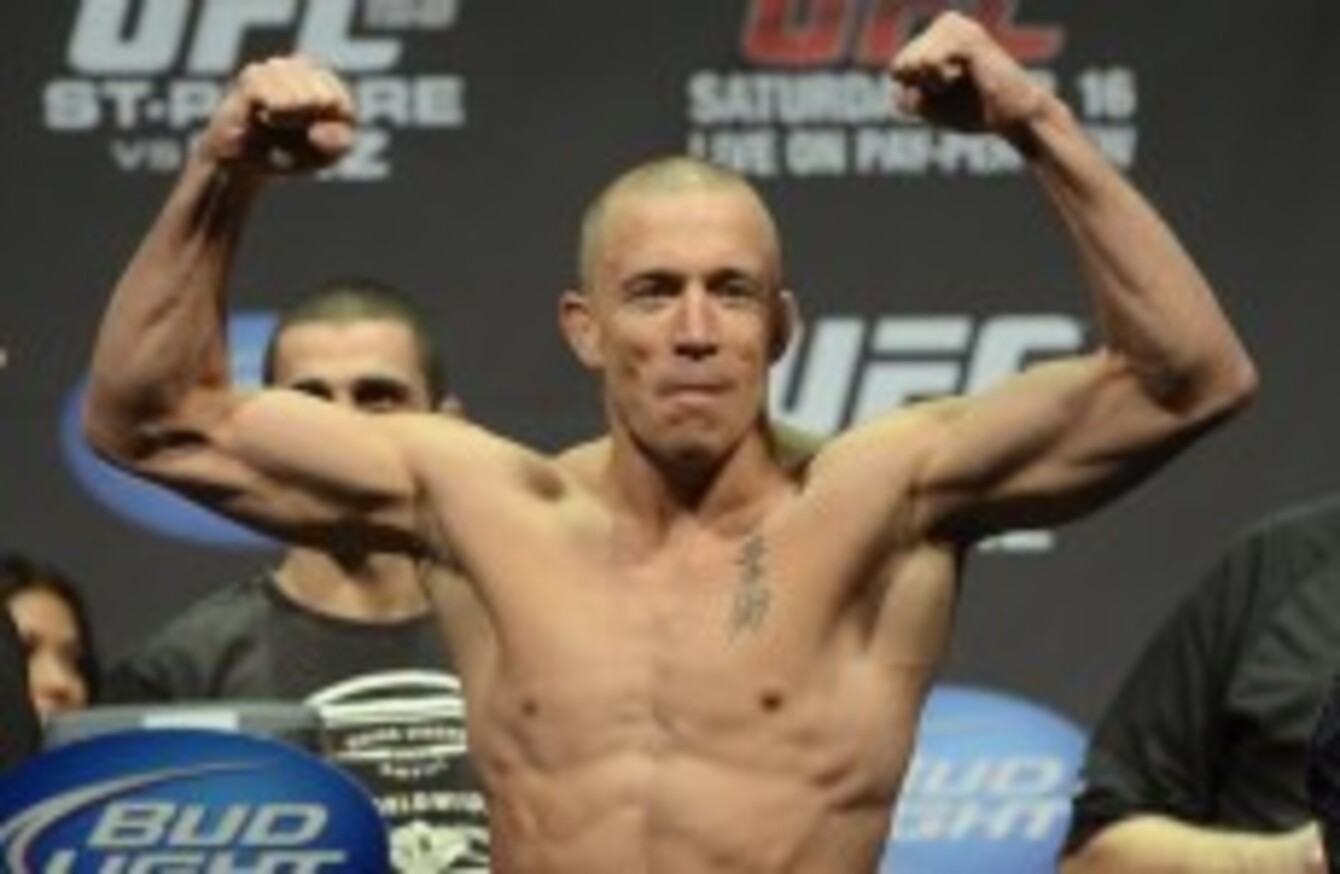 Image: Ryan Remiorz/The Canadian Press/Press Association Images
Image: Ryan Remiorz/The Canadian Press/Press Association Images
IT TOOK LESS than 15 seconds for Georges St Pierre to stamp his authority over Nick Diaz in their fight last week, ruthlessly dragging him to the floor and asserting his dominance early.
While this wasn't the most surprising act of the night the ominous regularity with which GSP has been steamrolling his opponents has been met with a quiet discontent among some MMA fans.
Once the poster boy of the sport, his halo seems to have slipped a little and the main reason for this bizarrely seems to be the ease in which he is winning his fights via his greatest strength: wrestling.
Is he suffering from a case of being on top for too long, waiting to be shot at? Or is there a new breed of MMA fan simply wanting fast KOs or stand-up wars for every fight?
Old school versus new skool
With the emergence of mainstream MMA whether it is via TV and the UFC/Fox deal or on the internet, there is no doubt that the relatively youthful sport has come a long way in a short period of time.
Many of the hard-core fans have followed the sport from its humble beginnings and remain very loyal and quite protective over it, resulting in a large and knowledgeable fan base. While the sport, and particularly the UFC, was perceived as being big in the early days, there is no comparison to where it stands today.
As the fans grew with the sport, they have started to evolve; shifting from enjoying every contest for what is was, to demanding every fight be a finish or a war. Anything less is just a let-down. This pressure may have come with the mainstream aspect. Everything must be exciting and flashy or it is just not worth watching.
But if you truly love the sport this should not be the case. Admittedly, the GSP and Diaz fight wasn't the most exciting affair but the winner's achievements should not be undermined simply because there was no brutal KO or extravagant submission on show.
GSP's aura is beginning to wane because his fights are perceived as boring. He once stood for everything that was great in MMA, a perfect balance of respect, talent and technique. Now it seems as if Jon Jones has taken that crown off him.
The danger here is that more importance is being placed on a fighter's personality than his/her actual skill set. Yes, most people would rather watch a talented striker rather than an elite level wrestler do battle, but both should be equally heralded as both helped the sport to get to where it is today.
And while Georges St Pierre might not be the most exciting fighter in UFC history he has to be classed as one of the best ever. He has looked as dominant in his class as any other fighter who has graced the octagon before or after him.
There is a place for both schools of thought in this sport. There is nothing wrong with wanting a quick KO or submission in an exciting fight but technical ground battles are part and parcel of the sport and should be clapped loudly rather than booed cage-side.
A comic aside
He's a poet, sort of, and he knows it. Chael Sonnen summoned his best Mohammed Ali impression to build up a little hype for his title show down with Jon Jones in a few weeks' time.
Never afraid to run his mouth off in the run up to a fight, Sonnen reeled off this little poem during the week to try and get under the skin of his opponent. It's more WWE than W. B. Yeats but funny nevertheless.
[embed id="embed_1"]
YouTube credit: fueltv