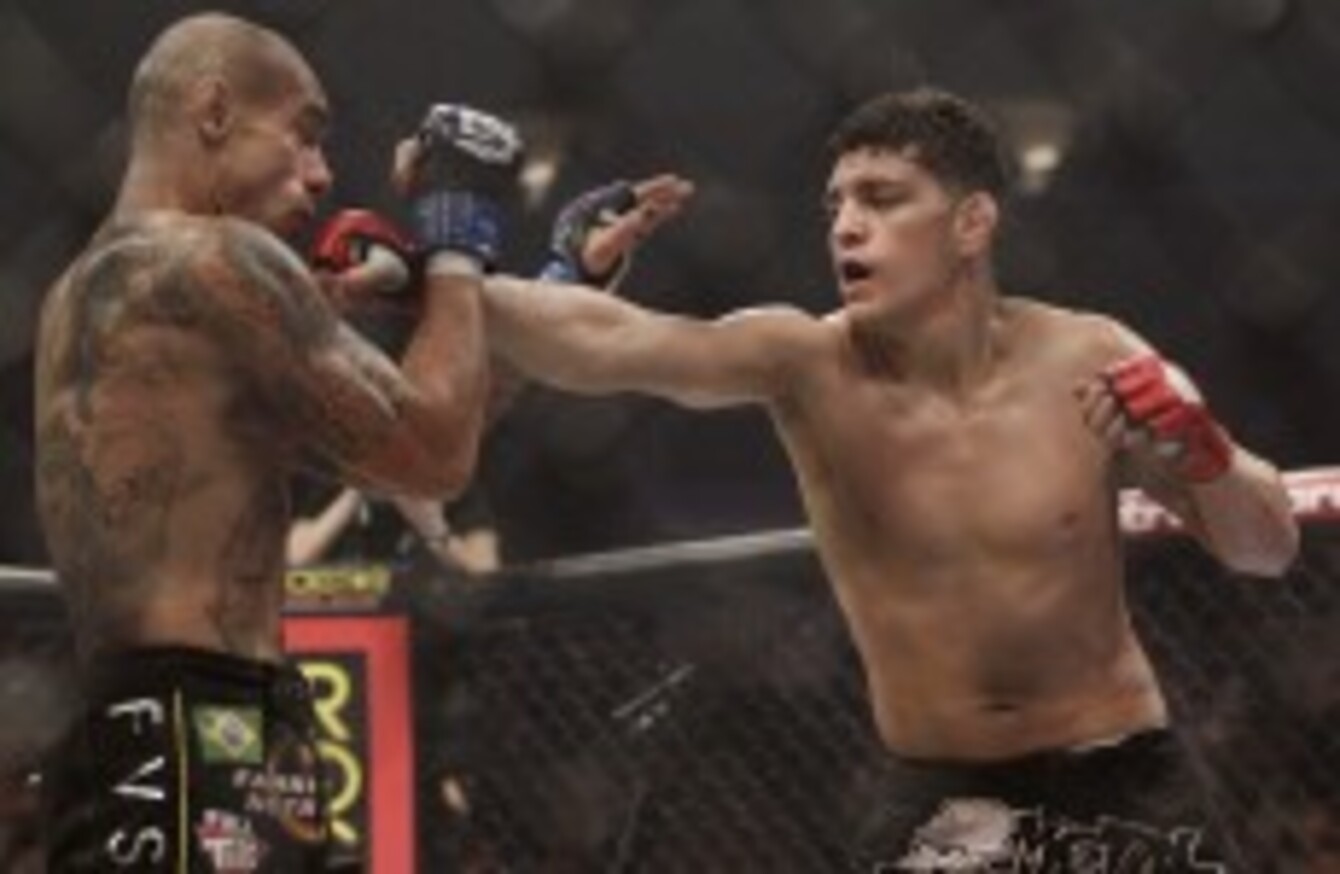 Nick Diaz drives home a strike during his fight with Evangelista Santos in January of this year..
Image: Jeff Chiu/AP/Press Association Images
Nick Diaz drives home a strike during his fight with Evangelista Santos in January of this year..
Image: Jeff Chiu/AP/Press Association Images
WITH THE NEWS this week that Georges St. Pierre has had to pull out of UFC 137 due to injury, here's who else we should be looking out for at next weekend's event.
Nick Diaz
Dana White has softened the blow of losing his main event by giving Diaz Vs. Penn, the fight in the which Nick Diaz will make his long-awaited return to the organisation, top billing.
The big Californian is as controversial as he is talented and has stayed true to form in the lead up to this bout.
Originally scheduled to fight GSP, he refused to play ball, failing to attend mandatory press conferences and important promotional events, a decision that lead to his to being pulled from the bout. Now, he faces a lower profile fight with BJ Penn.
The fact that his antics have generated plenty of column inches has sometimes detracted from how good a fighter he really is.
Mitrione is credited with one of the strongest stand-up games in the sport and was due to compete in a professional boxing match earlier this year before the UFC/Strikeforce merger dampened those plans.
Those who are disappointed not to be seeing St. Pierre in action once again can take solace in the fact that the unpredictable Diaz will no doubt do something that will suitably entertain the fans, whether it be inside or outside the octagon.
Matt Mitrione.
Despite a somewhat disappointing introduction to the world of MMA on series 10 of The Ultimate Fighter, Matt Mitrione enjoys a 5-0 record in his fledgling MMA career and has claimed the scalps of both Joey Beltran and Tim Hague.
With the winner of that series, Roy Nelson, struggling to keep hold of his UFC contract and the runner-up, Brendan Schaub, KO'd by an ageing Antonio Nogueira last time out, Mitrione has emerged as the show's most encouraging talent.
The former NFL footballer found his calling a little later in life than most, and true to his habit of late development, his crawl up the heavyweight rankings is beginning to build momentum.
The strongest aspect of his game is his stand-up and he usually draws his opponents into striking first by holding his hands low before countering with powerful shots.
He also possesses one-punch knockout power and this, coupled with a tendency to leave his chin open, means that his fights are almost always exciting.
Roy Nelson.
Roy "Big County" Nelson has spent a long time defying the odds in his UFC career.
Despite winning season 10 of TUF, his out-of-shape physique always raised questions about his actual fitness.
Back-to-back KO's of Brendan Schaub and Stefan Struve seemed to prove he was the real deal, but almost inevitably, his conditioning issues caught up with him and he lost two fights in a row, leaving him perilously close to being cut from the UFC.