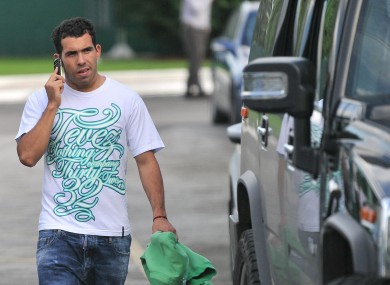 Tevez returned from his two-week ban today.
Updated at 15.17
CARLOS TEVEZ HAS been described as a 'loner' by one or two commentators of late, owing to his reluctance to learn English and mix with his Man City team-mates.
Although it's probably the least of his problems at the moment, the phrase can now be applied to him literally (and not in the Jamie Redknapp sense of the word).
Meanwhile, Mancini appears to have indicated he is willing to patch things up with Tevez.
Journalists were instructed not to ask Mancini any questions relating to Tevez at a press conference today.
However, the order did not prevent one from asking whether the player had a future at the club, to which Mancini replied: "I don't know."
If Tevez did play for Man City again, it would be a dramatic u-turn on the part of Mancini, after he initially said Tevez would never play for the club again following his alleged refusal to play for City in the Champions League last month.

Video (http://www.youtube.com/watch=2-81JLrAisY&t=)