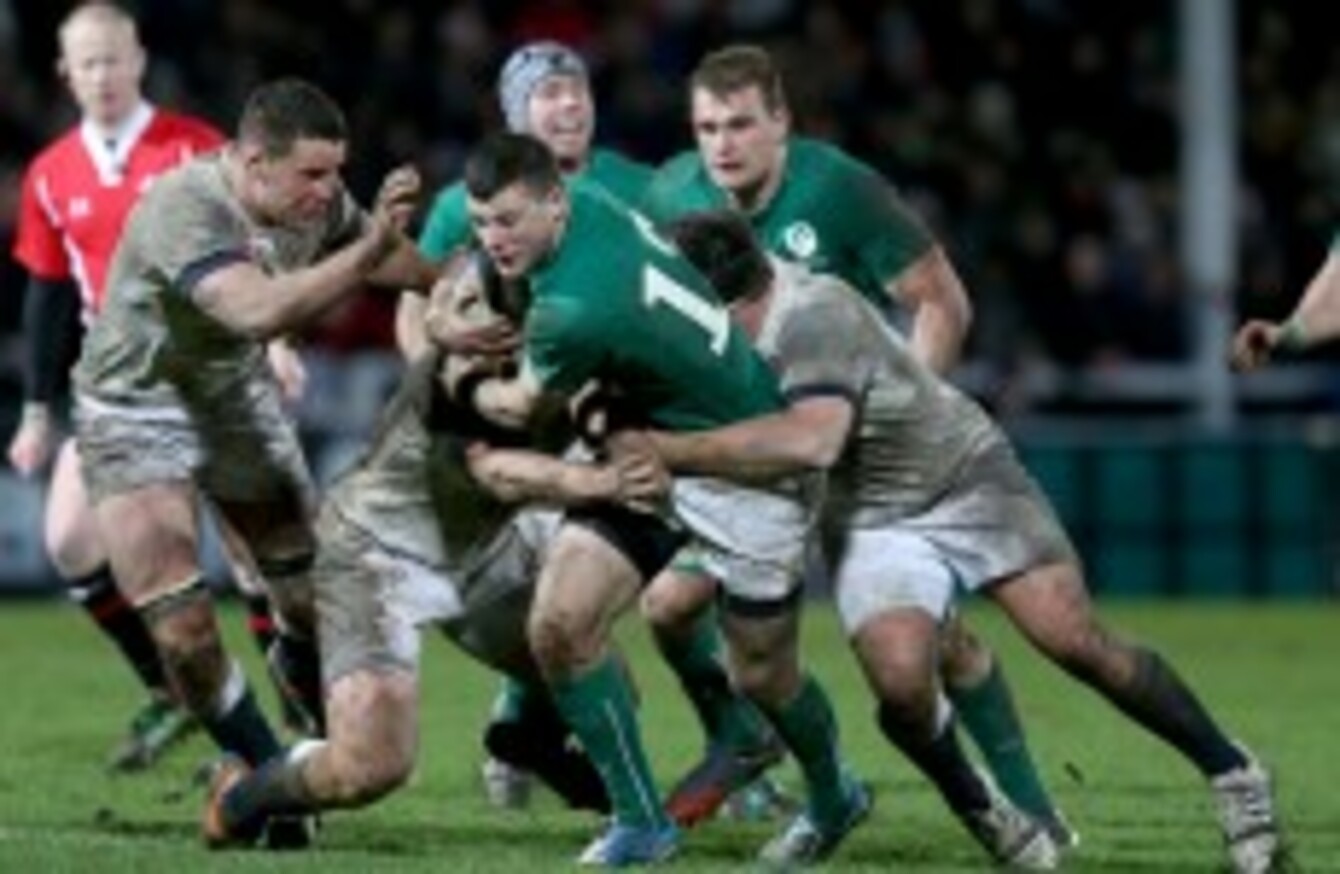 Image: ©INPHO/Dan Sheridan
Image: ©INPHO/Dan Sheridan
IT WASN'T PRETTY, but Ireland Wolfhounds came home with a hard-fought 14 – 8 win over the England Saxons last night.
These games never offer great opportunity for flair, more often fringe players are buckling down to show they're willing to put in the effort and the January conditions ensured The Wolfhounds had to do that in spades.
Here are five more talking points we found ourselves dwelling on throughout the Kingsholm slug-fest.
Good signs
While the personnel will change, games like this are an opportunity for coaches to see their framework put into practice.
England's strength in depth will always ensure the Saxons have a solid tight five, but with Dan Tuohy leading the resistance for Ireland, the Wolfhounds stood firm at line-out and maul.
Ireland's breakdown work was also a massive positive to come away with from this game. Best demonstrated around the hour mark (so often the time when processes get a bit ragged), Tuohy, Rhys Ruddock and Robin Copeland displayed an accuracy and urgency in clear-outs and better back-line decisions would have put the game beyond the Saxons there and then.
Madigan rewarded for playing it fast and loose
With Jonathan Sexton ripping it up in Paris and Paddy Jackson kept in cold storage, the Wolfhounds coaching ticket asked Ian Madigan to show he could control this game.
Instead, that responsibility appeared to go to Isaac Boss while options in midfield were continually used to kick for territory when Ireland needed an out.
With game-management left to others around him, Madigan was given free rein to run at the Saxons and his keen eye for the try-line was displayed perfectly with the first-half quick-tap that proved to be the game-winning score.
England should wrap Owen Farrell in cotton wool
We all know Ireland would be in a spot of bother without Jonathan Sexton – try not to think about last year's Six Nations – but the expulsion of Toby Flood from the England squad has left England in a similar rut.
By the time Freddie Burns let a potentially match-winning score shoot out of his hands and into a touch-judge's face he was chasing the game. A Hollywood score at the death may well have papered over the cracks and left him as the toast of Gloucester last night. But in the crowd Stuart Lancaster will have been left in no doubt that, in 2014, there will he no competition for England's number 10 shirt.
Big D
The Saxons held the majority of possession, but the Wolfhounds put in a massive effort, blending blitz and drifting defensive lines when they needed while putting in an enormous 192 tackles.

©INPHO/Dan Sheridan
The Saxons were guilty of fluffing their lines on a few occasions, but all in all the Wolfhounds looked relatively comfortable. The system will face greater tests, but with just an intercept try and a penalty conceded, this one was passed with flying colours.
Tough selection calls for Schmidt
Isaac Boss was a clear choice for man-of-the-match and it is plain to see why Schmidt was so fond of playing him in tense, tight away games such as last night's. Boss provided the control for Ireland, constantly chatting to his pack and organising the back-line. Even after scoring his try – which could never happen in an international Test – he was straight up to bark orders.
Tommy O'Donnell was the other major plus from the win. His 14 tackles were dwarfed by Ruddock's total of 19, but he was a constant feature in the tackle area, leaning over the ball and making life a misery for an England side with the majority of possession. Chris Henry may be the man with the number seven jersey at the minute, but O'Donnell will not be far off in Schmidt's thinking.