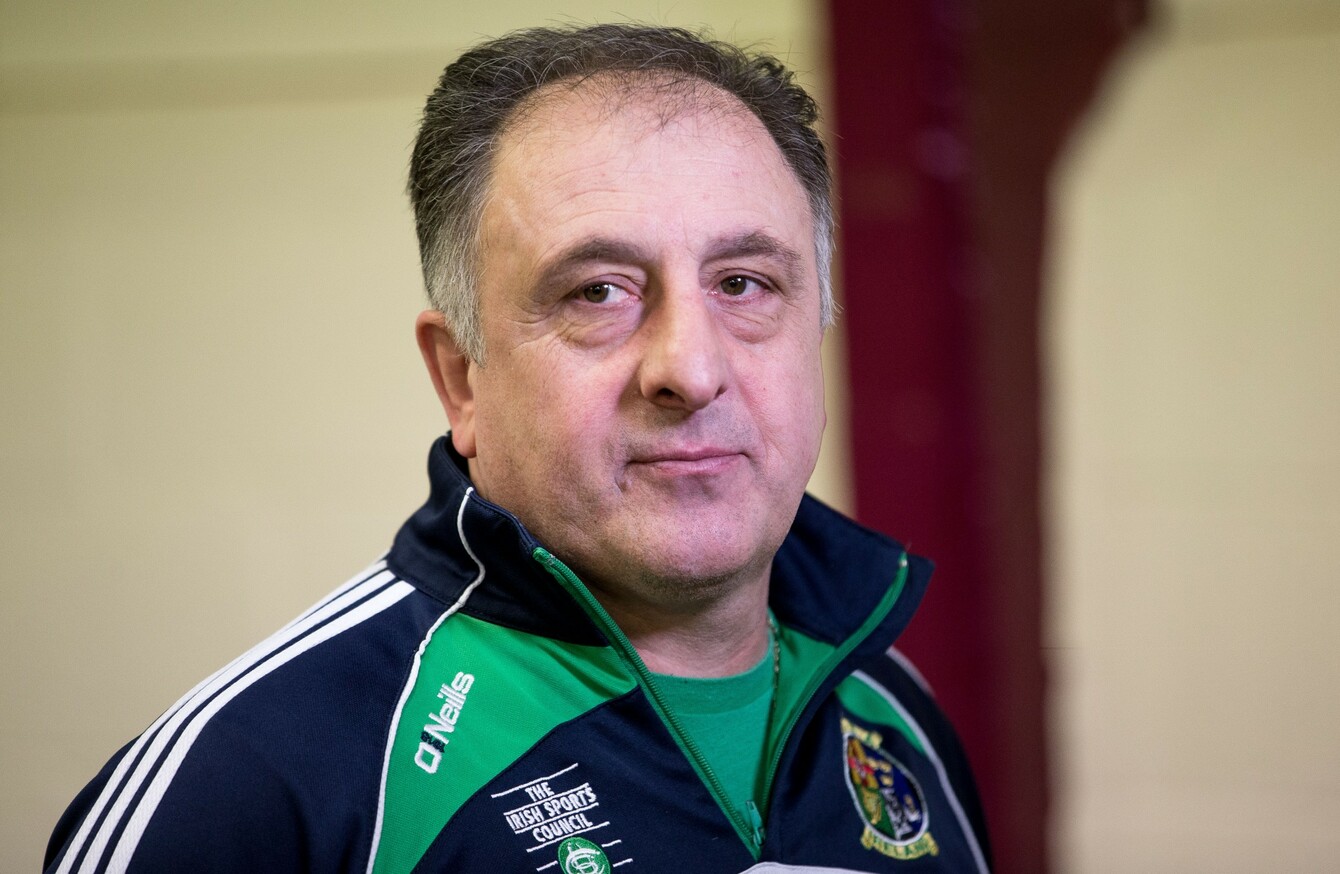 Ireland coach Zaur Antia.
Image: Gary Carr/INPHO
Ireland coach Zaur Antia.
Image: Gary Carr/INPHO
IN THE FALLOUT from Billy Walsh's departure, many speculated whether Team Ireland's build-up to Rio 2016 would be upset, but his successor Zaur Antia is confident that his pre-Olympic plan will smooth the path to more medals.
Wexford native Walsh left his position as head coach of Irish boxing's High Performance Unit in acrimonious circumstances last October, taking up a new role with USA Boxing's women's team, with his coaching colleague Antia filling the role in an interim capacity ahead of the Olympics.
The Georgian has been busy getting plans together in preparation for Rio and led a five-man team to Helsinki last weekend for the Gee-Bee Multi-Nations tournament.
Michael O'Reilly, Darren O'Neill and TJ Waite picked up silver in Finland, while Stephen McKenna came home with bronze, and the build-up to April's Olympic qualifying event in Turkey continues this week as a Lithuanian squad, including European medallists Eimantas Stanionis and Evaldas Petrauskas, arrives in Dublin for a training camp against a 22-man Irish panel.
"There's plenty of work to do but most importantly we have a plan and our boxers are trying to get better. Everybody is committed to training and we're looking forward," said Antia, who admitted that his coaching team must strike a fine balance between preparing Olympic contenders for Rio and priming prospects for Tokyo 2020 and beyond.
"It's difficult (to find a balance), but we need competition as part of our preparations … everybody wants practice and the (Gee Bee tournament) is just one step of our preparations," said the Georgian, who hopes to arrange a round-robin tournament in the coming months that may feature Ireland's Olympic qualifiers.
So far, Joe Ward, Michael Conlan, Paddy Barnes and Steven Donnelly have booked their places in Rio, with more slots available for male and female boxers at April's European qualifier in Samsum, Turkey.
In further preparation for that trip, Ireland's women's team are due to take on France in an international at the National Stadium on 26 March and Paddy Barnes this week expressed his hope that men's bouts will also be scheduled for the card.
"We'll try and see what happens, but we don't know yet," said Antia on that prospect.
"We're using all our resources for Paddy and the rest of our boxers," added Antia, who is credited by Barnes and a number of his team-mates for playing a major part in Ireland's vast success in the High Performance era.
John Conlan, father of world bantamweight champion Michael and head of Ulster's high performance, maintained that the Irish Athletic Boxing Association's (IABA) coaching staff are focused on Rio with one eye on Tokyo.
"Everything is for the Olympics, everything," said Conlan. "We have qualified boxers, pre-qualified, pre-elite, women – it's hectic but he (Antia) has a world-class plan for everybody.
"We train everybody on a special path, everybody has their own preparation for each tournament so the guys going for qualification are getting a warm-up, and [others] are getting experience of international level.
"We're already looking at plans for Tokyo, but we have a very good plan for the (Rio) Olympics," added Conlan, speaking in promotion of the IABA's 'Let's KO Bullying' campaign.
The42 is on Snapchat! Tap the button below on your phone to add!