BILLY JOE PADDEN says Gavin Duffy won't have any problems adapting to the athletic demands of the GAA – and he should know.
The pair lined out together in the 1999 All-Ireland minor final defeat to Down, and Billy Joe is absolutely "delighted" that his former team mate has been called in to the Mayo panel.
Duffy lined out at midfield in that final, his second year playing in the middle of the park for the Mayo minors.
"We had a really good year," Padden told TheScore.ie. "We had both played minor the year before. I'd come on and he'd started in the first-round defeat to Galway.
"1999 was our last year at minor. We started really well and had a good win against Roscommon and then Galway were really well fancied with Joe Bergin, Kieran Comer and lads like that, and we beat them on a really bad day in Tuam.
Gavin marked Joe Bergin that day and we won by a ridiculous score. We got 3-3 and we didn't even play that well but just got over the line.
Alongside Padden and Duffy on that minor side were other future senior stars such as Alan Dillon, Pat Kelly and James Gill.
"Then in the semi-final we were excellent against Cork and people probably had us as red-hot favourites in the final, but we just didn't perform anywhere near the level we did in the semi and Down were deserving winners," he says.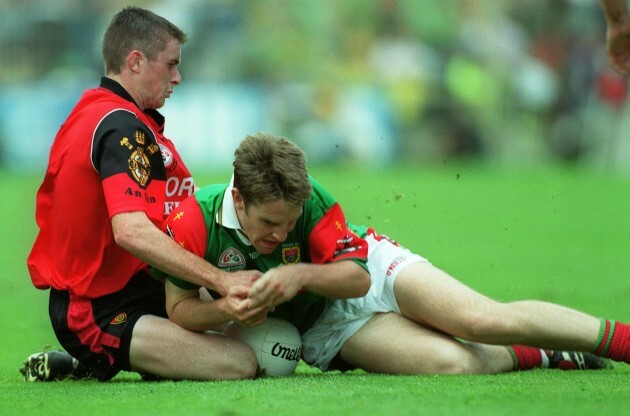 Billy Stickland / INPHO Billy Joe in that minor final. Billy Stickland / INPHO / INPHO
Was it always rugby?
That defeat by a Benny Coulter-inspired Down proved to be Duffy's last time in the green and red of Mayo.
"Rugby was always his first sport," Padden recalls, "and maybe he knew that minor final might be his last chance of representing Mayo because at the time it was pretty obvious he would go on to play professionally.
"I remember as young fellas being around him, as mates on the team, that he would always be going on to play rugby."
ConnachtRugbyTV / YouTube
What are his attributes?
"Gavin was a real all-rounder. He's very good in the air. You know, he has real broad shoulders and it was very hard to field anything around him.
"Anyone who played international rugby for Ireland at full-back is an exceptional athlete, and he is.
He does everything well. He's quick for a big fella, he's agile, he's got a low centre of gravity. It's hard to knock him off the ball and he stays on his feet well.
"He always had this great engine to get around the field and with his pace and decent ball control, it meant he could carry the ball at pace.
"He was just a really good all-round athlete and footballer."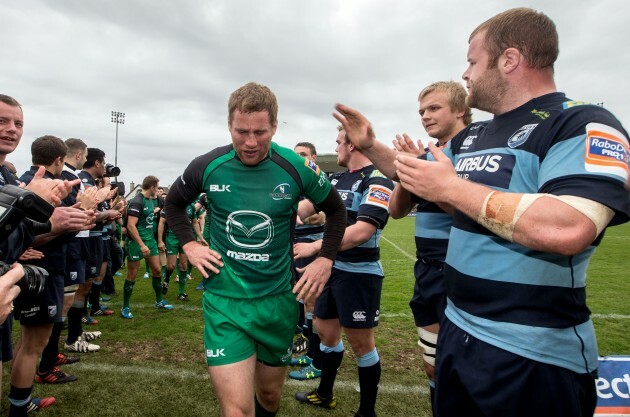 James Crombie / INPHO James Crombie / INPHO / INPHO
Can he adapt?
"The difficulty he's going to have now is adapting to play with a round ball and dealing with the key differences between the games," Padden explains.
"It'll be interesting to see if he can adapt to that quickly, but in terms of athletic ability he's as good as you'll find. As long as he stays injury-free, he'll be fine in that regard.
It's just how quickly he can adapt to playing with the round ball, kicking, and the tackle area, because the tackle area in rugby is so different and obviously you have to be so aggressive in the tackle in rugby.
"He has to be careful not to get black cards and not to tackle the man and focus on the ball."
Where would you play him?
"It's way too early to say that. We've no idea how he'll react.
"It's a good fifteen years since he played football. He's been playing playing a totally different game with a different ball.
It's not comparable with Tadhg Kennelly coming back playing. Tadhg was younger and he was playing a game that was much more similar to Gaelic football — so it'll be much harder for Gavin to adapt."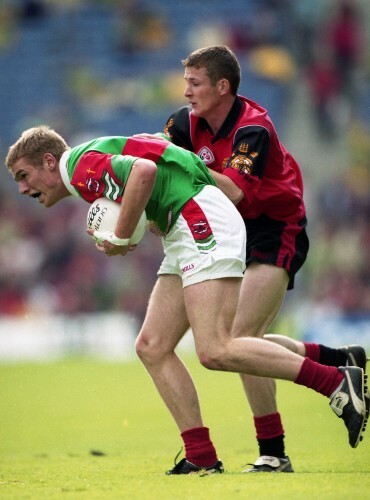 Patrick Bolger / INPHO Patrick Bolger / INPHO / INPHO
Will he actually play?
"One thing I'll say about Gavin coming into the squad is that he's so well respected in Mayo, he's a lad that a lot of lads will look up to.
"He's just great to have on the panel, no matter what role, even if he was only in there as somebody like an advisor and not even in a playing capacity.
"He would bring a lot to that squad so I'm absolutely delighted he's in there but it's going to be very difficult for him to adapt as quickly as Mayo probably need him to if he's going to play this summer.
He's a professional athlete. They seem to last longer and he'd be in the top 10% of GAA athletes.
"As long as he stays injury-free and is enjoying i,t I'm sure he'll get this season and next season out of it.
"But I think me and the Mayo squad are all thinking of the impact in the short term. If that's only helping young fellas along in training and training matches, or if it goes really, really well and he can make an impact coming off the bench — you know in around the middle of the field or in around the edge of the square — then James Horan will look at that as having worked perfectly."