1. Wes Hoolahan to justify the hype
For a while, it seemed the less Hoolahan played for Ireland, the better he became, so strong was the hype stemming from his prolonged absence from the squad.
Moreover, the paucity of creativity in the team's midfield was exacerbated by the fact that the one player conceivably capable of rectifying the problem was being continually snubbed by Giovanni Trapattoni.
Consequently, there was a degree of surprise yesterday when Trap confirmed that, at 31, Hoolahan would make his first-ever start for Ireland at senior level.
However, the pressure is now on the Norwich man to illustrate why his supporters were so eager for him to have an integral role in the side in the first place.
If he gives the type of accomplished display that he has shown himself to be capable of at club level, Trap has indicated he even has a chance of starting against the Faroes. However, a bad performance could cause him to be permanently ostracised from the side, with the manager notoriously sceptical as to whether he has the physical capabilities to compete at international level.
2. Andy Keogh to prove he can be effective on the wing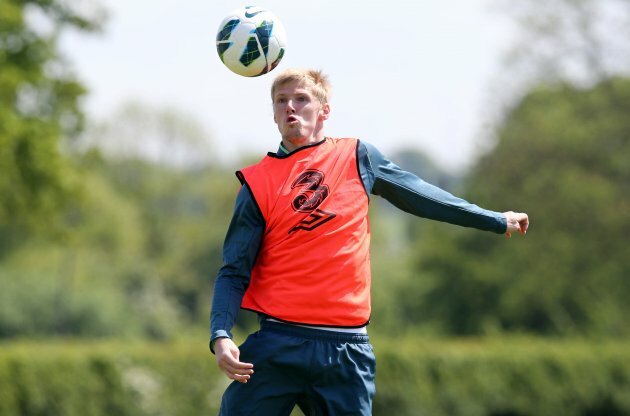 (Andy Keogh is set to start for Ireland today – INPHO/Donall Farmer)
Keogh both is and isn't a surprise choice for Ireland.
On the one hand, he is seen by many as no more than a lower league journeyman, with other players such as Hull's Stephen Quinn arguably more deserving of a chance in the side.
Then again, Trap has consistently shown an affinity with the idea of playing strikers on the wing – even in last week's friendly with England, Jon Walters featured there.
The Millwall man has all too often, however, looked exactly like a striker in unfamiliar territory when playing on the flanks for Ireland.
His international career has been inconsistent at best, with fans often lamenting his presence in the side.
Nevertheless, today appears the perfect opportunity to prove the naysayers wrong, with Ireland playing an ostensibly weak team in a game with little at stake.
3. Positive football
Some may baulk at the suggestion that it is in any way imaginable that a Trapattoni team would adopt anything other than the ultra-negative tactics for which he is renowned.
And if the Irish team don't approach today's game in a positive fashion, it's probably safe to say they'll never revert to such a style.
Not only are they coming up against a side to whom they are markedly superior (at least, judging by the FIFA rankings), but they are playing with perhaps the most creative and attack-minded midfield ever seen during Trapattoni's time in charge of Ireland.
In James McCarthy and Wes Hoolahan, they have two players who are extremely comfortable with the ball at their feet.
Effectively, if they can't pass the ball consistently to feet today, no Irish player can or ever will.