1) With Ireland, pride comes after the fall
It isn't a cliché. While Giovanni Trapattoni may be correct in thinking that Irish and British players are tactically and technically inferior to their continental counterparts, there is some truth in the view that they overcome this with commitment.
Furthermore, it's quite rare to see teams from these islands completely buckle.
After all, many remember the 5-2 humbling to Cyprus in 2006. Fewer, however, recall the response. A few days later, Ireland played a Czech Republic side that were genuinely, then, one of the continent's better sides. And, against them, the side produced one of the performances of the campaign to claim a creditable draw after so much drama in Nicosia.
There tends to be a defiance about Ireland in such situations, and it may well produce a determined, improved display against Spain.
2) The performance of Keith Andrews
The thing about Giovanni Trapattoni's criticised system is that, when players are performing to their absolute optimum level, they can adequately cover the notable holes in it. That was what happened in Paris. And at least one player reproduced it against Croatia: Keith Andrews.
When he had the ball, he was trying to make things happen. When the supreme Luka Modric had it, Andrews was at least working harder to anyone to track and harry him.
On Sunday, he may have been alone in that performance. But, on Thursday, it will hopefully inspire others to follow his lead.
3) Spain haven't quite hit top gear either
For once, all the old lines about Spain were true. Having passed their way up the Italian box on Sunday, they then passed their way back out of it. This happened a number of times, particularly in the first half.
In one notable moment, David Silva only had to turn inside and shoot but, instead, incredibly opted to turn back and play it back out.
Remarkable. And, even when Fernando Torres came on to make them a bit more direct, he illustrated he still hasn't returned to his best either.
What's more, Ireland are likely to make that box very congested on Thursday. The Gdansk pitch is nowhere near as slick as the Poznan one. There is potential for Spain frustration here.
4) Ireland don't really need to change
Against a side so close to us in overall form and quality (if not technique), like Croatia, there is an argument that Trapattoni should have altered either the system or the approach somewhat to take the game to them.
They do not need to do this against Spain, though. And, really, that's nothing to do with Ireland. It's all to do with Spain and the way they've changed modern football.
As Switzerland, Inter Milan and Chelsea have illustrated, the only way to beat the pressing, passing game of the Barcelona core is to sit back, defend doggedly and hope to take your chances. If you come out in any way at all, Spain will generally wreak havoc in the extra space.
And, while Trapattoni's team tend to leave a lot of space in front of them, they don't leave much mind. It could even be argued that the template for beating Spain is the only approach that Trapattoni has actually practiced in his time with Ireland.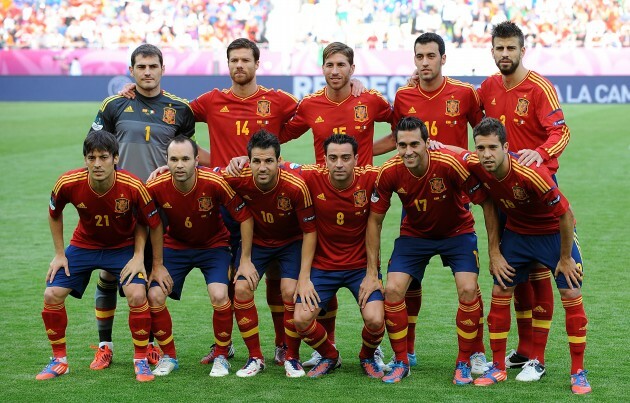 The Spanish XI that drew with Italy yesterday. They're not so tough. Pic: Tony Marshall/EMPICS Sport
5) Without Carles Puyol, and with Ireland's set-piece prowess, there is joy to be had
How many times against Italy, on Sunday, did Sergio Ramos and Gerard Pique — who both dislike each other — leave huge gaps for Italy to exploit. Spain lack a presence in that area without Puyol. And that is most notable at set-pieces… another one of the few areas of the game that Trapattoni's Ireland have excelled in over the past few years. Exhibit A: the manner in which Sean St ledger took advantage of Vedran Corluka's lack of fitness in order to stoop and swoop.