1.  Will either of the sides be affected by last weekend's developments?
Both teams, perhaps with one eye on tonight's game, suffered shock losses at the weekend.
Barcelona's grip on the league title was loosened after they surprisingly lost 1-0 to Vallodolid, while City were beaten in the FA Cup for the second consecutive season by Wigan.
Pellegrini has already admitted his side's first-half performance was unacceptable.
"I think we played the worst first half we have done in my time here," he told reporters. "We did not have the pace we needed against a team with Wigan's intensity."
However, despite their 2-0 deficit, City will derive some optimism from Barca's poor recent form, as Samir Nasri this week acknowledged.
"I think anything is possible in football," he said. "I saw them this week against Valladolid. It just shows they are human."
2. Is the referee's performance going to be a significant factor again?
An angry Manuel Pellegrini accused the referee of "favouring" Barcelona after he made some debatable decisions that benefited the Spanish side in the first leg.
Pellegrini subsequently apologised for these remarks, but the damage has already been done.
Each decision that the official in tonight's game makes will consequently be subject to more scrutiny than usual.
Moreover, if the referee makes a controversial call in Manchester City's favour, he risks being accused of appeasing Pellegrini and attempting to level the playing field.
Whatever happens, tonight's match requires a strong character in the middle who is not susceptible to such intense pressure.
3. Can City make history?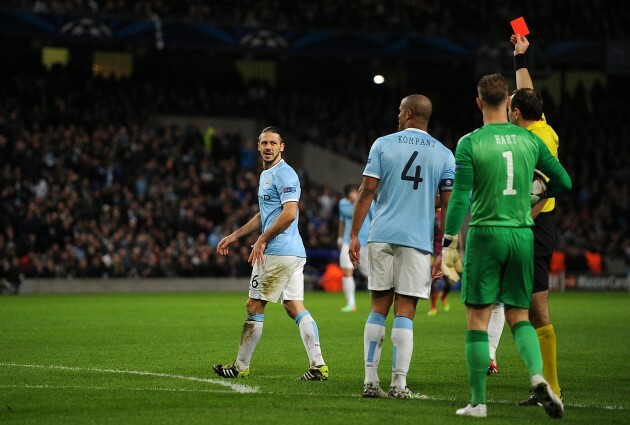 PA Wire / Press Association Images PA Wire / Press Association Images / Press Association Images
(The sending off of Martin Demichelis altered the course of the first-leg game)
In the history of the European Cup, just six teams have ever gone through after losing the first leg at home.
Moreover, the teams in all but one of those matches only needed to recover one-goal deficits, while no team has ever recovered from a 2-0 initial loss, which is what City are bidding to do tonight.
And as if those statistics weren't foreboding enough from a City perspective, Barcelona have only lost once in their last 18 knockout matches at the Nou Camp — 3-0 against Bayern Munich last season, while they have only lost once there against English opposition in 17 games (Liverpool in 2007).
With all those factors taken into consideration, it's no surprise that City are as high as 10/1 to qualify for the next round.
4. Xavi on the verge of breaking record
Assuming Xavi plays tonight, he'll equal Ryan Giggs' all-time record of 139 Champions League appearances for one club.
The fact that he is six years younger than the United veteran is a testament to the remarkable run of games he's competed in at the highest level with Barcelona.
Having also been integral to Spain's three successive major trophies at international level, the diminutive midfielder is destined to go down as a legend of the game — and he is already officially the most successful player in the Spanish footballing history in terms of trophies won.
Primarily because he is invariably surrounded by so many great players, Xavi's talent sometimes goes underappreciated, yet there is no doubting his continuing importance to the Barca side, as emphasised by his incredibly consistent performances and unbelievably impressive passing stats.
And the 34-year-old could cause City considerable harm tonight should the likes of Yaya Toure and Fernandinho lose their concentration and enable him to find space to produce one of his trademark defence-splitting passes.
5. Will City go with two up front?
In the first leg against Barcelona, Manuel Pellegrini's side understandably adopted quite a cautious strategy.
They played with just Alvaro Negredo up front, as David Silva played in behind him, while the midfield of Yaya Toure, Fernandinho, Aleksandar Kolarov and Jesús Navas all sat deep and allowed their opponents to enjoy significant possession.
It worked quite well in the first half, as Barcelona struggled to break the home side down, before Demichelis gave away the penalty and got sent off, effectively ending City's hopes of securing a positive result.
Pellegrini's side will surely have to play more adventurously this evening, though Barcelona are not the type of side teams can afford to be too cavalier against.
That said, 4-4-2 has worked quite well for City this season, and given that they desperately need goals, it will no doubt be tempting for them to adopt such a bold philosophy under the circumstances.