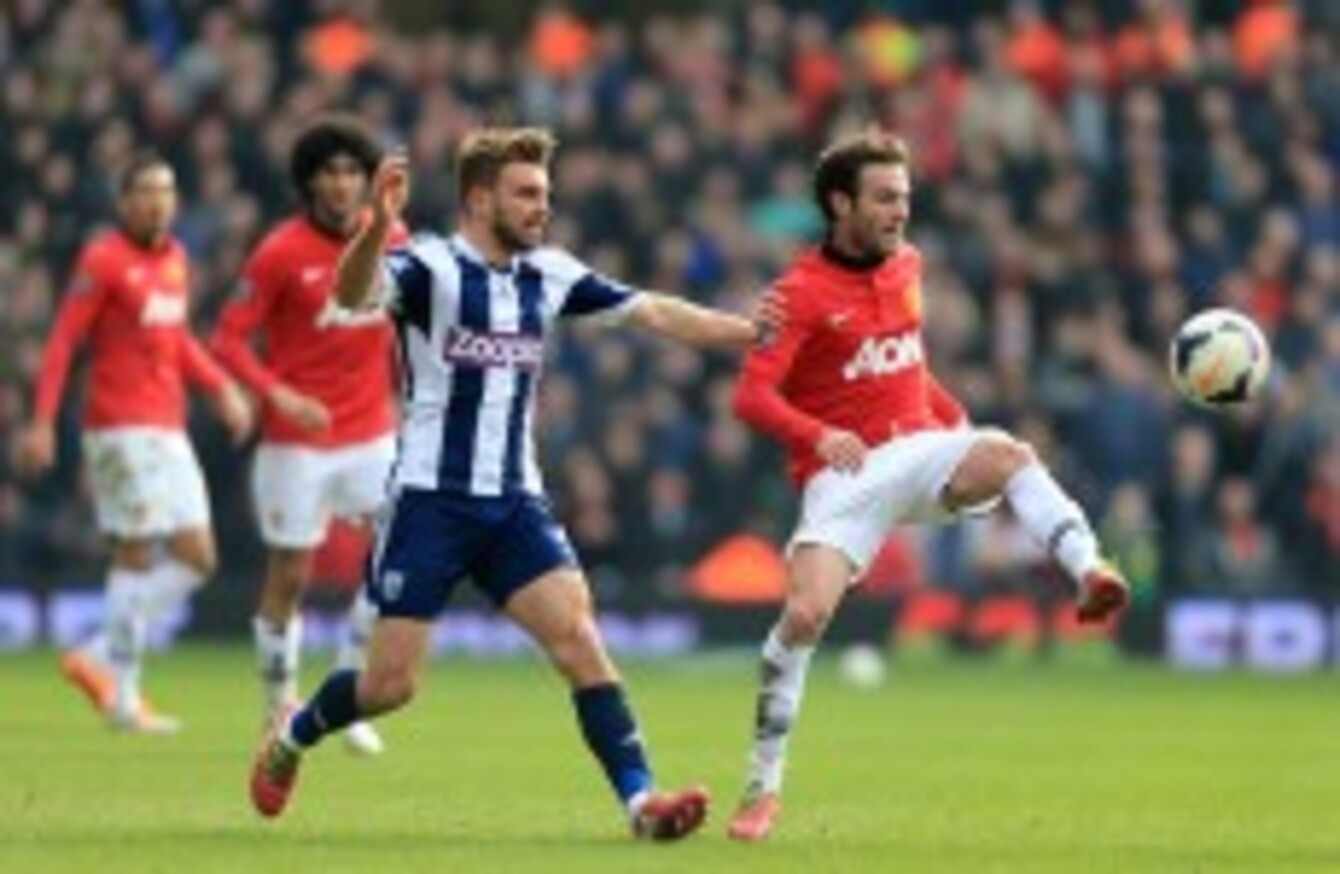 Manchester United's Juan Mata (right) and West Bromwich Albion's James Morrison (left) battle for the ball.
Image:
PA Wire
/Press Association Images
Manchester United's Juan Mata (right) and West Bromwich Albion's James Morrison (left) battle for the ball.
Image:
PA Wire
/Press Association Images
1. United show signs of recovery
Against West Brom yesterday, David Moyes had a rare opportunity to field what most most would consider his best team (arguably apart from the departing Nemanja Vidic, who was on the bench).
Their midfield and attack alone featured two of the league's best strikers, a £37 million man, a £27.5million man, one of last year's Player of Year nominees and a player widely considered to be one of the most promising teenagers ever to play in the Premier League.
With that type of talent, it's no surprise that United secured an easy 3-0 win over the relegation-threatened Baggies and thus earned back-to-back victories for the first time in 2014, though they were somewhat fortunate to have Robin van Persie still on the field after he committed a bad challenge on Steven Reid.
They still need a couple of players to boost their squad, especially a top-class midfielder and centre-back, but yesterday's match illustrated that they have the basis of a side that has the potential to restore past glories.
2. Tottenham players as culpable as Sherwood
Many people believe that the primary reason as to why Andre Villas-Boas was sacked as Tottenham manager was not poor results but rather, a refusal to conform to the entertaining brand of football that Spurs fans in particular seem to demand.
Tim Sherwood, it was suggested, would bring back the type of attacking football that the club were famous for in their increasingly distant glory days.
Yesterday against Chelsea however, it might as well have been an AVB-managed side, as the team had a very cautious look about it, with effectively five defenders and two defensive midfield players starting.
And as with AVB, their defensive set-up could not prevent them from being thrashed after coming up against a side that ultimately looked a far superior outfit.
Some will probably blame Sherwood's tactical naivety for this latest debacle, but perhaps it's time Spurs' underperforming players shouldered some of the blame.
3. Everton's limitations exposed
(Arsenal's Kieran Gibbs is tackled by Everton's Seamus Coleman)
There is no doubt that Everton have enjoyed an excellent season given their somewhat limited resources, staying within close distance of the leading teams for much of the campaign.
Nevertheless, yesterday's FA Cup tie against Arsenal suggested that they don't quite have the ability to get in the top four.
The Toffees have some very good players — Romelu Lukaku, Seamus Coleman and Leighton Baines for instance, would be good enough to get into most Premier League sides.
Be part
of the team
Access exclusive podcasts, interviews and analysis with a monthly or annual membership.
Become a Member
However, unlike the rest of those challenging for the top four, what they lack is strength in depth.
Arsenal were able to secure an ultimately easy victory yesterday without three of their most accomplished players — Aaron Ramsey, Laurent Koscielny and Jack Wilshere. Everton, by contrast, have consistently struggled without Lukaku, while the inexperience of players like John Stones and Joel Robles was stark at the Emirates.
Moreover, the game's crucial incident saw Gareth Barry needlessly commit a penalty as Alex Oxlade-Chamberlain attempted to accelerate away from him. The ageing midfielder has played 22 of the Toffees 27 league games this season, and fatigue seemed to overcome him towards the end of Saturday's cup tie, thereby prompting this game-changing error.
4. Mourinho's faux modesty not fooling anyone
Jose Mourinho continues to dampen expectations whenever the topic of Chelsea's title credentials are brought up, despite the fact that they sit seven points ahead their rivals (all of whom have at least one game in hand) at the top of the table.
Yet the Chelsea manager must surely realise and privately acknowledge that he is in an excellent position to claim his third Premier League title as a manager.
Yesterday they produced an admirably clinical display against Tottenham, consummately taking advantage of their opponents' numerous second-half errors to secure a comfortable victory.
Chelsea have still just conceded one goal, scored by Javier Hernandez, in all of 2014 at Stamford Bridge. On current form, it's hard to see any team beating them there.
5. Inspired Wigan overcome lax Manchester City
People often fondly reminisce about past FA Cup giant-killings, but Wigan's defeat of Manchester City this afternoon was well up there in terms of shock value.
While only one division separates the sides (and that may well not be the case next season), the financial disparity between the clubs was far greater compared, for instance, to the Hereford team that famously shocked Newcastle in the 1970s.
Similarly, very few people gave Wigan a chance to beat Manchester City at the Etihad — something only one team (Chelsea) has managed to do in the Premier League this season.
And a combination of factors enabled this special occasion to occur. Uwe Rosler's brave tactics in deciding to play two attackers up top ultimately paid dividends, as the City defence — and especially, the hapless Martin Demichelis — were persistently tormented by the pace and trickery of Callum McManaman and Marc-Antoine Fortuné.
Moreover, the Latics rode their luck at times, as City belatedly came to life following their opponents' second goal, pulling one back through Samir Nasri and wasting several good chances thereafter.