1. These losses may come back to haunt the team
SOME PEOPLE MIGHT shrug at the outcome of a loss in a supposedly 'meaningless' end-of-season friendly, however such results can be more harmful than they seem at first glance.
Friendly results count towards world rankings, which consequently will impact on seedings for the 2018 World Cup and other future tournaments.
In isolation, the loss against Turkey yesterday may not matter, but being defeated by beatable teams is not something Martin O'Neill's men can afford to make a habit of, irrespective of the context and especially given that they could now potentially accumulate a run of losses, given that their next three opponents are all teams who've reached the World Cup.
Should they continue to rack up such losses, they may find themselves in an impossibly taxing qualifying group for the 2018 World Cup, with the prospect of reaching the finals more unlikely than ever.
2. Bad luck and sloppy errors hampering Ireland
FootballY GoalsTVHD / YouTube
There was a sense of deja vu about Ireland's game yesterday — specifically, it was uncannily reminiscent of their last fixture under Martin O'Neill against Serbia.
That match also ended in a 2-1 defeat despite a bright opening from Ireland, while the team were also hampered by bad defensive errors, incorrect refereeing decisions and a failure to build on the promise of the initial phase of the game.
On that occasion, Wes Hoolahan had a goal wrongly ruled out for offside. Yesterday, the Turkish defender Omer Toprak should have been sent off after denying Shane Long a clear goalscoring opportunity during an important stage of the contest, yet the referee inexplicably waved play on after the Hull striker was clearly impeded just outside the box.
Similarly, against the Serbs, Séamus Coleman showed a lack of basic defensive nous by conceding possession in a dangerous area and thereby prompting the concession of a second goal, while against the Turks, there was a clear lack of communication at the back as Tarik Camdal's doubled his side's advantage, with three defenders pushing up, as Marc Wilson simultaneously stood still and played everyone onside.
O'Neill obviously cannot legislate for officials' ineptitude, but he'll need to work hard on the defence before the important games begin.
3. Should Wilson be restricted to playing centre-back?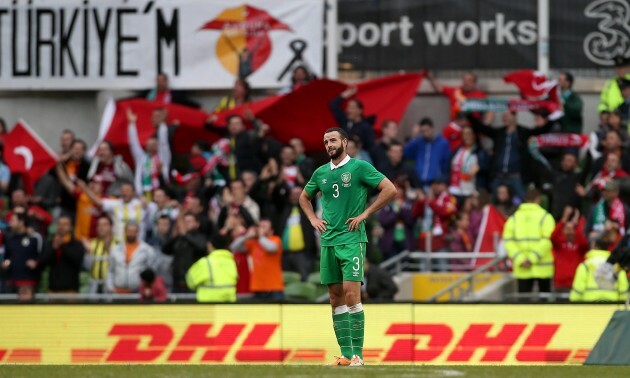 Ryan Byrne / INPHO Ryan Byrne / INPHO / INPHO
(Ireland's Marc Wilson dejected after conceding a second goal)
Marc Wilson is in a similar position now to where John O'Shea was a few years back.
During his Man United days, the Waterford native was at various points asked to play at centre-half, full-back, midfield and even goalkeeper.
While managers appreciated O'Shea's versatility, regularly playing in different positions stunted the player's development and ultimately did him no good.
It's easy to see why Martin O'Neill opted not to play Wilson at centre-back (at least initially) — the position he has belatedly began to regularly occupy for Stoke.
Ireland are reasonably well covered in that area of the field, while Wilson is comfortable enough on the ball to do a decent job in the middle of the park or at full back when needed there.
Nevertheless, in the long term, it would surely be more beneficial for both Ireland and the player himself if he were regularly asked to play in his best position, which unquestionably is in the middle of the backline.
4. McGeady departure disappointing
It was disappointing to see Aiden McGeady leaving the action prematurely at the Aviva Stadium yesterday.
Along with Wes Hoolahan, the Everton man had been Ireland's most creative player, although ironically, the Boys in Green did manage to score following his departure from the game, despite the dwindling creativity apparent on account of his absence.
That said, Martin O'Neill's decision to withdraw the player after 66 minutes may not have been purely tactical.
The former Celtic man has barely played a full 90 minutes since joining Everton, given that he has been recovering from a lack of fitness caused by a period in the wilderness at previous club Spartak Moscow.
5. Time to give Stokes a chance?
nakamura254celtic / YouTube
Not for the first time, Ireland spurned several good opportunities yesterday, as they were ultimately made to pay for such lacklustre finishing.
Despite Shane Long's admirable work rate and excellent play in the build-up, his performance was unlikely to change the opinions of those who suspect he is not quite clinical enough to be a top player at international level.
Surely therefore, Ireland need to give other strikers a try if they want to improve on their underwhelming goalscoring record of recent years.
Though he was conspicuous by his absence yesterday, with 19 goals in 32 appearances this season (and 51 goals in 88 appearances in total), Stokes — with Robbie Keane unavailable — is the closest thing Ireland have to a natural goalscorer. To put his record in context, Shane Long has managed only four goals in 15 appearances for Hull and 19 in 60 matches before that at West Brom. In other words, Stokes has scored as many goals in one season as Long managed in three with the Baggies.
Granted, the top level of international football is a major step up from the SPL, but the 25-year-old surely at least deserves a chance to prove he can perform on a more prestigious stage. If nothing else, his free-kick-taking ability (see above) would be a considerable asset.