1. Can United keep Sturridge and Suarez quiet?
One of the primary reasons why Liverpool are genuine title contenders this season is the form of Daniel Sturridge and Luis Suarez.
The duo are responsible for a sizeable portion of Liverpool's 73 goals from 28 games — alone, they have managed to score more times than most Premier League teams this season.
Liverpool, as their overall goal tally illustrates, are far from solely reliant on their strike duo, but stopping them will go some way towards curbing their overall attacking threat.
The Englishman and the Uruguayan are not entirely unstoppable when played together, as Arsenal showed recently, though interestingly, in the two big games Liverpool lost just after Christmas (against Chelsea and City), Sturridge was absent on both occasions.
Whether it's Phil Jones, Chris Smalling, Nemanja Vidic or Rio Ferdinand, none of the United central defence have truly managed to truly convince this year.
That said, this could be the perfect opportunity for the younger two of that quartet to consolidate their long-term future at the club with a commanding display against players who are surely the Premier League's two best attackers on current form.
2. Do Liverpool's title hopes hinge on this game?
If Liverpool lose today, they'll be seven points behind Chelsea with a game in hand, and potentially ten points behind City should the Eastlands club win their games in hand.
It means the Londoners will have to drop points in at least two of their remaining eight games, one of which is against Liverpool. Though the latter match and the Arsenal fixture aside, the other six matches are ones you'd expect Jose Mourinho's side to win.
And that's not even taking into account the run-ins of Manuel Pellegrini's side and Arsenal, both of whom will also have to drop points to let Liverpool back in the title race should they lose at Old Trafford this afternoon.
So today's game has all the hallmarks of being a must-win as far as the Anfield club are concerned. While it would be a little dramatic to say that a loss or a draw would put them out of the title race, particularly in this most unpredictable of seasons, it would certainly make them rank outsiders.
3. Will Juan Mata continue to quietly impress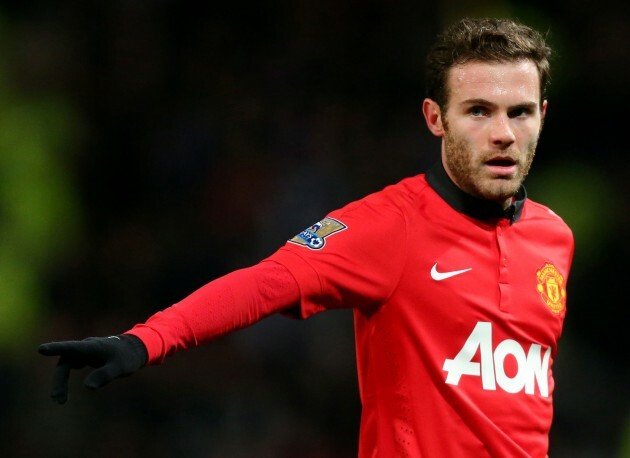 Dave Thompson Dave Thompson
(Juan Mata has enjoyed an encouraging start to life at United)
One of the positives of the recent talk surrounding Robin van Persie's future and Wayne Rooney's new contract is that it has, to an extent, deflected the pressure away from recent £37.1million signing Juan Mata.
The former Chelsea midfielder has looked increasingly comfortable in his role at United, after a somewhat slow start that wasn't helped by some poor team performances against sides such as Stoke.
However, United looked more impressive than usual in their recent 3-0 victory over Crystal Palace, securing back-to-back wins for the first time in 2014, with Mata an abiding influence for the majority of the contest. The Spaniard is also clearly an immediate fan favourite, winning the club's Player of the Month for February.
That said, there remains concerns about how the player is being used. David Moyes has invariably opted to play him on the wing, while the player himself hinted at discontent in a recent interview with BT Sport, saying: "I love to play between the lines as a No.10, come inside, that is where I feel comfortable to play; to keep in touch with the ball because I love to play in possession and with the ball."
Yet he has at least shown a willingness to refrain from sulking so far — and with three assists in six appearances, he is still far more successful than most natural wingers.
4. How will Liverpool set up?
Old Trafford may not be quite as formidable a place to visit as it once was, but it would be a surprise if Liverpool didn't adopt a degree of caution in this game.
United have been improving lately, while Liverpool's defence, especially away from home, has looked highly vulnerable.
In order to give their back four greater protection, Raheem Sterling may well be dropped as he was in the 3-0 win over Southampton, with Joe Allen slotting into midfield alongside Steven Gerrard and Jordan Henderson.
For all the attacking threat that a midfield of Gerrard, Henderson, Sterling and Coutinho poses, they have often looked liable to concede with that starting lineup, while they have tended to acquire a more solid look whenever Allen's been introduced.
Liverpool may still go all-out attack, as it has ultimately worked for them on plenty of occasions, yet against a strike-force as potent as United's, doing so would represent a major risk.
5. Could a United win inspire them to a cheeky late push for Champions League football?
Should Man United prevail today, they would still be eight points off Liverpool in the table.
Although qualification for the Champions League would still be unlikely for David Moyes' men, Liverpool have some more tricky upcoming fixtures against Man City, Chelsea and Tottenham.
The way they have been playing, they are unlikely to unravel, but stranger things have happened.
One issue is even more certain though — if United lose, they are effectively out of Champions League contention, as it would leave them needing to make up a 14-point gap on their rivals — a more or less impossible deficit from which to recover.
With Liverpool unbeaten in their last nine league matches, form is on their side, though recent history between the clubs favours United — the Red Devils have won their last six consecutive games at Old Trafford against Liverpool.