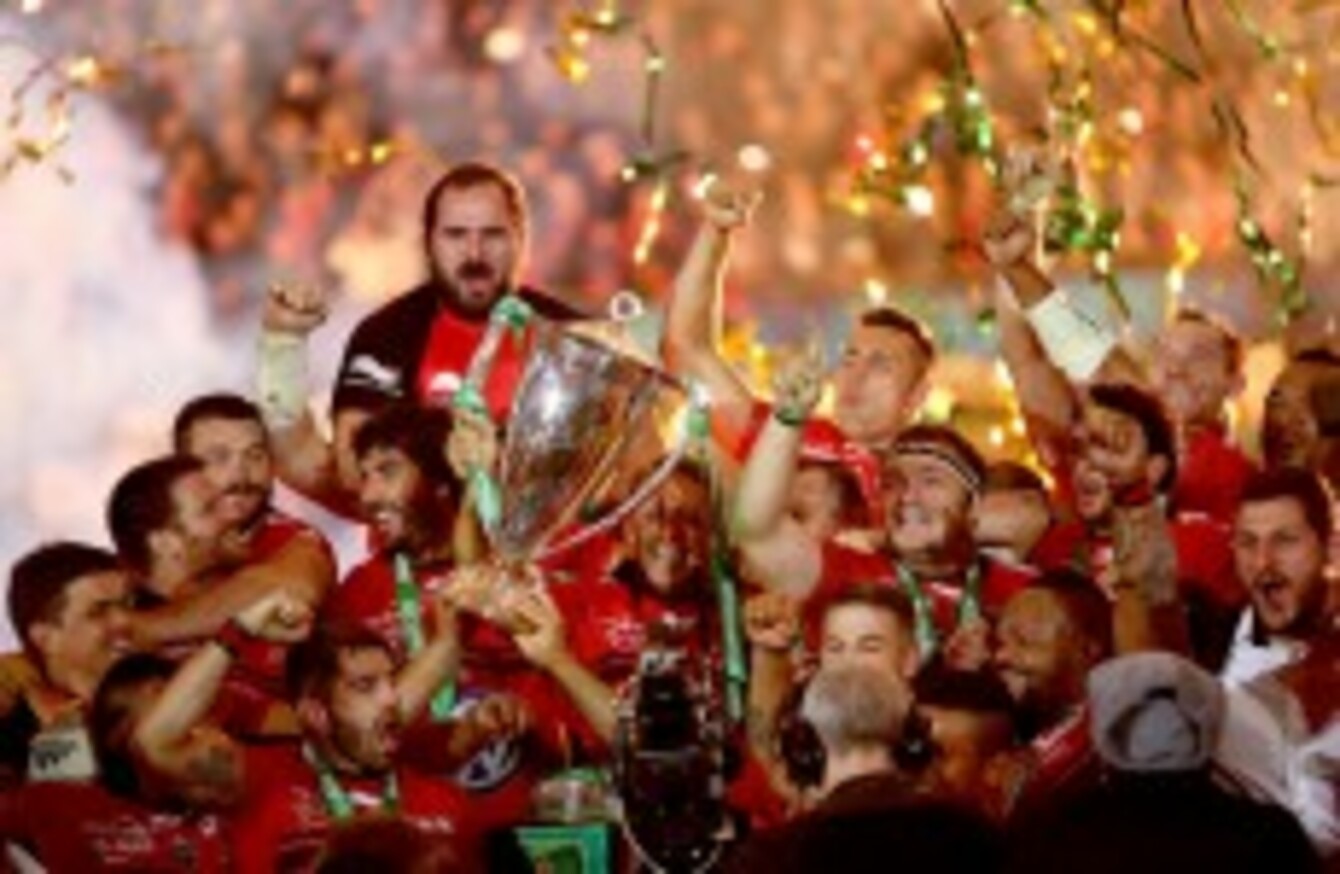 Jonny Wilkinson lifts the Heineken Cup for Toulon.
Image: James Crombie/INPHO
Jonny Wilkinson lifts the Heineken Cup for Toulon.
Image: James Crombie/INPHO
Clinical champions
Two openings for potential tries and on both occasions, Toulon made no mistake. First, Matt Giteau launched a perfectly weighted kick in behind the Sarries defence, allowing Drew Mitchell to reclaim the ball and set-up his compatriot.
Then Jonny Wilkinson's long pass saw Mathieu Bastareaud, Juan Martín Fernández Lobbe and Juan Smith expertly exploit a numbers-up attacking situation. Two back rows tasked with finishing a chance out wide? No problem for Toulon.
The best teams clinically take their scoring chances, and with Wilkinson 100% off the tee as well, Bernard Laporte's men were incredibly effective in that department.
Steffon Armitage needs to play for England again
The 28-year-old is a world-class player, but the international scene is being deprived of his quality at present. Is there any other player in Europe who is as hard to shift off the ball when he gets into that jackal position for turnovers?
Capped five times for England before his move to Toulon, Stuart Lancaster needs to figure out a way to get Armitage into his squad. Whether that means bending the rules on players based abroad or somehow manufacturing a move home for the back row, his ability is phenomenal.
It's not only the breakdown work; Armitage carries the ball powerfully, runs intelligent support lines, tackles effectively and is extremely fit. A truly complete back row.
Saracens have a way to go as European heavyweights
Key players like Owen Farrell [22], Billy Vunipola [21] and Alex Goode [26] still have their finest years ahead of them, but this Heineken Cup final humbling will live with them into next season.
The impressive victory over Clermont in the semi-finals should not be forgotten, but there were lessons for Mark McCall's men in this defeat. The lack of willingness to take attacking risks is perhaps chief among the factors they will rue.
The benefit of hindsight is unfair, but Toulon were comfortable in soaking up the kicking-based, narrow-running game plan that Sarries employed for the majority of the game. Continuing their attempts to broaden their attacking palate looks essential for the Premiership outfit in coming seasons.
Jonny Wilkinson is a legend and a gent
Remarkably composed, clear and humble after the final whistle, the Englishman only added to the positive impression he has created throughout his superb career. His desire for success and improvement is a major driver for Toulon, who despite their high average age, thirst for constant progress.
On the pitch, Wilkinson was efficiency personified. He kicked four from four off the tee and added a gorgeous drop goal with his right foot. With ball in hand, his passes were at the root of both Toulon tries.
Wilkinson turns 35 tomorrow, and has one final game to prepare for next weekend, which he indicated is already in his thoughts. We hope the former Newcastle man goes out with another trophy and thoroughly enjoys his retirement.
Matt Giteau, magician
The Australian has been perhaps the single most important player for RCT over the course of the season, creating and scoring numerous tries. Like Wilkinson, his contributions to the squad culture off the pitch are invaluable too.
This Heineken Cup final was trudging along until Giteau's sharp vision spotted an opening, and his rounded skills allowed him to seize the chance. Such incidents have been commonplace throughout Toulon's campaign, with the inside centre adding creative skills to the brute force of his teammates.
In a game that perhaps indicated the extent to which physical dominance has become a priority in modern rugby, it was a joy to watch Giteau's intelligence in play.