1. Can Ibrahimovic step up to the plate?
It's often said that big games define big players, and the statement is particularly relevant to Zlatan Ibrahimovic ahead of tonight's clash between PSG and Barcelona.
The match represents a perfect opportunity for him to consolidate his status as one of the sport's all-time greats, given the magnitude of the occasion.
Conversely, Ibra's supports will insist he has nothing to prove – and granted, the striker's goalscoring record over the years, including 25 Ligue 1 goals this season, speaks for itself.
However, while he is widely regarded as one of the best players in the world, he rarely inspires the levels of praise reserved for the likes of Cristiano Ronaldo and Lionel Messi.
And indeed, despite all his achievements, the Swede still has his critics who insist, perhaps largely owing to his relative failure at Barcelona, that he doesn't deserve to be regarded as a true great of the game (or at least, not yet).
Tonight though, he may well silence those few remaining doubters.
2. Will the Villanova factor impact upon Barcelona?
Although they're in the last eight of the Champions League, in addition to being 13 points ahead of nearest rivals Real Madrid at the top of La Liga, it hasn't always been plain sailing for Barcelona this season.
The Catalan side have endured the occasional blip, and one particularly poor run of results recently had some observers prematurely using words like "crisis" to describe their peril.

Nonetheless, a 4-0 defeat of Milan in the last round of the Champions League proved that, when on song, the team are virtually untouchable.

One of the significant factors relating to their occasional losses of form this year has been the absence of manager Tito Villanova, who was required to take time out of the game after he was diagnosed with cancer.
Some have speculated that the coach's temporary departure was one of the primary reasons for his side's sporadic failure to live up to the high standards they've set in the past this year, with some Barca players even complaining of a lack of intensity in training during this recent period.
Therefore, Villanova's return to the dugout in Paris tonight will surely make the team a more formidable force than ever, and tellingly, striker David Villa recently acknowledged that "everything is much easier now with the boss back".
First-leg prediction: PSG 1-2 Barcelona
3. Can Bayern Munich overcome question marks over mental strength?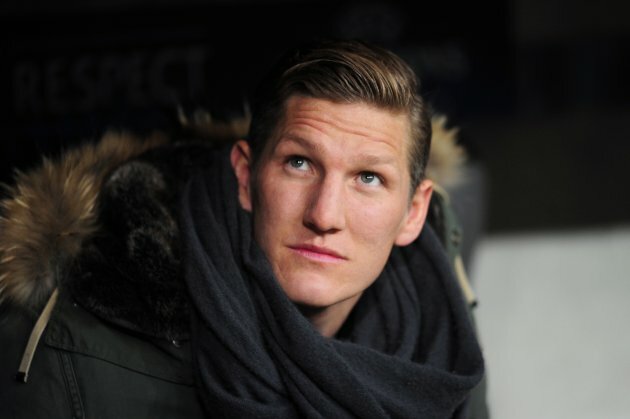 (Bastian Schweinsteiger says he still regularly thinks about his side's Champions League final loss to Chelsea - Adam Davy/EMPICS Sport)
In a fashion somewhat reminiscent of their infamous last-minute collapse against Manchester United in the 1999 Champions League final, a similar level of regret presumably permeated the thoughts of Bayern Munich's players after their heartbreaking defeat by Chelsea at the same stage last year.
Despite dominating for large periods of the contest, the German side had to bear the disappointment of an especially cruel loss, after the match was settled on penalty kicks.

And ahead of tonight's game with Serie A leaders Juventus, the club's seasoned midfielder Bastian Schweinsteiger spoke of how he still regularly thinks about the defeat to the Londoners.

Bayern will consequently be grateful at having an excellent opportunity to exorcise their demons this year, as they are among the favourites to lift the Champions League trophy come May.
However, suspicions over their mental strength are still likely linger in light of what happened last time out, while the manner in which they almost threw away a comfortable first-leg victory against Arsenal in the return tie of the round of 16 game last month will only serve to accentuate the naysayers' skepticism.
Their opponents Juventus, by contrast, could hardly be regarded as being in anyway vulnerable, even in the most pressurised of circumstances.
The Italians boast what is arguably the best defence in Europe (with only 19 goals conceded in 30 league games), an element of their game which has helped them attain a comfortable lead at the top of Serie A, while they have a tendency to be ruthlessly opportunistic in front of goal also, as they emphasised in their accomplished demolition of Celtic recently.
First-leg prediction: Bayern Munich 1-1 Juventus
4. Supposed also-rans look to prove worth
Of the four Champions League quarter-final games, most observers will agree that the contest pitting Borussia Dortmund against Malaga is the one least likely to provide the competition's eventual winner.
However, both these sides have consistently impressed in Europe this year, so perhaps it is unfair to damn them with faint expectations.

On their way to this stage, Malaga not only beat Milan, but qualified in first place in Group C, ahead of their more illustrious Italian opponents.

Dortmund, meanwhile, have looked even more impressive, winning the so-called 'Group of Death' despite coming up against Real Madrid, Ajax and Man City, and going unbeaten while doing so.
The fact that Malaga's domestic form has been fairly unspectacular would seemingly give the German side the edge in this encounter, and the Spaniards will need to find a way of combating Robert Lewandowski, who has scored in nine consecutive Bundesliga games, if they are to have any hope of causing an upset.
First-leg prediction: Malaga 1-1 Borussia Dortmund
5. Other Madrid players need to take the burden off Ronaldo
For all his phenomenal talent, Manchester United proved in the last round that it is possible to keep Cristiano Ronaldo relatively quiet, and it was only after a contentious refereeing decision reduced Alex Ferguson's team to ten men that the Portuguese international began to have a significant influence on proceedings.
Yet whether Galatasaray – a side who only qualified from their group, two points behind United, on goal difference – can quell the hosts' main attacking threat is another matter.
Nevertheless, regardless of whether or not Ronaldo thrives, Real Madrid surely need to rely on big performances from other players too, sooner rather than later.

While the star has continued his freescoring ways in 2013, the likes of Karim Benzema and Gonzalo Higuain have at times struggled for form, leaving the Spaniards all too reliant on their main man.

Indeed, Ronaldo's prominence is such that he has contributed almost half (21 of 44) of the side's goals since the beginning of January.
Jose Mourinho suggested in a press conference ahead of Wednesday's game that such ineptitude in certain areas of their attack has been one of the main reasons why they've struggled to maintain the high levels they consistently reached in La Liga last year.
Moreover, in a competition as illustrious as the Champions League, such failings are unlikely to go unpunished for long.
First-leg prediction: Real Madrid 3-1 Galatasaray