IRELAND USUALLY TROT out a loyal soldier for a Captain's Run press briefing the day before an Test match – Rory Best, Rob Kearney and Paul O'Connell have all filled this role at stages in the past few years.
Today, with Declan Kidney at his side, Jamie Heaslip fielded questions and insisted that a win against France was a realistic goal.
Ireland have been making plenty of statements since the tournament began and this was the latest – this is your captain and this is what he plans to do to beat the French.
Heaslip told TheScore.ie during the week that he has not read the rugby section of a newspaper since 2008. "When I'm playing I don't really pay attention to [critiques] to be honest," he said.
"I'm quite happy with how the game went, very happy with the way I played, but disappointed, for the team, that we didn't win and didn't take our chances when we had them."
Losses to Simon Zebo, Gordon D'Arcy, Craig Gilroy and Jonny Sexton have greatly altered the backline that started against Wales in February but a ball-carrying blunderbuss like Stephen Ferris has been dearly missed in the back row.
"Injuries don't help but I can't blame injuries for the Scotland game," Heaslip admitted. "We had three really good scoring opportunities that we weren't clinical on."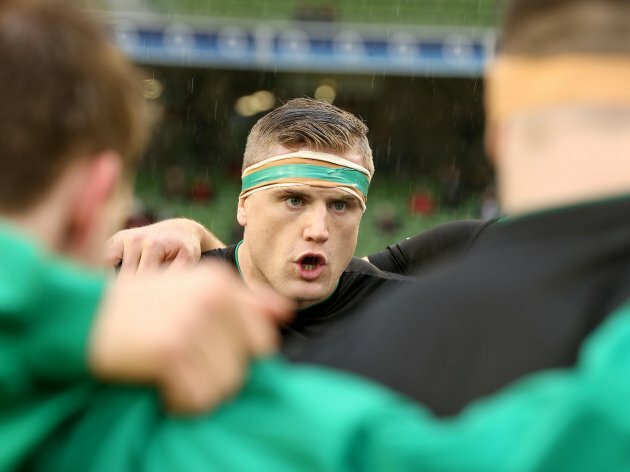 Heaslip talks the talk before the England game. (©INPHO/Dan Sheridan)
He admits that defeat 'weighs on your shoulders a little more' and says he is 'always learning' in captaincy and, he adds, in life.
Heaslip was the subject of criticism following that Scotland defeat for appearing to defer to former captain Brian O'Driscoll when penalty calls needed to be made in the closing stages.
Kidney, the man that traded O'Driscoll for a newer model, told TheScore.ie, "No, there are no indecisions at all. Those decisions are being made and what we need to do is execute them that bit sharper than what we have been doing."
Leading from the front, and back
Marc Lievremont was reduced to monosyllabism and cramming 60 journalists into tiny hotel rooms near the end of the 2011 Rugby World Cup.
Here was a coach that had led his country to the brink of their first ever World Cup win while appearing to throw his hands up at the whole coaching process.
Talk emanated from the French camp in New Zealand that captain Thierry Dusautoir had began to exert his influence on affairs after a tight win over Canada in New Plymouth.
Defeats followed to the All Blacks and, famously, Tonga but France scrapped through to the quarter-finals. By the time Les Bleus defeated England at Eden Park, Dusautoir was calling most if not all of the shots.
Imanol Harinordoquy was recalled at Dusautoir's behest and the French managed to squeak by 14-man Wales into the final.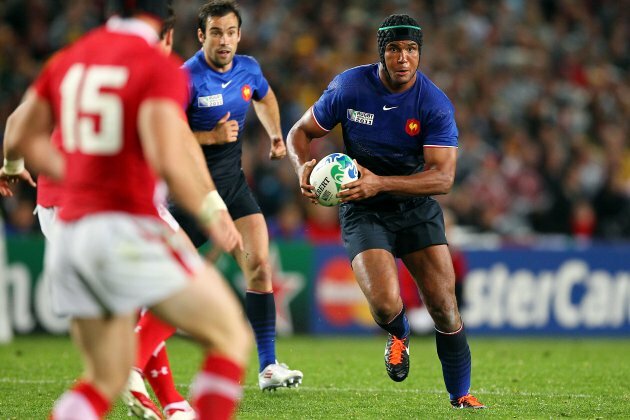 Dusautoir was immense for France in the RWC knock-out stages. (©INPHO/Photosport/Dave Linott)
When Philippe Saint-Andre took over as France coach, he signalled a new dawn by inserting Pascal Pape as captain for the Six Nations.
An away loss to Italy followed, Pape was injured and Dusautoir is back.
L'Equipe declared on Thursday that France were a team without a boss. You can be sure that, if Saint-Andre is trying to exert his influences with swingeing XV changes, Dusautoir will step into that leadership void without hesitation.
Speaking about the need to avoid a fourth straight loss in this year's competition, the French captain said, "I prefer not to think about it. It is something we do not want to consider and we will do everything to ensure this will not happen.
We have a lot of pride and must show that we are a good team. In the past, France has been criticised for winning ugly but she still won.
"We realise that victory by any means [against Ireland] is vital. We want to win at any cost."
Heaslip knows how the Frenchman is feeling and will be aware of the increased focus on his captaincy. Expect to see the Irish No. 8 being vocal with his troops and taking his first 'penalty or touch' decision without outside interference.
Learning on the job is never easy, though, and Dusautoir will be keen to put the squeeze on as he seeks an ugly win.