Ireland's Bob Tisdall, flanked by USA's Glenn Hardin (silver) and Morgan Taylor (bronze). Credit: Topham Picturepoint/Press Association Images
DELANY, TREACY AND O'Sullivan are the names which spring to mind when we think of Irish Olympic medallists in the track & field.
However, on August 1, 1932, 80 years ago today, the country enjoyed the unprecedented achievement of clinching two gold medals within an hour of each other.
Team Ireland sent 16 competitors, including Jack B. Yeats who took part in the Art Competitions, to the Los Angeles Games that summer.
Competing in the hammer, Dr Pat O'Callaghan had won gold in Amsterdam four years previous and incredibly went on to retain the title in California. During an interview with RTE's Brendan O'Reilly several years ago, he said:
"My first throw was within four and a half inches of the leader, who was a Finn. There was nobody near us – a gap of five or six feet between that and third place. So I thought well I'm going to get something out of this.
I tried the fifth throw, it didn't come off and I had only one left. I put all I had in, all the control I could into another try, and I got it away.
On his two gold medals, he simply added: "Well, they were hard to get."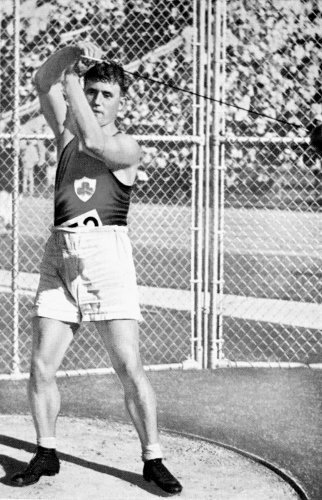 Nice footwear: O'Callaghan at the '32 Games. Credit: EMPICS/EMPICS Sport
Earlier that day, Bob Tisdall came up trumps in the 400m hurdles – finishing in a world record time of 51.7 seconds. He wasn't credited with the WR however, as he knocked over the final hurdle. Recalling the momentous occasion, Tisdall said:
"In that stadium, we had to stand in a tunnel, which leads out. Standing there waiting to be called out, I had a chat with David Burghley, who had won gold in 1928.
"I went on to run in what was those days a world record of 51.7. I remember it was the first time they used the clock."
Watch highlights of the opening ceremony below:
YouTube credit: MROlympicGames