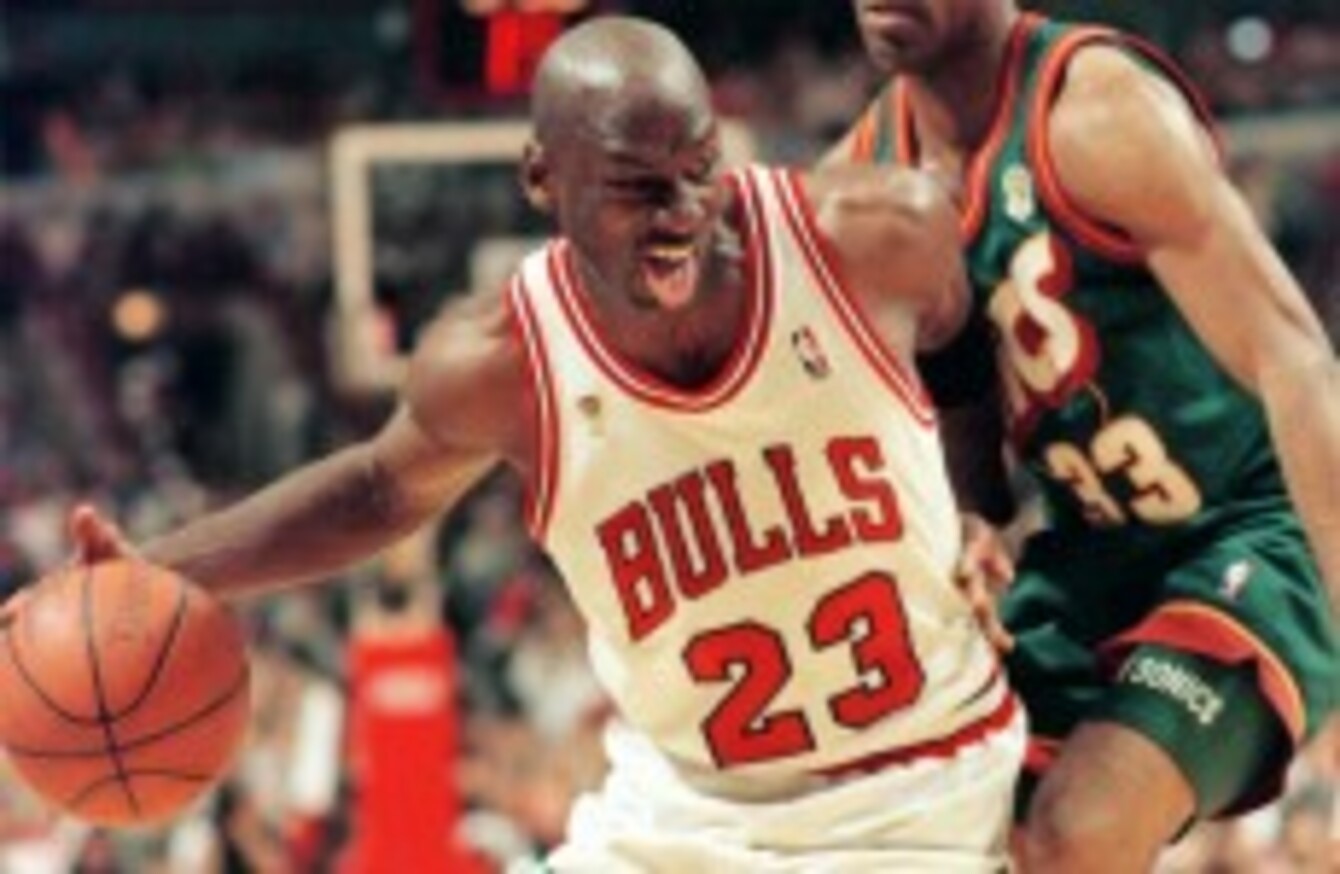 Image: FRED JEWELL/AP/Press Association Images
Image: FRED JEWELL/AP/Press Association Images
"I'M BACK."
Stunning in their simplicity, basketball legend Michael Jordan needed only two words to announce his return to the Chicago Bulls on 18 March 1995.
Eighteen months earlier, the 30-year-old's decision to hang up his Nikes sent shockwaves throughout the world of basketball. After all, this was the man who had a "love of the game" clause written into his contract which allowed him to continue playing basketball during the NBA off-season while his teammates were forced to rest up.
His father's murder, he later explained, had diminished his appetite for the game he once loved. Though saddened, he could retire in confidence, safe in the knowledge that he had nothing left to prove after an illustrious career on the court.
Nine All-Star nominations, three MVP awards from the NBA and two Olympic gold medals proved that beyond any doubt – as did his role in the Bulls' famous three-peat of NBA Championships, masterminded by coach Phil Jackson from 1991 to 1993.

If fans were shocked by Jordan's decision to give up basketball, they were positively dumbstruck by his announcement that he would instead try his hand at baseball, lining out with minor league outfit the Chicago White Sox. What few realised at the time was that this was part of Jordan's grieving process – his late father, James, had always dreamed that his son would one day become a major league superstar.
Try as he might though, Jordan couldn't shake the basketball itch. He belonged on the court, surrounded by his adoring fans, striking terror into the hearts of his opponents.
One can only imagine the look on the faces of said opponents when Jordan's two-word press release began to circulate. Atlanta Hawks shooting guard Steve Smith pretty much hit the nail on the head – "Chicago just added probably the best guy to ever play this game."

Of course, the fear for Jordan, for Jackson and for the Bulls fans was that number 23′s genius may have dulled somewhat during his absence. Eighteen months is a significant length of time to be off-court. Few players could announce a snap return to the game's biggest stage as MJ did and expect to pull it off.
Not only did he expect to pull it off, he knew that he could. The next evening, he took to the court against the Indiana Pacers and scored 19 points. All that was missing was his trademark number 23 – one of the most iconic jerseys in all of sports had been retired in 1993 following his initial decision to leave the game.
If Bulls fans were thrilled by Jordan's 19-point show in Indianapolis, they were in for a treat in Madison Square Garden the very next week. School was in session as Jordan put on an unforgettable display against the Knicks, finishing up with 55 points.
That press release wasn't kidding – His Airness was back.

This week in sport
Pakistani bowler Imran Kahn takes 14 wickets for just 116 runs in a test match against Sri Lanka in Lahore (27 March 1982).
PSV Eindhoven sell Ruud Gullit to AC Milan for a world-record £6 million (21 March 1987).
Sean Kelly won his last ever classic – the Milan-San Remo in a stunning finish (22 March 1992).
Mike Tyson is released from jail after serving three years of a 10-year sentence (25 March 1995).