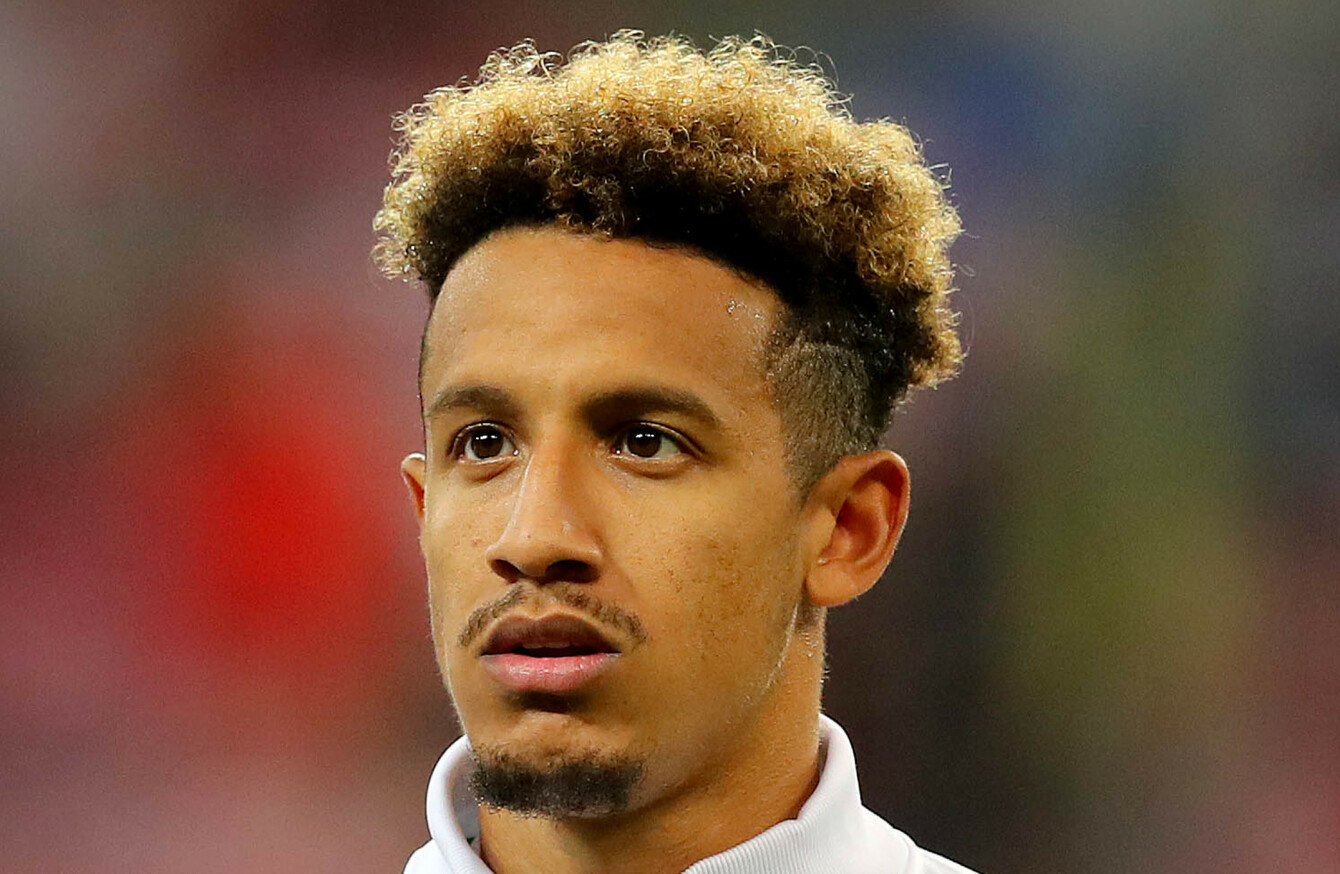 Preston's Callum Robinson has impressed since linking up with the Irish set-up.
Image: Ryan Byrne/INPHO
Preston's Callum Robinson has impressed since linking up with the Irish set-up.
Image: Ryan Byrne/INPHO
- Paul Fennessy reports from Abbotstown
DUAL NATIONALITY AND the complications that arise because of it has been a big talking point in relation to the Irish team in recent times.
It has been an factor historically as well of course, but the issue is arguably more pronounced than ever in the Martin O'Neill era.
The most high-profile case initially was the Jack Grealish saga, whereby the Aston Villa youngster, having represented Ireland at underage level, opted to switch to England in 2015.
In addition, more recently, there has been doubt over who Declan Rice will play for, despite the West Ham starlet lining out for the Boys in Green in three friendlies.
Meanwhile, the latest Boys in Green call-up, Michael Obafemi, is also eligible to represent England and Nigeria, with Martin O'Neill insisting yesterday that he would not pressure the 18-year-old striker into making a decision one way or the other.
It was similarly recently confirmed that Dundalk winger Michael Duffy has decided to switch international allegiance from Northern Ireland to the Republic, and O'Neill on Monday acknowledged that were likely to be plenty more dilemmas for Irish-eligible players in future.
The issue is a complex one and it is impossible to generalise in relation to the footballers it impacts upon. For every Grealish who has considerable doubts about which country to represent, there have been previous English-born Ireland players such as Alan McLoughlin, Kevin Kilbane and Gary Breen, who were always adamant they would line out for the Boys in Green when given the choice. 
Millwall attacker Aiden O'Brien, who scored on his international debut against Poland back in September as well as featuring in last month's Nations League clashes with Wales and Poland, was born and raised in London.
However, like Kilbane and others, there was never any doubt whether or not O'Brien would play for Ireland. In addition to his senior appearances, over the years, O'Brien has lined out for Ireland at U17, U19 and U21 level. However, the 25-year-old is careful to note that not all players are the same, and so whatever decision Rice and others come to should be respected.
"I got the choice when I was 16 or 17," he recalls. "It would have been around that time. But everyone's different. I'd have a different way of doing it to the way Declan Rice or [someone else] would do it.
"Everyone's got a different background and upbringing. But, on a personal note, it was always Ireland for me. My nana and grandad were Irish. That's how I made my decision. But everyone keeps asking about other people, Declan Rice, Callum, but I feel like everyone's routes and paths are different, so you can't really compare."
To emphasise O'Brien's point, Preston star Callum Robinson had an alternative pathway to the Irish team. Prior to announcing his decision to declare for Ireland in an interview with The42, he lined out for England at U16, U17, U19 and U20 level.
The 23-year-old says it was only when he sat down with his family that he definitively decided that his heart was with the Irish team.
"The main thing I think is family are important, and if it means more to your family for you to be playing for Ireland than for England, I think that can have a big part to play in it. I know for sure that it means more for my family that I'm playing for Ireland.
You have to talk to your family and your close ones. [Thinking about the decision] was going on for a while, for a couple of years. Probably about two or three years ago, I really wanted to do it, but with all the games in the Championship, I was 19 and still growing — I didn't think I was ready physically to be playing internationally as well.
"I used to speak to [Preston team-mate] Alan Browne about it, and obviously Seanie [Maguire] came in. In the end, I really wanted to do it. I put it out there, spoke with my mum, and my family, and it was the best decision I made. 
"I'm really enjoying going in with the lads and I think it's helped my game as well. It's been really good and positive in every manner."
And Robinson, a Northampton native who qualifies to represent the Boys in Green through his Monaghan-born grandmother, insists that he has no regrets about the decision to declare for Martin O'Neill's side.
I don't think it's difficult if your close ones want you to play for Ireland. I've no doubt I've much more passion playing for Ireland than I would have for England, and that's just not me saying it. I think it means more to my mum, who is obviously the closest woman in my life. I know it even means more to my family in general.
"It's hard if you haven't got the close ones that are backing you and wanting you to play for Ireland. Some families, you might be playing for Ireland but they want you to play for England. Then it's harder for the player if he's only 21 or 22. But if you know what you want to do, it shouldn't be hard."
Robinson has impressed since becoming part of the international set-up, with Ireland looking considerably more threatening when he came off the bench during the Nations League 0-0 draw with Denmark last month.
At club level, he has scored an impressive nine goals in all competitions for Preston already this season, and the Irish forward is determined to help fill the long-term void in the goalscoring department that has been apparent since Robbie Keane's international retirement.
"I've handed out several of my shirts to some of my close friends and family already," he adds.
"And when they come watch me play, they're obviously really proud."
Subscribe to our new podcast, Heineken Rugby Weekly on The42, here: