Every athlete who has qualified for the Olympic Games is there to do their best on the biggest stage of all. For some of Team Ireland, the Games hold even more significance. Irish record holder over 100m, Ailis McSweeney breaks it down.
12… seconds
My training partner, Derval O'Rourke is undoubtedly our most successful athlete in recent years but has yet to walk off the track at an Olympics satisfied with her performance.
O'Rourke threw herself over the line for fourth in the European U23 Championships in 2003 to nail her first ever Olympic qualifying standard. In the process she injured her ankle and spent much of the next year training in the pool.
To compound her poor preparation, Derval was hospitalised in Athens at a warm up meet only weeks before the 2004 Olympics with appendicitis and lined up in her Olympic heat without a realistic hope of reaching a semi-final, through no fault of her own. In the years leading to Beijing, O'Rourke made a huge breakthrough and was crowned World Indoor Champion in 2006, winning silver in the European Championships that same year.
Poor health again scuppered her chances in Beijing. I didn't realise the severity of the bronchitis that sapped her energy in the days prior to Beijing until she suffered the same illness last Christmas. She missed two weeks of training and was bed-bound for four days — an option that wasn't available when her name was on the start list for the 2008 Olympics. Another European silver and a European Indoor bronze have been added to Derval's collection since then. Both the recollection of former glories and the memory of bitter disappointment will spur the sprint hurdler to produce her best next week.
50… seconds
No Irish athletics fan has ever doubted the pedigree of Joanne Cuddihy since she won a European Junior silver in 2003.
The promise of her talent was realised at senior level when she reached a European final in the 2006 edition of those championships, and ran the current Irish record of 50.73 in the semis of the World Championships a year later. Injury hampered her chances in Beijing and athletics took a back seat the following year as she recovered and continued her medical studies in UCD. Last year, Cuddihy looked to be back to her near best and qualified through round one of the Daegu World Championships.
Disaster struck in the semi-final when she was disqualified for a false start. Again a similar fate befell the Kilkenny woman in this year's European Championships when she stumbled and was given a red card for running out of her lane, only to be part of the relay squad that was also disqualified days later. Joanne may still be in the sport to compete in Rio 2016 but she won't want to wait until then to right the wrongs of her recent Championship experiences.
Despite the setbacks she seems to have timed her season nicely for a record breaking performance in London.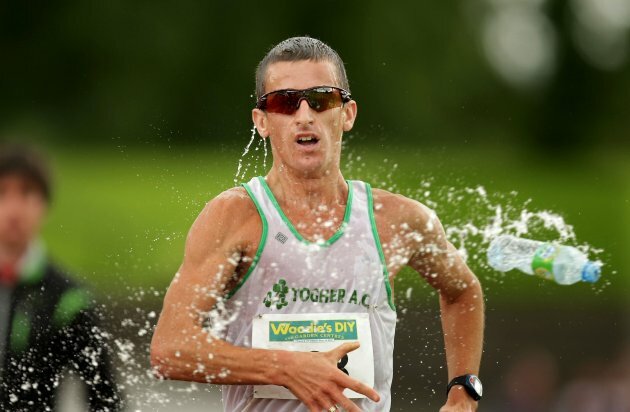 Robert Heffernan in action in the race walking event. Pic: INPHO/Morgan Treacy
3… hours
It's often said that fourth is the hardest place to finish. Personally, I think it's much better than being further down the field but you can understand why Robert Heffernan was bitterly disappointed with missing out on medals by one place, in two events, at the European Championships in Barcelona two summers ago.
His entry in the 50k walk that year was a last minute decision after competing in his preferred distance of 20k earlier that week. Having been so successful at an event that he had not trained for specifically, it seems that this event might be his best chance of a medal in London. An eight place finish in the last Olympics in the shorter distance was a remarkable achievement. It cemented Heffernan's standing as one of Ireland's most respected athletes, but he had one eye on a medal that year. Instead he came away empty-handed but hungry for more. Heffernan is a veteran of Olympic participation having raced in Sydney, Athens and Beijing.
This time around Rob has been adamant that he is going to London to compete, not just to take part and says that his training has been more gruelling and more successful than ever before. You get the feeling that it might be now or never for the focused Corkonian.
Having said all that, O'Rourke has been quoted as saying that you can't let one race define you. Life does go on when a major championship doesn't go your way. Sport is just sport, but, when it's your sole focus, success can boil down to a moment, mere seconds or a few hours in time.
Ailis McSweeney is is the current Irish 100m record-holder. She will write for TheScore throughout the next week as well as working as an analyst for RTÉ television.