HAVING BEEN AROUND the inter-county scene for 12 years, Alan Brogan is reaching the age when players have to deal with an increasing number of questions including the word "retirement".
However, while the Oliver Plunketts man admits the possibility of hanging up his boots has crossed his mind – particularly during an injury ravaged 2013 season – he's fit again and enjoying his football and refusing to look beyond Sunday's game with Donegal.
"At certain stages over the course of the last year I wondered if I'd ever get back to the stage where I would be preparing for an All-Ireland semi-final and at times it seemed like a very long road," Brogan told TheScore.ie.
"Anyone who has ever had the injury - Osteitis pubis, which is an inflammation of the pubis symphysis joint which causes lower abdominal and pelvic pain – will say that it is a tricky one and when you think you're nearly back you have a relapse.
"I suppose I had a few false dawns last year but it was good to get a few National League matches under my belt this season and, obviously, the four championship matches to date means the body is feeling good with no pain in the groin or anything like that."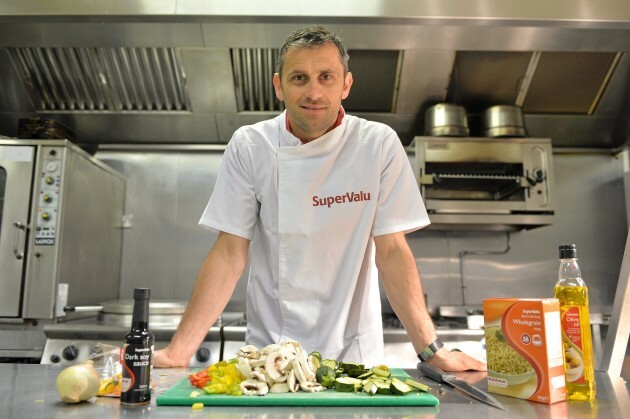 Brendan Moran / SPORTSFILE Alan Brogan is an ambassador for SuperValu, proud sponsor of the GAA Football All-Ireland Championship. Brendan Moran / SPORTSFILE / SPORTSFILE
The 32-year old is especially happy to put 2013 behind him, a year that saw him recover from the Osteitis pubis injury only to see a hamstring tweak to put paid of his chances of appearing in last year's semi-final with Kerry.
"At times it was frustrating to look on from the sidelines but I wouldn't be the kind to dwell so I concentrated on getting through my rehab and coming back in time to play.
"I nearly made it back last year, I was fit coming into the semi-final but then pulled my hamstring so that was quite frustrating to be nearly there and then a new injury popped up.
"But look, I've been lucky enough over the years with injuries so I haven't missed too much so I can't complain and I'm just looking forward to the weekend's game."
And as far as the three-time All-Star is concerned, anything beyond this Sunday isn't worth thinking about, especially not retirement.
"At one stage last year I wasn't sure if I'd get back at all so I'm just taking it one game at a time.
"The year has gone by quite quickly – which obviously means I've enjoyed it – but I'll just be thinking about Donegal at the weekend, not about next year."
SuperValu, proud sponsor of the GAA Football All Ireland Championship, teamed up with Alan Brogan to create 'GAA Winning Tastes of Summer'. SuperValu are calling on GAA fans and foodies alike to tweet a pic of their favourite summer meal using the hashtag #SVwinningtaste to be in with a chance to win a VIP Trip to the All-Ireland Final. For more information visit www.supervalu.ie