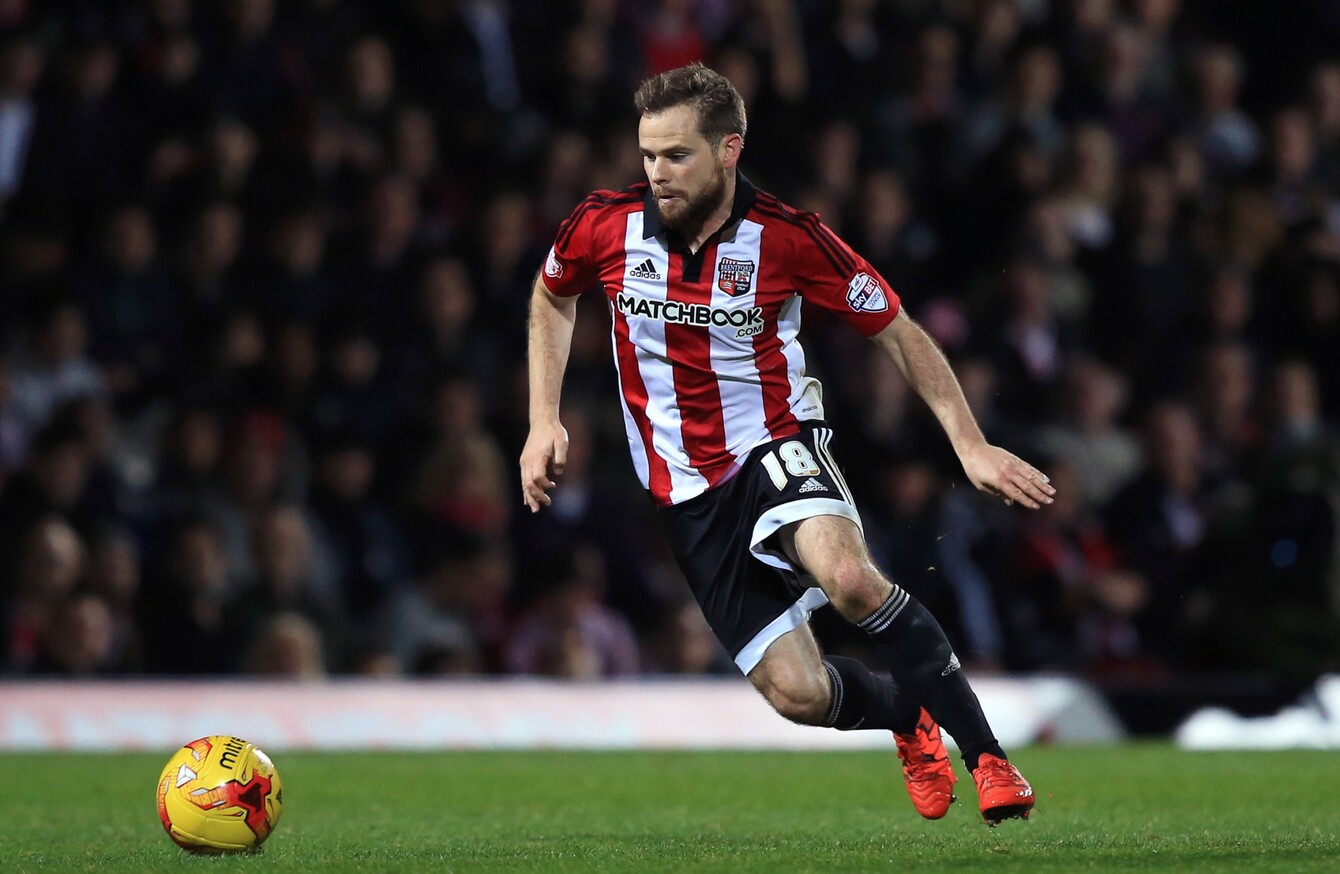 Alan Judge has spent much of 2016 recovering from injury.
Image: EMPICS Sport
Alan Judge has spent much of 2016 recovering from injury.
Image: EMPICS Sport
Updated at 22.20
2016 WAS VERY much a bittersweet year for Brentford and Ireland midfielder Alan Judge.
On the one hand, there were the positives. Initially, he picked up where he left off in 2015 with a number of influential displays in the Championship for the Bees. In March, he made his Ireland debut, playing 90 minutes in a friendly against Switzerland.
A number of Premier League clubs looked set to battle for Judge's signature in the summer, while the player was confident of making Martin O'Neill's 23-man Euro 2016 squad.
However, everything changed during a match against Ipswich on 9 April. It happened in an instant, and it emphasised how cruel football can be.
Inside the opening two minutes of the game, a poor challenge from opposition midfielder Luke Hyam left Judge writhing in agony. Immediately, the Irish midfielder knew it was serious, and it soon became apparent that his right leg was broken.
Source: FootballBase/YouTube
Hyam was apologetic and Judge harbours no ill feelings towards the Ipswich man, even if the challenge was unnecessary and poorly executed.
"He knew that I wasn't happy with the tackle," Judge tells The42. "I didn't think he had to go in with the force that he did.
It was the first two minutes of a game. He just wanted to let me know I was in a game, I don't think he ever wanted to break my leg.
"I finally watched (the video) a few months ago and I did think there was no need for (the tackle).
I have spoken to him since — it's football."
He continues: "The minute it happened, afterwards I heard a smack, he just flew into me.
Do you ever get a headache and you just have the thump that comes in and out? That's how I would explain it, except (it's) on your leg. It would just come in and hit you and it was the worst pain I've ever felt in my life."
Despite missing the final six games of the campaign owing to this injury, Judge still finished the season joint-top of the assist charts with Charlton's Johann Gudmundsson, as well as featuring among the league's most prolific scorers for 2015-16, having registered 14 goals.
It was therefore no surprise when Judge made the Championship team of the season in addition to being one of the three nominees for Player of the Year. And while the Irish star was honoured to receive such acclaim, it also made him think of "what might have been".
It has consequently been a long road to recovery and the 28-year-old Dubliner is not quite at the finish line yet. He hopes to return "sooner rather than later" and says the rehab is going well, but is still unsure of a precise time frame for a first-team comeback.
Every second day I do a football session with the physio and on the (alternative) days I do a running session," he adds.
"I'm just getting (used to) accelerating, decelerating, changing direction and kicking a ball again.
The first time I kicked a ball again, I took a shot at goal, it just vibrates up your leg, but it's starting to take (the pressure) well now."
Source: Scouting Football/YouTube
Sky Sports pundit and ex-Manchester United star Gary Neville has, in the past, spoken eloquently about the sense of frustration that a long-term injury can create.
Neville has described how an 18-month battle against a career-threatening injury near the end of his career left him feeling "worthless," and as if he had "no value" to the club. He was almost ashamed to be seen by other senior players at the training ground and went out of his way to avoid running into them during his period of rehabilitation.
Judge, too, can empathise with this sense of alienation to a degree.
I felt like I was close to the team and everything like that and now I feel like there's distance (between us). They come in and train at nine o'clock. They're gone by 2pm. I come in at 10am and I don't leave until four or five o'clock.
"I don't really see them — we just miss each other. But it's starting to get there now where I'm getting a bit closer (to a full recovery) and hopefully, I'll be joining in over the next few weeks for part-time training — non-contact obviously."
And while it has been a frustrating period, the former Blackburn Rovers player can take encouragement from the exploits of two teammates.
Both Scott Hogan and Irish defender John Egan previously had to cope with long-term injuries, but the duo ultimately came back stronger and are excelling for Brentford this season.
To see the way (John has) come back from his injury… You'd sit there and there were times where I thought: 'Am I going to come back from this?' But the more the weeks go on, I know I can definitely come back from this.
"The one thing is I'm in much better physical shape. It's unbelievable. I thought I used to look after myself, but when you have to do three sessions a day, you really find out you weren't as fit as you thought you were."
And speaking of Egan, his performances in the Championship have led some to tout the player for an Ireland call-up. Does Judge believe his teammate could make the step up to international football?
He's done really well this year and he's only 24. From what I've seen from him, he could definitely step up the leagues as well as playing international football.
"He's just got to bide his time — I did it as well for Ireland. There's a break-in period. You have to get your name in a few squads.
You eventually get called up and you've got to keep yourself there when you get there."
Another Brentford player of Irish interest is the aforementioned Hogan. The 24-year-old striker has managed 13 goals in 23 Championship appearances this season and qualifies to represent the Boys in Green through his Irish grandparents.
Indeed, Hogan has been so impressive that Brentford, who are currently 14th in the Championship, will likely face a battle to retain their €18 million-rated star in January, with West Ham and West Brom among the player's rumoured suitors.
Martin O'Neill was due to meet Hogan's agent over the Christmas period, with the player's international future still uncertain, and Judge is hopeful that his teammate will ultimately declare for the Boys in Green.
"I'm hoping that Scott will, but it doesn't mean that he will. I think the reason he hasn't made the decision at the minute is because he's had two years out (injured) and he thinks the international break is very good for him at the moment for recovery, which is understandable.
"Hopefully, come March (ahead of the World Cup qualifier against Wales), we'll have a decision one way or the other, because he keeps scoring goals and hopefully we can get him in. That's what I'm hoping, but I'm not sure what he'll do."
Judge's own future has also been the subject of much speculation of late. Both during the summer and in recent weeks, he has been heavily linked with Newcastle, though despite some reports to the contrary, the Irish international says he never had a medical at St James' Park.
"All I know is that there was contact in the summer. When I found out, I had just had the screws taken out of my leg.
I never went up there and had a medical, I never even left my couch.
"I think they just wanted to see how far along I was. I wasn't where they wanted me to be and I wasn't where I wanted to be either. So it wouldn't have been fair on anybody (to make the move).
We'll just wait and see (on the potential move). It's the last thing on my mind at the moment.
"It's nice, it gives you great confidence when there's interest from such a big club, but after that (feeling) went by, my mind was just on getting fit. That's the main thing."
The42 is on Instagram! Tap the button below on your phone to follow us!