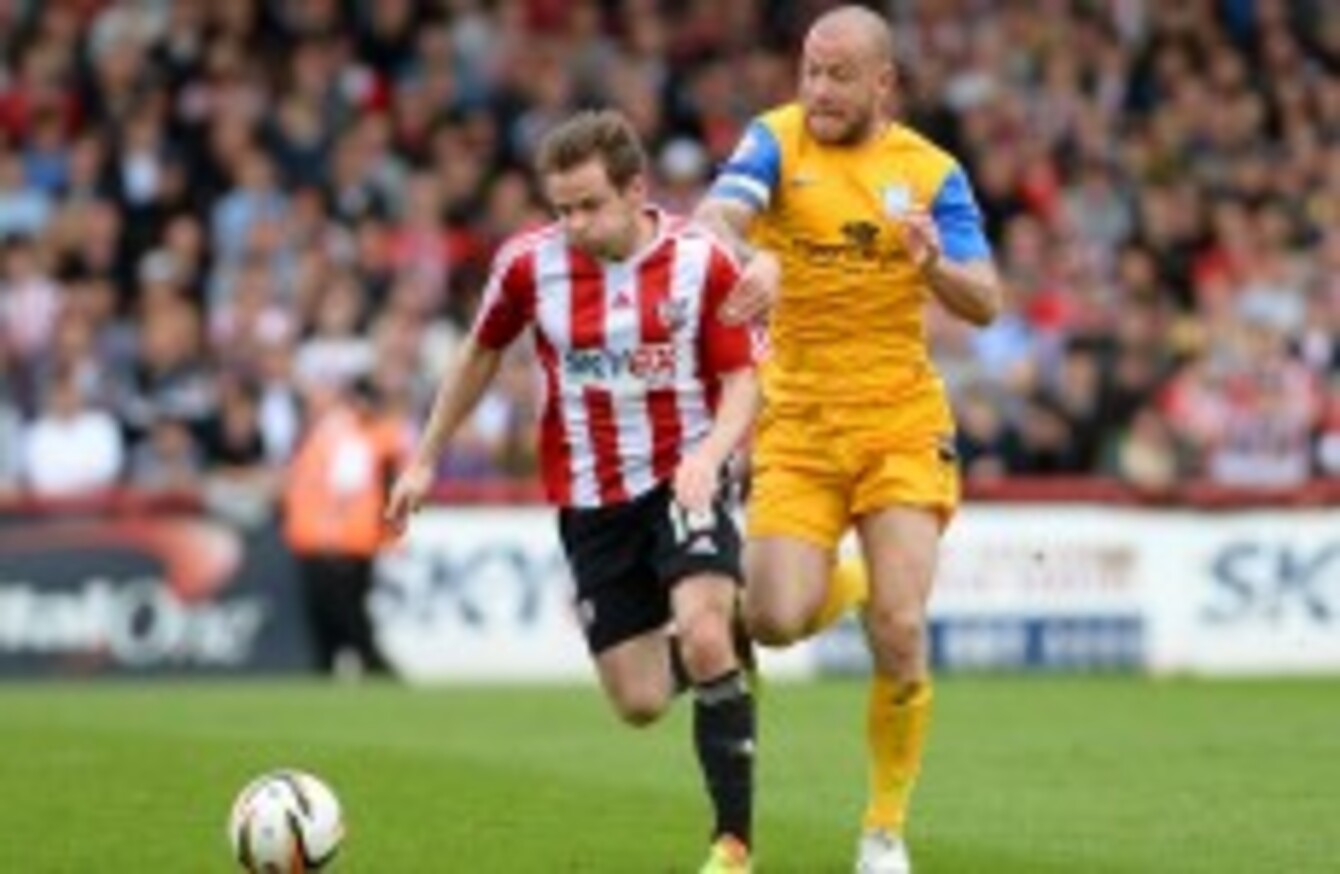 Judge (left) playing against Preston last month.
Image: Dominic Lipinski
Judge (left) playing against Preston last month.
Image: Dominic Lipinski
A YEAR ON from the heartbreak of missing out on automatic promotion from League One, Brentford have Irishman to thank for booking their place in the Championship.
On 27 April 2013, the Bees lost out to Doncaster on the last day of the season during one of the craziest 20 seconds English football has ever seen. Brentford were awarded a penalty with little time left on the clock and 20-year-old Marcello Trotta stepped up… only to smash it off the bar.
Donny then broke and James Coppinger bundled the ball over the line meaning Brentford were resigned to the play-offs, where they lost out to Paddy Madden and Yeovil Town in the final.
This time around, Mark Warburton's men faced Preston and when they were awarded a spot-kick on the half-hour mark, Dubliner Alan Judge made no mistake.
"It was the most nervous I've ever been taking that peno," he told TheScore.ie. "I've gone on to miss three more after that so I'm glad that the important one went in! Not that the others weren't important but I don't think the Brentford fans would've been happy if I didn't score that one.
"After what happened to the club last year when they didn't go up due to a missed peno, it's ironic that we went up because of one this time. I think they were just delighted it went in. It didn't matter who scored it, we're all just happy that we've got promoted."
Source: Brentford Football Club/YouTube
It capped off an incredible second half to the season for the former St Joseph's Boys schoolboy, who left Ireland for Blackburn Rovers in 2006.
After a number of loan deals, Judge joined Notts County permanently three years ago but returned to Rovers at the start of this season.
The opening two months of his second spell at the club began brightly but the 25-year-old soon found himself regularly being left out of the line-up and began to grow frustrated. He told manager Gary Bowyer that he wanted football and found himself at Brentford in January.
"Pre-season and the first month went well at Blackburn as I played the first four or five games and did really well," he says. "The manager was telling me that I was one of the first names on the team sheet.
"Then my little girl was born and I was rested for one of the games which is fair enough. But six or seven weeks later I still hadn't found my way back in the team. I was trying pretty hard in training and just getting on with it but the chances weren't coming my way.
"It came to the end of December and I wasn't getting in. I'm no use to anybody just sitting around so I asked to go out on loan.
"I was just looking to come down here and make some contribution to the team because I knew how well they were doing. I just wanted to make sure that I would get a place in the team."
With 21 appearances and six goals, Judge has impressed during his short time there and both parties are keen for him to stick around. The decision is ultimately up to Rovers, however.
"I haven't talked to anyone at either club but the manager has made it known at Brentford that he would like me to stay so I'll just have to wait and see what happens with Blackburn when I report back for pre-season.
If they see me as a bit-part player again I wouldn't be happy to just stay there and not play. I would rather be playing football while I can.
"I can't be sitting on the bench because I love playing football too much. We'll just wait and see. It's up to Blackburn so I'll just keep my head down and keep working until they make whatever decision they do."
Source: Cathal Noonan
Judge has mainly featured wide left for Brentford but explains that he is a player who likes to roam.
"The way I play the game, I don't really have a set position as I like to float around the pitch. I've had managers recently who have given me a free role in the team and I think that's probably my best position.
"I've been playing out wide left and I drift into midfield and enjoy that. Sometimes I can find myself playing up front. It is one thing the manager lets me do here.
"He gives me a lot of freedom and I'm not restricted to staying out on the wing as managers might do at other clubs."
Having featured at every level up to U23 for Ireland alongside the likes of current regulars James McCarthy and Seamus Coleman, it comes as no surprise that he has aspirations to get involved at senior level.
Martin O'Neill was in the crowd when Judge scored twice during Brentford's win over his former club Notts County last month, but he won't be expecting any calls this summer.
"Who wouldn't want to play for their country? I've played at every age group bar senior level but I can't see it at the moment.
"I've played League One this year fair enough but we've got good players playing Premier League and the Championship week-in week-out and you have to be playing at the highest level to be picked for your country, which is fair enough.
It was nice to score in front of the Ireland manager but I wouldn't be waiting by my phone… I'll be getting on with my holidays!"
In the short term, Judge is focused on proving himself in the second tier next season — whether it's in the red of Brentford or blue of Blackburn.
"I think I deserve the chance after what I've done over the last year to get a full run in the Championship. Obviously with Blackburn, I didn't really get that for one reason or the other, which is the manager's decision so I have no problem with that.
"I'd like a full year in the Championship to show people that I can play at that level."