Johnny Sexton is a Hero of the Young.
That's not just a statement of the bleeding obvious. It's also the view of the good folk at CopyClear, a body the Irish advertising and drinks industries set up back in 2003 to self-regulate the marketing and promotion of alcohol.
CopyClear run the rule over alcohol ads to make sure they're not trying to flog booze to kids or claim that drink makes you more sexy, interesting or successful.
They are the reason why you won't see Sexton, or any current or recently retired player, in a billboard or TV ad promoting the sponsors' product during the Guinness Series of rugby internationals, but why it was fine for former Welsh international Gareth Thomas to front a campaign for the brand in 2016.
According to the guidelines which CopyClear polices, "Heroes/Heroines of the Young…that children may wish to emulate or that have strong appeal should not be included in marketing communications for alcohol."
Oisin Keniry / INPHO As a 'hero of the young' Sexton can't appear in alcohol ads. Oisin Keniry / INPHO / INPHO
So Gareth is okay, but Johnny is barred.
CopyClear was set up to head off any potential government clampdown on drink advertising and sponsorship. In fact, just the sort of clampdown threatened by the Public Health (Alcohol) Bill, 2015, which finally wound its way through the Oireachtas this week after two years being chipped away at by drinks industry lobbyists and their Kildare Street stooges.
This week's Seanad debates centred on the Bill's provisions on minimum pricing, restrictions on the location of advertising and the display of alcohol in corner shops. That sports sponsorship wasn't on the agenda was a victory that the drinks industry had wrapped up a long time ago.
The initial consultation period for the Bill – which aims to address Ireland's chronic levels of alcohol abuse, especially among the young – mooted the idea of a ban on sports sponsorship by drinks brands.
A 2014 Department of Health report into links between alcohol marketing and youth drinking suggested that the French model of a total ban on sponsorship of sport by drinks companies was "best practice".
It referred to "the saturation exposure of alcohol product placement during sporting events," and warned that "there is compelling evidence that alcohol marketing is having an effect on young people's drinking."
Yet the die had already been cast in March 2013, when Irish sport's big beasts, Paraic Duffy of the GAA, John Delaney of the FAI and the IRFU's Philip Browne rolled into Leinster House to tell an Oireachtas committee that the loss of revenue from drink sponsorship would be disastrous for sport and that, anyway, there was no proof that such a ban would lead to a reduction in consumption.
The Government was convinced. And so today we have careful guidelines preventing Johnny Sexton and his ilk advertising alcohol lest young minds be corrupted, yet those same children will watch their 'heroes' in the Guinness Pro14 one week and the Guinness Series the next.
Hey, this is Ireland and this is drink. It's complicated.
Campaigners for the Alcohol Bill have made the analogy between Ireland's attitude to alcohol and that of the United States to guns. Both have retained a sort of cultural sanctity within much of the respective communities despite being proven to cause horrific damage.
And just as the National Rifle Association, backed by armaments industry money, propagates the idea of guns as central to the American spirit of freedom, so too does the drink industry wind itself around every limb of our sporting and cultural life by spending millions on advertising and sponsorship.
But unlike conservative America's tragic obsession with guns, things are changing with drink and sport. Drinks companies and advertisers have long been preparing for what is known as a 'dark market' – a time when alcohol advertising is restricted.
So rather than sponsoring sports teams and players, beer brands try to associate themselves with 'fan experiences'. Take for example Heineken Rugby Club, or Carlsberg's campaign aimed at Irish soccer fans travelling to Copenhagen this weekend.
And the GAA have taken the lead in edging out alcohol sponsorship. Shortly after that 2013 Oireachtas committee, the GAA and Guinness ended their sponsorship arrangement. Despite having no alcohol company among its portfolio of main partners, the Association has actually managed to increase sponsorship revenues since 2014 to the tune of €1.5million.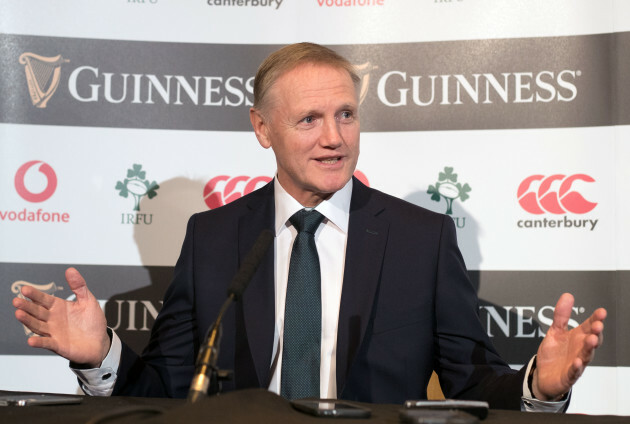 Tommy Dickson / INPHO The Guinness Series starts this weekend. Tommy Dickson / INPHO / INPHO
So is it time for Irish sport to get ahead of the politicians and call time on all drink sponsorships?
Many argue that sponsorship and advertising doesn't impact on consumption, but merely affects brand market share. And it is hard to preach on the subject when, like many reading this, I fully intend to enjoy some of the sponsor's product while watching the Ireland v South Africa match this weekend.
But take one more glance at the statistics. 75% of 18-24 year olds engage in harmful drinking; one in four deaths of 18-39 year old men in Ireland is due to alcohol; liver disease is increasingly most rapidly among 15-34 year olds.
Exclusive Six
Nations Analysis
Get Murray Kinsella's exclusive analysis of Ireland's Six Nations campaign this spring
Become a Member
And in the time it has taken politicians to debate the Bill, over 2000 people have died due to alcohol related illnesses. We need to untangle our dysfunctional relationship with alcohol and sport has a bigger obligation than most to play its part.
Before writing this piece I watched some sports related beer ads on YouTube. One was the Guinness 'Behind Every Great Town…' campaign, which inter cuts images of the brand with scenes of grassroots GAA life and a tagline referring to "the life and soul of the GAA".
It was playing for 10 seconds when my six-year-old son came up beside me.
"I've seen this ad. It's about beer."
"And what else is it about?"
"Beer. And football?"
Heroes of the young, indeed.
As proud Energy Partner to the FAI, SSE Airtricity have given us a pair of tickets to the sold-out Republic of Ireland vs Denmark game to give away. You'll watch the Boys in Green (hopefully) seal World Cup qualification from your premium level seats after enjoying food and refreshments in the Vavasour Suite before the match. To enter simply email competitions@the42.ie with your score prediction for the away leg and we'll pick a winner from the correct entries on Sunday morning.
Subscribe to The42 podcasts here: