Amar'e Stoudemire Amar'e Stoudemire in his red wine bath. Amar'e Stoudemire
THEY SAY A glass of red wine a day is good for you, but Amar'e Stoudemire decided a tub of it is best for him.
The New York Knicks man has suffered knee problems throughout his 12-year career in the NBA, and the six-time All Star has turned to alcohol to help resolve them.
Stoudemire has taken to bathing in a tub filled with red wine after Knicks pre-season matches, and the 31-year-old claims it has helped him back up to play matches in short spaces of time.
He played on Saturday against the Boston Celtics, featuring for 15 minutes, before going up against the Toronto Raptors and Philadelphia 76ers on back-to-back nights on Monday and Tuesday.
The former Phoenix Suns forward said the wine is a big aid in his recovery.
"The red wine bath is very important to me because it allows me to create more circulation in my red blood cells," Stoudemire said after training on Thursday.
"Plus, it's very hot, so it's like a hot tub. But it's also the red wine… just kind of soothes the body."
Stoudemire said bathing in wine is just one of his methods to rejuvenate his body.
"Also, you have the ancient tub, so you have like a salt tub and a hot tub and a cold plunge and a pool," Stoudemire said.
"And you just kind of mix it all up."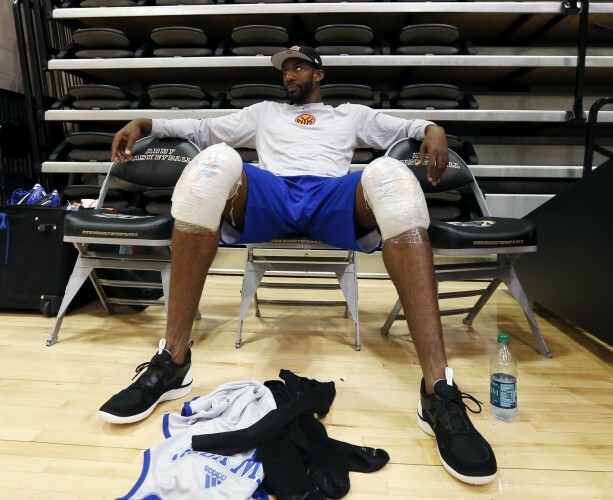 Mike Groll / AP/Press Association Images Stoudemire and his troublesome knees. Mike Groll / AP/Press Association Images / AP/Press Association Images
Stoudemire said he would continue to use the recovery method, but denied testing his facial muscles in the tub.
"Well, yesterday I felt great," Stoudemire said of his condition after consecutive matches.
"And after doing that recovery day, my legs felt rejuvenated. I felt great, so I'm going to continue to do that for sure."
He added: "I don't know [if it's quality wine]. I haven't tasted it."