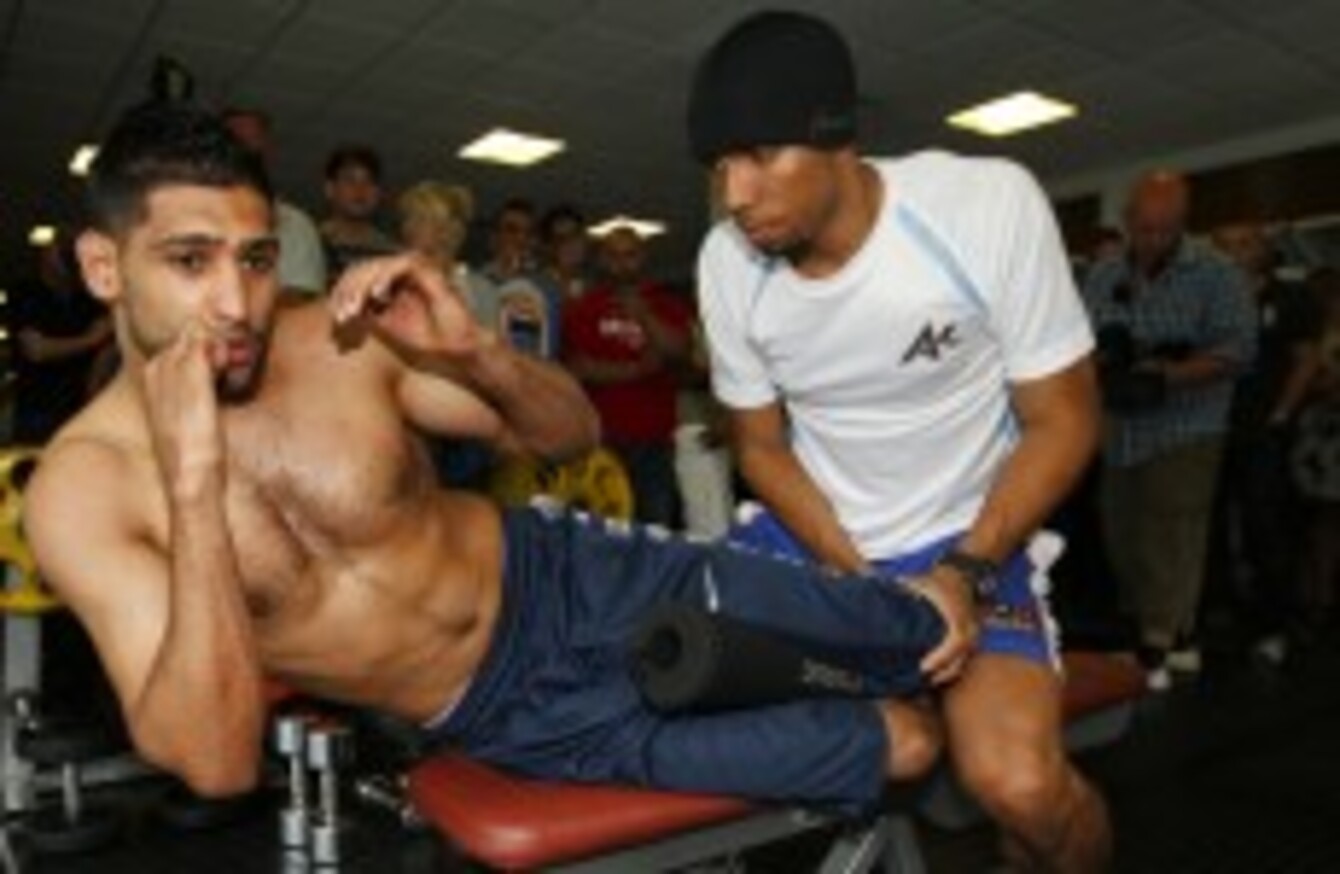 Image: Dave Thompson/PA Wire/Press Association Images
Image: Dave Thompson/PA Wire/Press Association Images
AMIR KHAN AND undefeated American Danny Garcia meet in a light-welterweight title unification showdown tonight with each fighter seeking a victory to launch him to another level.
Khan, 26-2 with 18 knockouts, will defend the World Boxing Association title he was given earlier this week while Garcia, 23-0 with 14 knockouts, defends his World Boxing Council crown.
Khan lost the WBA and International Boxing Federation titles last December in a controversial split decision to Lamont Peterson in the American's hometown of Washington, but protested the outcome over several issues.
A rematch was booked but Peterson came back positive in random doping tests and the fight was called off, with Garcia entering the picture and Khan coming into the fight after 16 weeks of training and with his WBA title returned.
"It's thrilling," Khan said. "Having two world titles makes the fight even bigger.
"We're more than ready for this fight. That (extra training time) maybe is going to give us more experience and in a way help me a little bit more because I've spent more time in the gym."
For Garcia, Khan would be the biggest victim on his unblemished record and could signal a jump into the welterweight division and such stars as unbeaten Floyd Mayweather and Filipino icon Manny Pacquiao.
"A win would be big," Garcia said. "It would put me in a new category, superstar category, and I'm pretty sure that we're going to get the job done.
"It makes me train harder, keeps me focused, keeps me motivated, but I don't feel like it's too soon. If you're the world champion who are you supposed to fight? Are you supposed to fight bums and pad your record?
"If you're the world champion you're supposed to fight the best people in their prime and that's what I want to do. I want to build my legacy."
Garcia (right) connects with a right on Deon Nash in 2008. Tim Larsen/AP/Press Association Images.
Khan is cautious about talk of future plans, having lost more time than he might have expected at light-welterweight, but a rise to welterweight and a potential date against Mayweather, could be in his future with a victory.
"I'm at my peak now where I like to be very professional because in the future there are some super-fights out there, so it's all about winning this fight and not really looking too far ahead," Khan said.
"It's maybe time after this fight to move up to the next weight category and go for the new challenges. When you are world champion and you're at the top of your game, you want to fight the best."
Garcia has not fought many rivals who match his youth, speed and power.
"It's a different fight," Garcia said. "I'm fighting a young guy like me with speed and power. Khan says he's one of the best. I'm the champion. We will make our adjustments in the ring and somebody will come out victorious."
Khan knows that another defeat after the Peterson loss, even with two dubious point deductions for shoving and the doping scandal that followed, would push unbeaten Garcia ahead of him on many promoters' lists.
"He is a good fighter. This is another tough fight," Khan said. "He comes forward and likes to throw big bombs and stuff. We'll be ready for whatever he brings to the table. I know this is a big, big fight for me.
"I've fought a lot of undefeated fighters. I know what to do. Sometimes they make mistakes and think they can get away with it, but this is different. You are at the elite level. Every little mistake Garcia makes I'm going to jump on it."