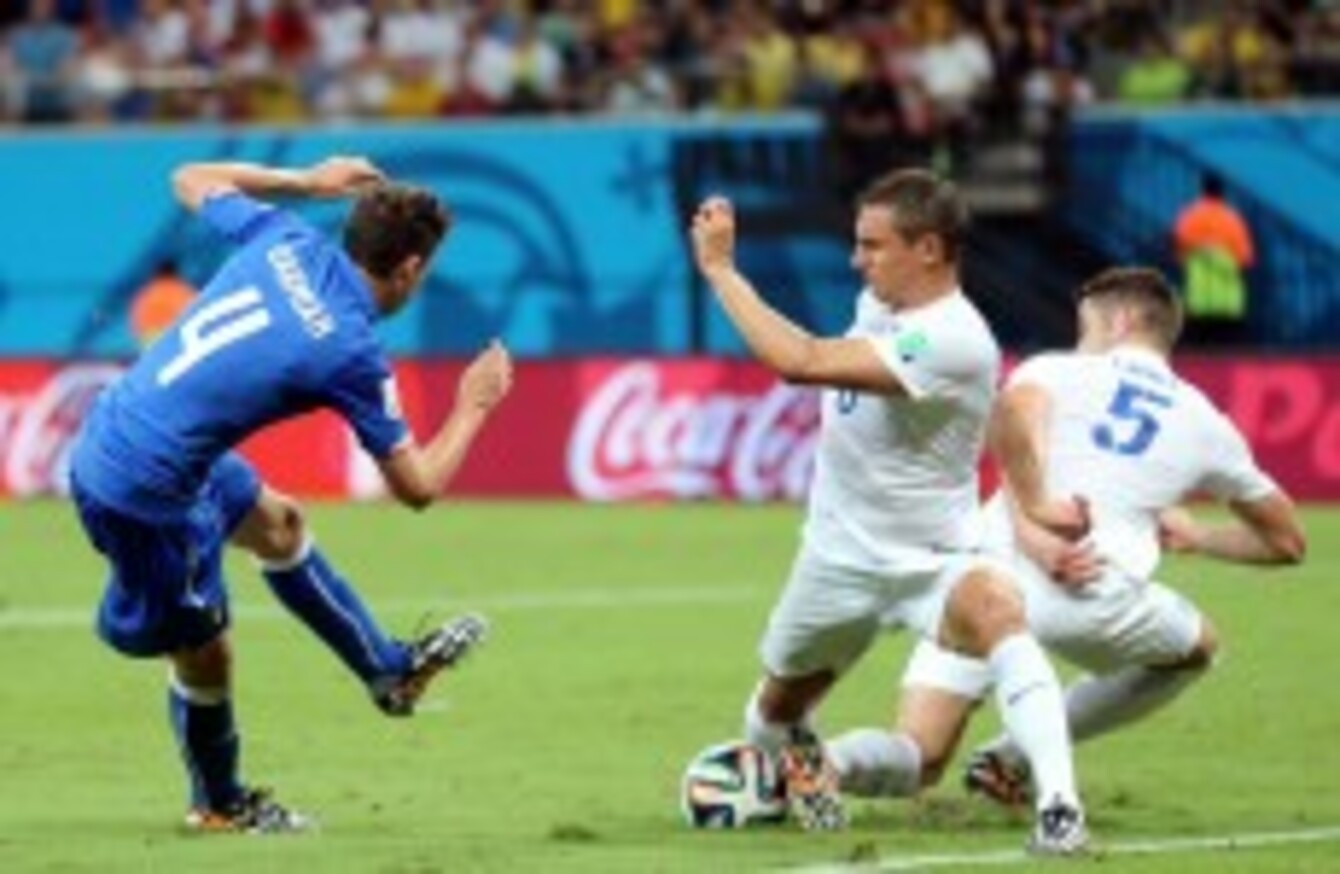 Italy's Matteo Darmian has his shot blocked by England's Gary Cahill (right) and Phil Jagielka.
Italy's Matteo Darmian has his shot blocked by England's Gary Cahill (right) and Phil Jagielka.
PRIOR TO THE game, much of the pre-match talk revolved around discussion surrounding the sides' meeting at the Euros two years ago, and whether England could curb the threat of the influential Andrea Pirlo, as they had only partially succeeded in doing on that occasion.
Danny Welbeck and Jordan Henderson were both touted to mark the 35-year-old Juventus star, but as it turned out, neither tried and perhaps were incapable of doing so.
The decidedly tropical venue of Manaus was also perceived to favour Italy, though the British media retained a semblance of optimism based on the assumption that Hodgson would 'give youth a chance'.
While Italy were marginal favourites going into the contest, neither team were particularly fancied, having looked similarly underwhelming in their respective World Cup warm-up matches.
The performance of Wayne Rooney was also under the microscope amid high-profile criticism from former teammate Paul Scholes, with the striker having regularly failed to produce at major tournaments going into this game.
The lack of pace in Italy's technically accomplished midfield was similarly regarded as a potential key factor, with England's Liverpool-heavy line-up ostensibly possessing the ability to cause damage with their speed and clinical finishing ability.
Source: Lazar Rakic/YouTube
(England crashed out of Euro 2012 after losing to Italy on penalties)
Formations
As expected, England lined up with a 4-2-3-1 formation, while Italy opted for a 4-1-4-1.
The Italy team was more or less as expected, aside from Gianluigi Buffon's last-minute enforced absence through injury, with Paris Saint-Germain stopper Salvatore Sirigu coming in in his place.
England, meanwhile, sprung one or two surprises in their line-up. The goalkeeper and back four were predictable enough, as was the pairing of Jordan Henderson and Steven Gerrard as the two deep-lying midfielders. However, Hodgson raised eyebrows in one or two of the attacking positions. Wayne Rooney was asked to play on the left of the attacking trio — a position he has also reluctantly adopted at times during his Manchester United career. Meanwhile, the coach somewhat boldly picked teenager Raheem Sterling in the central attacking role and the more defensive-minded Danny Welbeck on the right, with Daniel Sturridge as the lone out-and-out striker.
More Serie A than Premier League
In contrast with many of the high-octane openings to other World Cup games, most notably Spain v Holland, this encounter began at a conspicuously slow pace.
Aside from Sterling's impressive attempt from distance, which could only find the side-netting, Italy controlled the tempo and possession.
The pace was far slower and more Serie A-esque than it was akin to the Premier League,  which obviously suited the Italians, who were allowed to keep possession and gradually drain England's energy as the Three Lions chased the ball in vain amid palpably humid conditions.
It was consequently no surprise that Hodgson's men looked shattered by the end of the contest — Italy had a 92.3% passing accuracy rate — the highest of any team at the World Cup since 1966. The Italians also enjoyed the significantly superior possession in the game (55.6% compared to England's 44.4%).
Italy dominated the midfield battle at crucial stages of the game, led by the irrepressible Andrea Pirlo, who had an incredible 103 successful passes out of 108 attempted, while Marco Verratti and Daniele De Rossi (as well as Thiago Motta when he came on) were also comfortable in holding onto possession, rarely giving the ball away cheaply.
Source: iKhoStyle7i/YouTube
By contrast, Steven Gerrard and Jordan Henderson failed to emulate the eloquence of their opposite numbers. The tempo did not suit the fast-paced matches in which they thrive, owing, in particular to the power and pace of Henderson. Instead, their involvement in the match was sporadic at best, rarely making any meaningful contributions to the game, and being outshone by their Italian counterparts in the process.
Rooney v Darmian the game's key duel
The game was unquestionably won and lost down Italy's right flank. This was a major problem area for England, and increasingly became an issue as the first-half developed.
Attacking right-back Matteo Darmian had previously caused Ireland considerable problems at Craven Cottage and he similarly exposed England — who played the exact same formation that Martin O'Neill's men did — on more than one occasion.
While Darmian, with his pace and willingness to get forward ad nauseam was the most obvious danger man, Antonio Candreva's role in helping him find space should not be underestimated. The right-sided midfielder continually took up quite central positions, meaning his marker Leighton Baines was also forced to tuck in. This meant that there was a significant amount of space out wide for Darmian to exploit.
With that in mind, check out the video below.
Source: World Cup Fantasy 2014/YouTube
Wayne Rooney was ostensibly supposed to be the man picking up the Torino full-back, who was making only his second senior appearance at international level, yet the Man United star's defensive instincts are not always particularly sound, allowing the player he was supposed to be marking to get forward at will with undue ease.
Source: MUNDIAL 2014/YouTube
On a few occasions, Rooney failed to properly track Darmian, yet the full-back's crosses were expertly defended thanks to some good positional play by Gary Cahill and Phil Jagielka. This was consistently the out-ball that the likes of Marchisio and Pirlo chose to use, with their characteristically precise diagonal passes invariably providing space for the speedy full-back-cum-wing-back to sprint into. And although none of these incidents led directly to a goal in the first half, one did prompt the corner from which Marchisio struck sublimely to give the Italians the lead, in what was a perfectly executed move, replete with an ingenious Pirlo dummy, which clearly came straight off the training pitch.
Ironically though, Rooney's lack of defensive discipline actually helped create England's equaliser. Darmian made another one of his adventurous attacking runs down the wing, yet instead of playing him through when the simple pass was clearly on, Italy lost possession by attempting a far more ambitious through ball to Mario Balotelli.
This pass was cut out by the England defence and it fell to Sterling. Meanwhile, Rooney, unwilling to track Darmian at all on this occasion owing ostensibly to tiredness and sheer frustration, had remained high upfield. Darmian's absence consequently meant that the Italian centre-backs' lack of pace could be exposed by the United striker. The Liverpool youngster picked him out with a superb, defence-splitting Pirlo-esque pass, allowing Rooney to make his one unequivocally positive contribution to the game, producing an inch-perfect cross for the onrushing Daniel Sturridge to convert into the empty net. It may have been fortuitous to a degree, but England weren't complaining, as the teams went in all square at the break.
Unsurprisingly, noticing how badly Rooney was being defensively exposed, the England management team switched him to the right wing for the second half and played the supposedly more defensively adept Danny Welbeck on the left.
However, like Rooney in the first half, Welbeck was caught sleeping early in the second period, leaving Baines two-on-one against Darmian and Candreva. On this occasion, the latter produced an exquisite cross for Balotelli, who had been afforded far too much space by the England defence, to head home ruthlessly.
Several further key developments would further effect the game significantly thereafter, yet ultimately, the three most decisive moments of the match all emanated on the same wing.
Sterling England's main man
Playing teenager Raheem Sterling was considered a gamble by some, however this was one instance of a roll of the dice that paid off handsomely for Roy Hodgson.
The Liverpool youngster was superb, particularly in the first half. Often in recent major tournaments, England have looked especially inept owing to a lack of creativity in attack. However, Sterling's pace, daring and penchant for producing the unexpected had the Italian defenders looking nervous on a regular basis.
All too often previously, the Three Lions have suffered from a sterile predictability and absence of ingenuity when going forward against the better teams, yet in Sterling, they have unearthed a rare gem of a player — someone with the self-belief to carry the ball and take defenders on, which no other England players ever looked willing to do, save for Welbeck on one occasion.
Source: MrBoywunderHD/YouTube
Every time the 19-year-old gathered the ball in the final third, he threatened — his vicious strike from distance in the opening moments of the game was a sign of things to come. He regularly bamboozled the Italian defenders with his pace and mazy runs, and fizzled several crosses into the box that deserved a man on the end of them.
It was no surprise that Sterling made the initial telling pass for the goal, though his influence admittedly lessened in the second period as the Italians became more cautious and compact (more on which below), while he was also asked to move out to the right wing as the game developed, in order to allow Rooney to adopt a more central position.
Italy sit back and become more compact
Italy's increasingly laissez-faire approach — particularly with respect to their attacking full-backs — eventually paid off for their initial goal, but they were then caught out moments later as England capitalised on their all-too-attack-minded set-up by hitting them with a classic counter-attacking goal.
Of course, the Italians learned from this mistake after scoring their second goal. Sensing England were regaining the upper hand following Balotelli's 49th-minute header, Cesare Prandelli promptly made a tactical switch.
(The Italians were pegged back in the second half)
Marco Verratti was replaced by his more defensive-minded PSG teammate Thiago Motta, and Italy acquired a far more pragmatic mindset.
The full-backs were clearly given less license to attack, as they seldom crossed the halfway line once Italy made it 2-1, while the team in general seemed content to sit back and attempt to occasionally hit England on the break.
(Italy defended with 10 men, leaving just one up top in the final 20 minutes, successfully reducing England to innocuous pot shots in the process)
While Hodgson's side created three or four decent openings in the first half, and also went close early in the second, they barely troubled the Italian goal in the final 20 minutes, as the Azzuri proved impossible to break down.
Rooney, Sterling and Gerrard were all reduced to hopeful shots from distance, none of which even hit the target, as England searched in vain for an elusive equaliser.
And although the English had Italy pegged back in the closing stages, in truth they scarcely looked like scoring — indeed it was the Italians who went closest late on, when Pirlo's sumptuous swerving free-kick rocketed off the crossbar, as the Juventus man came so close to putting the icing on the cake in what was a near-perfect performance from him.
Conclusion
Ultimately, both sides will be pleased with certain aspects of this game.
Italy will be relieved that they've managed to prevail in spite of their poor recent form and claim a deserved victory against a hard-working England team.
Moreover, though the Three Lions only lost on penalties to Italy at the Euros two years ago, Roy Hodgson will surely consider this game to be a superior performance despite its unfavourable outcome.
The 66-year-old manager will be encouraged at how effective England looked at times on the counter-attack and in particular, will be buoyed by Sterling's fearless display, while being able to point to a debatable penalty decision that went in the Italians' favour, when Steven Gerrard collapsed inside the box, as evidence that his side were hard done by.
Source: Victor László/YouTube
Conversely, Hodgson will be concerned at how often England were exposed down their left flank, irrespective of whether it was Welbeck or Rooney operating there, and he will also be unhappy at how emphatically his side were dominated by a Pirlo-inspired midfield at crucial stages of the game. Ultimately, these were the two primary factors behind England's narrow failure to get anything from Saturday's game.