THE MOST INTERESTING quotes to arise from the aftermath of yesterday's heartbreaking defeat came from Sean O'Brien.
The Ireland flanker felt "we should have trusted each other in the last couple of minutes – I'd say a lot of the lads are angry at the way it finished."
Watching the game back this morning, it seems clear that the All Blacks are fitter than Ireland, and had that extra 1% of fitness that allowed them to score the winning try. However, O'Brien rejected that excuse, highlighting that "we weren't getting set early enough, not coming off the line at them again" in those closing minutes.
It was encouraging to hear O'Brien disagreeing with the notion that Ireland should be pleased with their performance, and instead focusing on the fact that "it's time lads grew up and know what's expected when they put on an Irish jersey."
The Tullow native articulated the high standards by which Ireland will, and should, set themselves under Joe Schmidt. The defence in the closing minutes simply wasn't acceptable in O'Brien's eyes, so let's take a look at what he may have been referring to.
Firstly, let us start by saying that the intention here is not to blame individual players for Ireland conceding this try. However, as indicated by O'Brien, the Irish players should not be happy to have lost after playing well for 79 minutes.
They will be demanding enough of themselves to be collectively angry with their late failure to defend. At the 79.30 mark, Ireland are still in possession of the ball and going through solid phases to run the clock down, before Nigel Owens penalises Jack McGrath for going off his feet at the ruck.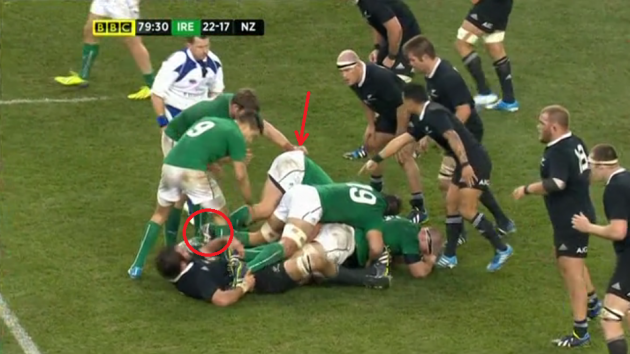 The screen grab above is taken a split second before Owens blows his whistle to signal his decision. You can see that McGrath is not in an ideal position, with his right foot up off the ground and his body weight forward onto the top half of his body.
It's a justifiable call by Owens, but we had seen plenty of similar instances ignored earlier in the game. That's not to suggest that the referee's decision had an impact on the outcome. Ireland concede the penalty, but they are still 62 metres from their own try-line.
After a re-taken quick-tap, Ben Smith manages to make 10 metres on the first phase, slipping through O'Brien's tackle to wriggle forward.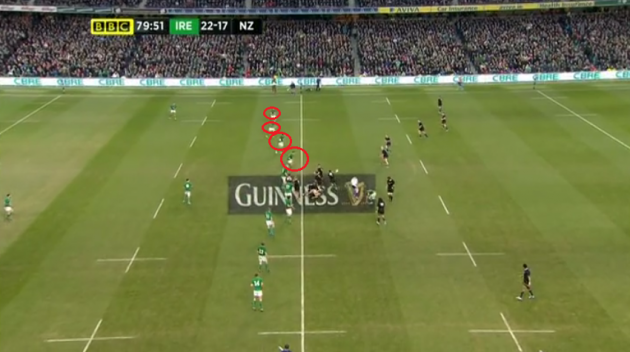 The screenshot above is taken as Aaron Smith launches the second phase of the All Blacks' attack and you can see that Ireland have four defenders set up outside Paul O'Connell, who is acting as the pillar on the left-hand side of the ruck.
The All Blacks have five attacking players, but it's still a good chance for Ireland to get off the defensive line, particularly with Dave Kearney covering out wide. That didn't prove to be the case though, and Kieran Read ended up being brought down five metres inside Ireland's half.
Beauden Barrett carried down the right-hand side for no gain on the next phase, and Ireland got back into great shape, allowing Jamie Heaslip to rush up and tackle Sam Whitelock behind the gain-line (below).
This was what O'Brien was talking about; players getting set early and coming off the line in defence. Unfortunately that was the last time Ireland managed to do so.
Ben Smith used his footwork to make a few yards in midfield, and then Ben Franks did the same on the right. At this stage, exhaustion was starting to show for the Irish players.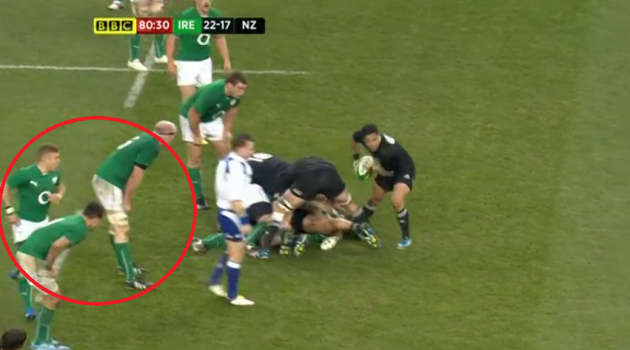 Circled above are O'Connell, Madigan and Conor Murray. While there is a need for one, or even two of these players to be stay in tight, keeping an eye on Aaron Smith or any late trail runners, one of these players simply has to spread a little wider, given the numbers that the All Blacks have in attack out on the left.
As we can see when the camera pans out, Ireland are now compromised out wide, and the three players above (still circled below) have been taken out of the game by one long pass. This is where Ireland are first in real trouble.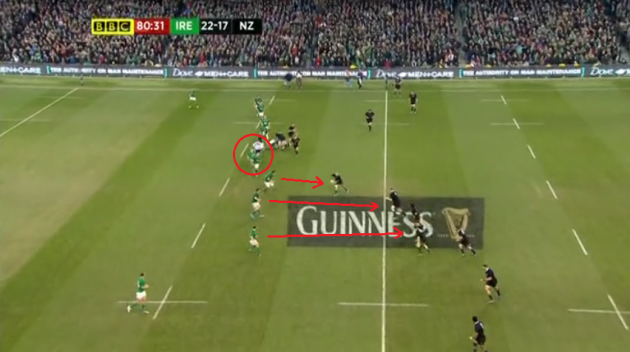 Gordon D'Arcy does well to scramble across and tackle Read, but the No. 8 is in enough space to offload inside to Ben Smith, and by the time the centre is hauled down, the All Blacks are just outside the Ireland 22.
Ma'a Nonu makes a clever carry and offload as Ireland attempt to get back into shape, before Owen Franks carries in midfield. Jack McGrath gets into a decent jackal position over the ball, looking to win a turnover and as you can see below, three Irish players waste valuable seconds appealing to Owens for a penalty, rather than getting set up in defence.
Again, these bodies would have been better used in sprinting to get set up in the defensive line. Once we move into the wider screen view, we can see that Ireland are again in a compromised position and it actually looks like the All Blacks will score here.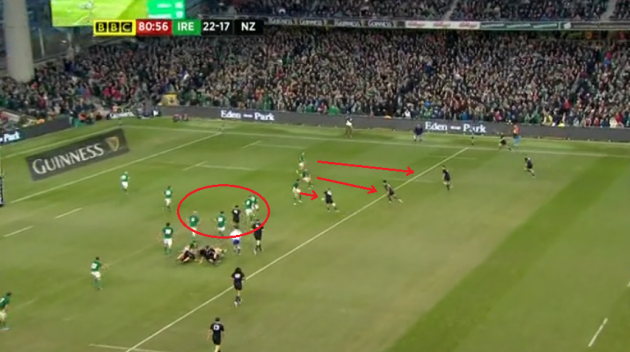 However, the All Blacks don't convert this 5-on-3 situation, but crucially get to within five metres of Ireland's line and it's likely that there is real panic setting in amongst Schmidt's men at this stage.
Nonu does well to carry off a loose pass by Aaron Smith, but D'Arcy again makes a stretching tackle and we're at the last ruck before the All Blacks score their try. Tommy Bowe makes a decision to involve himself in that ruck but as you can see below, there is little he can do to affect it.
Once again, there is the sense that Bowe would have been better served in fanning out to defend, particularly given that Ireland end up very tight defensively on the next phase of play.
Essentially, Ireland are still left with a 4-on-4 to defend and in normal circumstances – which these were, of course, not – they would have expected to defend this situation (below).
What happens next may have been the specific incident that O'Brien was referring to when he spoke about trust. The widest man in a defensive line [Madigan here] often has to make tough decisions based on what is happening inside him.
In this instance (below), O'Brien is scrambling across to cover Coles, but he does get there in the end. In the meantime, Madigan has decided that O'Brien isn't going to make it across in time and he is in the process of lining up a hit on the All Blacks hooker.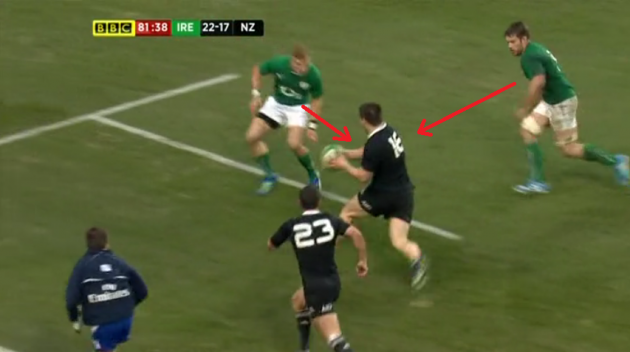 Watching the video back, it is unclear whether or not O'Brien communicates with Madigan to push out on Crotty. It appears quite possible that he didn't, but then maybe he expected his teammate to 'trust' his ability to get across.
As it turned out, O'Brien did manage to make it across, and Madigan realised at the last second, ending up in something of a no man's land as Coles looks for the offload. O'Brien attempts in vain to trap the ball as he tackles the hooker, but Crotty is the beneficiary as the pass is squeezed out.
The absolute fatigue generated by their explosive performance up until this passage of play was obviously a contributing factor, but Ireland will be angry with their inability to keep the All Blacks from scoring from 62 metres out.
There is no individual blame attached here, but Ireland will work towards ensuring it never happens again. 12 phases of defending were the difference between winning and losing against the All Blacks yesterday.