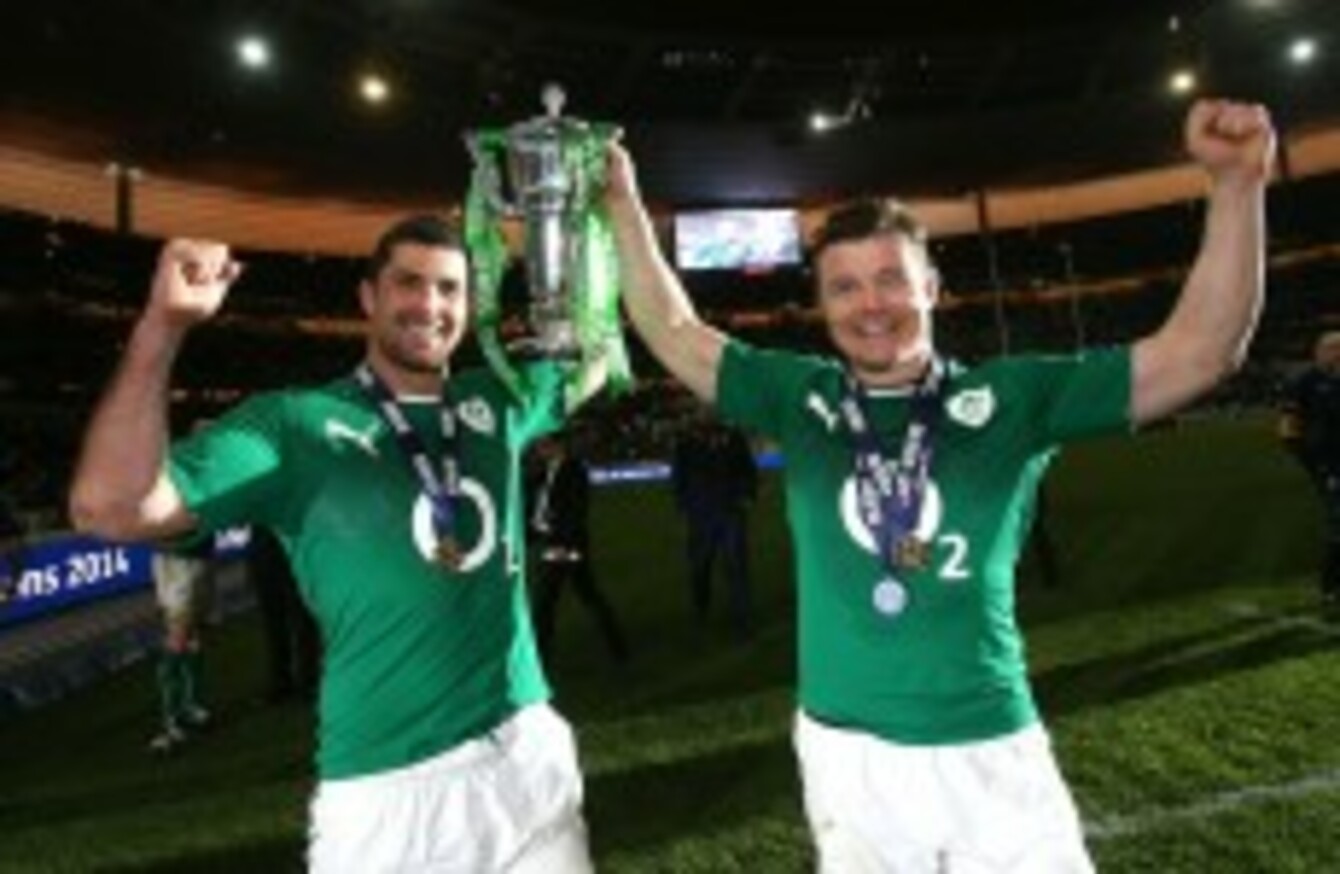 Rob Kearney and Brian O'Driscoll with the Six Nations trophy.
Image: Dan Sheridan/INPHO
Rob Kearney and Brian O'Driscoll with the Six Nations trophy.
Image: Dan Sheridan/INPHO
"NOT EVERYBODY HAS the intellectual property; they don't know it, they just don't."
Shane Horgan's response to the question of how Joe Schmidt's 'detail' can be so much more in-depth than other professional rugby coaches.
The former wing worked closely with the Kiwi in his final years at Leinster, providing him with an insight into Schmidt that many others don't have. Now looking in from the outside, Horgan can see the same elements that made the eastern province so successful at work in the Ireland camp.
Joe is very much focused on dealing with the small technical details and then building up from there. Other coaches could look at things the other way; they need to have a 'general' plan, they might think that their pattern is the actual key. Joe is skill-based."
Following on from Part 1 of this analysis, where we dealt with the scrum, line-out, maul, breakdown, choke tackle and Paul O'Connell, we continue our examination of some of the areas of the game that helped Ireland to secure the 2014 Six Nations title.
Horgan's words ring true with the elements mentioned in the paragraph above, as well as all of those below. Schmidt's focus on getting the 'minor' technical details right, and then building from that base, has been key to Ireland's success.
Rucking
Ireland were superb in their attacking rucking, consistently securing their own possession and blasting rucks with frightening efficiency. Winning at the ruck area is one of the real keys in international rugby, and Schmidt has clearly spent large amounts of time focusing on it as such.
As we saw in part one, Ireland competed superbly at the breakdown when defending, but their rucking in attack was even better. Schmidt's men were above 95% in terms of attacking rucks won in all but one of their five games [93.5% against England].
They peaked at 97.5% against Italy, a game in which they had to hit a huge 156 rucks as they looked to keep the ball in play and in their possession as much as possible. The stats confirm the impression so many of us will have garnered from watching the games; Ireland hit attacking rucks superbly.
One of the keys to Ireland's success in this department was their ability to use a whole range of rucking techniques, beyond just driving defenders backwards away from the ball.
We get an example of an Irish player selecting an ideal technique in the GIF above, with Cian Healy using the 'can-opener' or 'tin-opener' to roll Nicolas Mas away from a good position over the ball after O'Connell has been tackled.
The French tighthead prop gets into the 'jackal' position to attempt the steal, and Healy recognises that his initial rucking hit on Mas isn't going to shift him off the ball. He instantly wraps his arms in under the Frenchman's upper body and uses his own mass to roll him off to the side and away from the ball.
It's good technique from Healy, but it's also worth noting that Chris Henry helps out too, lifting Mas' left leg in order to destabilise him that little bit further. Ireland had some initial problems in resourcing rucks against Scotland, but thereafter were not afraid to commit more bodies to ensuring their attacking rucks were cleared effectively.
Ireland were vitally focused on being certain that the ball came back on their own side as swiftly as possible throughout the tournament, and indeed the impression was that their ruck speed improved with each game.
Much of that was down to more traditional blasting of rucks, but we saw lots of improvisation around the ruck from Irish players too. Another such example is highlighted in the animation above.
O'Driscoll gets into the ruck area with very little momentum, having first attempted to leech onto Henry after passing to the flanker. The 35-year-old recognises that he's not in a great position to drive Rémi Tales off the ball, so actually ends up simply pulling him off to the side.
It's not spectacular, and it's not a technique one would want their team becoming dependent on, but it gets the job done and Ireland have a two-second ruck as a result. This incident comes in the build-up to Jonny Sexton's first try, and that ruck speed stresses France a lot more than allowing Tales to compete would have.
Again, we note Ireland's second arriving rucking player [O'Connell] playing his part. O'Driscoll initiates the movement by pulling Tales' upper body, O'Connell finishes the job by smashing into the out-half's side.
The example in the video above is more about the collective mindset of Ireland's players in winning attacking rucks, rather than any real technical excellence.
Louis Picamoles, an incredibly strong athlete, gets into an excellent position over the ball to make a steal at the breakdown. Sexton is the first Irishman on the scene, and while he doesn't blast Picamoles off the ball, he does initially make an impact on the back row.
It's the 'fight' after that first-up rucking hit that we want to highlight though. It would have been easy for Sexton to slip off the the side of Picamoles after failing to originally shift him – one can imagine some out-halves doing so.
Instead, Sexton clings on, wrapping his arms around Picamoles' neck and continuing to fight to help Ireland win the ruck. The main point is that all Irish players, not just the forwards, were focused on ensuring Ireland secured their attacking rucks.
In the instance above, referee Steve Walsh awarded an Irish penalty, but had it not been for Sexton's fight and determination, that could have easily gone the other way.
The final example we touch upon is the one above, in which O'Driscoll absolutely smashes Rabah Slimani away from the ruck. It's fairly nasty and leaves the French prop in a bit of pain, but again that is something that Schmidt has asked of his players.
O'Connell has alluded to as much before, admitting that the Kiwi coach has asked him whether he thinks his opponents really felt his rucking efforts, whether he hurt them. Every team in the world of rugby alludes to smashing the defence off their rucks in order to warn them not to go for the steal again, but it doesn't always happen.
Ireland managed to do that consistently throughout the championship though, and while they obviously did concede turnover breakdowns, they were few and far between.
Awareness of rucking roles
While we have used individual examples here, the intention is to highlight common traits of Ireland's play during their Six Nations success. There may not always have been can-openers used, but the Irish players did show a nice variation in technique.
More importantly, there was a real sense of Ireland sharing the rucking responsibility throughout the team. Players like Dave Kearney and Andrew Trimble played their part, while Ireland's midfield contributed greatly to attacking rucks, as Henry points out.
When you have got big wingers and certainly Brian as well – one of the best ruckers in the world – we knew we were going to be right there."
However, it's not just about the personnel. When asked to highlight what Schmidt has brought to the Ireland set-up this season, O'Connell immediately referred to the ruck.
"There's a real clarity about what we need to do in the ruck. A very good way of rucking that's very effective. People are in no doubt about their role, how well they need to do their role and how well they need to know their role."
Henry expanded on the issue a little further, indicating the lengthy time Ireland have spent on their rucking at Carton House.
"In training throughout this whole campaign, there has been a massive focus on our rucking out, our technique and making sure the person who carries the ball does his role and the two support players hit the right areas and target the right men."
The final part of that quote is of most relevance here, and perhaps goes some way to explaining why Ireland offloaded relatively infrequently during the Six Nations.
We saw just 27 offloads from Ireland over the course of their five games, a low total, especially compared with France's [84]. While there were some stunning examples of excellent offloading from Irish players [O'Driscoll, we're looking at you!], they simply didn't look to offload repeatedly in contact.
Henry goes into a little more detail, again referring to the ball carrier being in a specified role.
I think Joe wouldn't be as pro-offloading as other teams, because I think he wants to make sure there's a clear, definite carrier who's going to carry straight to form the ruck well.
"It's worked very well for us, it means you get quick ball. He's not a coach that says you can't offload, it just has to be on."
Both Henry and O'Connell refer to the 'roles' of each man being known in anticipating ruck situations, and the idea is that offloading can push those specifications off kilter. When the supporting player is preparing himself to ruck as effectively as possible, a late offload can take him by surprise.
By instead focusing on the ball carrier definitively being that, rather than a potential offloader, the supporting players can be entirely concentrated on clearing out the subsequent ruck.
It might be seen as a lack of attacking ambition not to look for offloads, but it is far from that. Satisfying the thirst for attacking gains instead comes from the more reliable source of quick ruck ball, rather than a 50/50 offload attempt.
Schmidt has been vitally aware of the narrow margins of international rugby in his first season as Ireland coach, and therefore unwilling to see a misguided offload being the difference between winning and losing.
The situation is likely to develop and evolve, but in this Six Nations, Ireland's intense focus on their rucking roles, at the expense of a notable offloading game, largely paid dividends.
Decoy running and blocking
Ireland created a healthy 32 clean line-breaks when they had the ball during the Six Nations, peaking with 11 against the Italians and beating France in that department on a scoreline of 7-1.
In fact, the English were the only direct opponents to better Ireland in terms of line-breaks during the Six Nations [3-5]. Clearly, these clean breaks are about the pace and power of the player who makes the break, as well as the passer who puts him into the hole.
But there is more that goes into producing busts of the opposition defence, with decoys and blocking playing an important role. Ireland possess several intelligent, experienced players who excel in this area.
On first viewing, Sexton and Kearney would get the large majority of the credit for the break shown in the GIF above, but the space opening up is all down to Gordon D'Arcy's involvement.
The inside centre runs a decoy line for Jamie Healip, who sends a pass behind D'Arcy to Sexton, a simple screen pass. But instead of just 'dying' after running that line, D'Arcy gets in a little block on France out-half Tales [circled below].
Technically, it's not legal play, but D'Arcy does it so well and so discreetly that it's very difficult for the match officials to pick up in live play. Going back to the original GIF of the incident, it's clear him important D'Arcy's involvement is in creating the hole for Kearney.
We got another very similar example in the same game, with D'Arcy again running a screen line, where the pass is sent behind him. Just keep a close eye on the inside centre in the animation below, and note how he bumps Thomas Domingo to open the space.
Rob Kearney doesn't quite manage to get a clean bust of the French line, but he does have space to run into after O'Driscoll's inside pass. It's a stressful situation for the French defence and they are immediately scrambling backwards.
Again, the point here is to highlight an element of the game in which Ireland were collectively strong during the Six Nations. D'Arcy excels as a decoy runner, but so many of his teammates shared the burden in helping to create line-breaks with their work off the ball.
Decoy running doesn't always involve physically impeding defenders, as we will come back to later in the piece. The underlying point is that Schmidt demands that each and every player does as much as they possibly can to help the team advance in attack.
Luke Fitzgerland, a man who missed the Six Nations through injury but worked with Schmidt at Leinster, outlines the questions the Kiwi asks of his players even when they are not near the ball.
What are you doing for the team? How are you making things better for the team?"
That transfers into the most minute details in scoring tries, something Ireland did well during the championship. Andrew Trimble is a player who has really bought into everything Schmidt demands, so it is ideal to use an example of one of his contributions in this area.
The clip above appears to be all about Trimble's original linebreak after receiving a wonderful pass from D'Arcy. The Ulster wing hits O'Driscoll on his right, and despite Brice Dulin defending excellently, Ireland go on to score.
What we're interested in this instance is Trimble's actions after he has passed the ball; he's looking to stay 'alive' in the game, to contribute anything further that will help Ireland to score.
He arrives to the breakdown after O'Driscoll gets hauled down, but there's not really any defender there for him to ruck. That doesn't mean Trimble switches off; he's still looking to contribute something, anything, no matter how small a detail.
As Maxime Médard gets off the deck and moves to return to the defensive line, Trimble intelligently just gives a quick tug on the France wing's collar, pulling him back to the ruck for a split second.
Ireland almost certainly would have scored even if Trimble hadn't disrupted Médard's attempts to get back into position, but it's the principle of his actions that interests us here.
The Ireland wing is constantly looking for those 'extras' he can contribute, the little details that may or may not help his team to progress in attack. Those are the demands Schmidt makes of his players off the ball.
Tactical flourishes
The inside passes shown above neatly lead us on to another element that helped Ireland to secure the Six Nations title this year. While Schmidt is focused on the basic skills of his players being as strong as possible, there is an obvious need to bring tactical intelligence to proceedings too.
Ireland started from a solid base against a ragged Scottish team in the opening round, and thereafter we saw them add a new tactical 'crease' to each game they played. Those additions were clearly the results of analysing the opposition in depth.
Schmidt has a well-deserved reputations for picking apart opposition weakness, but Ireland analysts Mervyn Murphy and Eoin Toolin deserve credit in this area too. It can be presumed that the demands even on backroom members have increased under Schmidt.
Against the Welsh, the tactical crease involved kicking diagonally behind their aggressive rush defence. In round three, at Twickenham, Schmidt's men looked to exploit the wide channels, with a little less success.
The next clash against Italy saw Ireland introduce the tactic of keeping the ball in play and in their possession for long periods, tiring the visitors for the closing 30 minutes. Finally, against France, we saw those inside passes exploiting the lack of a strong drift by Philippe Saint-André's defence.
It's encouraging to see an Irish team so deliberately set up to exploit opposition weaknesses, even if it didn't always work perfectly in this championship.
Schmidt specials
When analysing the defeat to England at Twickenham, we studied Rob Kearney's try in detail and hoped to see more of that kind of play from Ireland in the future.
Against France, those hopes were fulfilled when Ireland manufactured a magnificent try for Andrew Trimble, demonstrating the focus Schmidt has brought to their attacking play.
Kearney's score against England took 17 second to manufacture, but Trimble's was even quicker at 16 seconds from the put-in at the scrum to the right wing touching down.
The video above is like a microscope onto what Schmidt has added to the international arena with Ireland. Each and every player knows their role down to an inch-perfect tee, everything is done accurately at pace, and it's bloody hard for France to stop it.
It all starts with an ideal scrum from Ireland as they manage to wheel the loosehead side up, and therefore tie Louis Picamoles [at No. 8] and Alexandre Lapandry [on the blindside flank] into poor defensive positions.
We can see that process beginning to happen in the screenshot above, but it's worth highlighting another fine detail, with the ball circled as it passes back in 'channel one'. Ireland want the pill to emerge from the scrum as far to their left as possible, allowing them to shift it away even quicker.
That hooking of the ball back in channel one, actually passing beneath Cian Healy, enables them to do so. On top of that, Chris Henry gets his body out away from the ball to open up the space for Conor Murray to take it cleanly [below], as well as enabling the scrum rotation and blocking Maxime Machenaud from diving on Murray.
Ireland then carry out a wonderfully effective midfield strike play, utilising that ideal set-piece foundation to full effect and getting right over the gainline.
Sexton delivers an accurate pass to O'Driscoll, meaning the centre doesn't have to check his run, and thereby increasing his chance of winning the collision. Just as important is the 'animation' out the back door from Sexton and D'Arcy [below].
Both players are beckoning for the ball on that loop play [something France would have been aware Ireland love doing], and shouting for the pass too. It means Mathieu Bastareaud can't commit inside and help Tales to double-team O'Driscoll in the tackle.
The end result of all of the above is O'Driscoll getting well over the gainline and negating any real need for rucking at the subsequent breakdown. So far, so accurate.
The whole passage of play was built on the analysis of opposition weaknesses, with Ireland fully aware that Damien Chouly [operating as the openside flanker] would 'fold' over to the right of the ruck, expecting Ireland to come around the corner on the next phase.
Inside him, the wheeled scrum means Picamoles and Lapandry have little chance of getting across the pitch to the left-hand side of the ruck, leaving a huge hole open for Ireland to attack.
D'Arcy is circled on the right of the ruck because, once again, he is looking to provide a distraction for the French by signalling and shouting for a pass that he knows he won't be getting.
When play moves on, and Murray bursts into the space that he knows is there on the right side of the ruck, it's worth nothing the involvements of Sexton and Henry just in front of the ruck.
Both players make an attempt to impede Machenaud, who has recognised that France are in the shit. Sexton has a little tug at his jersey, and then Henry subtly steps into him. Neither movement particularly halts the scrum-half, but they do contribute to him missing the tackle on Murray.
The wonderful trailing run by Trimble is on the money; the right wing is fully aware of where he needs to be for this planned move to work to perfection. On the inside of Murray, Sexton continues his run and actually gets ahead of the ball briefly.
All of the individual elements, those little details, add up to make a stunning try from Ireland. It will be fascinating to watch their development in this regard as Schmidt's intelligent coaching picks out those barely perceptible weaknesses in the opposition.
Work rate
Everything good that Ireland did in the Six Nations was underpinned by their work rate. That ability to fight on each phase of play partly came from the knowledge that the bench was strong enough to maintain performance levels in the closing 30 minutes of games.
On top of that, Ireland's players looked very fit throughout the championship, something Schmidt accredited to the national team's backroom staff.
We have a great strength and conditioning staff that get the players in the best prepared state," the head coach said.
Jason Cowman [National Team Strength & Conditioning Coach] enjoys a deservedly excellent reputation amongst the players, but the provincial S & C staff warrant credit in this department too.
Overseen and aided in their planning by Cowman, the staff at Munster, Connacht, Leinster and Ulster are ultimately responsible for sending the players into international camp in peak condition. A triumph for the system in that regard.
The evidence on the pitch was copious, with one examples of Ireland's work rate highlighted below.
The GIF above features intelligent play by Tales, who uses the medical team as his very own Gordon D'Arcy-like shield, running behind them and benefiting from a block on D'Arcy himself [karma for the bearded one].
Of more focus for us is Rory Best's sheer work rate in getting back to scrag Médard in the tackle and then bounce up to win the loose ball. The screengrab below highlights how far back the Ulster hooker starts on this particular play.
It would be easy for Best to switch off briefly in this scenario, with the ball having moved out beyond him. Indeed, had he not worked back to catch Médard, his absence would not have been especially notable.
But Best is focused on giving everything he can for his team in every phase of the game. We saw something similar from Paul O'Connell in the build up to Sexton's second try, as the lock strode almost the length of the field to make a short carry and allow Ireland's support to arrive.
There are countless other examples we could highlight, but the point is that Ireland's work rate was huge in all five of their games in the championship.
The bench
As alluded to above, Ireland enjoyed great comfort from knowing that their bench could deliver late on in each game. Schmidt has tasked his replacements with knowing their detail as any starting player does, and then adding as much to the game as they can.
That's what Joe wants," said Jack McGrath. "He wants us to fit in, be disciplined and just know your stuff, make an impact."
That proved to be the case throughout the championship, with McGrath, Iain Henderson, Martin Moore, Sean Cronin, Eoin Reddan, Isaac Boss, Paddy Jackson, Ian Madigan, Fergus McFadden, Tommy O'Donnell and Jordi Murphy all making positive contributions.
We'll look at a brief example here, but it is one that illustrates what Ireland's replacements brought.
Henderson is the sub in question, and he makes this play at a vital time in the championship, with Ireland having lost a scrum on their own put-in and inside their own 22.
The Ulsterman bursts off the scrum and wraps up Jean-Doussain before manhandling him back up the pitch for a loss of yards. It's majestic power, and crucially it forces the French forwards to move backwards for the ball.
A typical involvement from one of Ireland's bench players.
Discipline
Ireland failed to wander into double figures in terms of penalties conceded in a Six Nations games this year. They gave away just 36 in total, peaking at 9 in the games against Wales, England and France.
It's remarkable discipline, and another product of Schmidt's focused coaching, with the players responding intelligently to his demands. Several of the penalties that Ireland did concede were contentious and open to interpretation.
Schmidt himself has alluded to the focus on discipline he and his coaching staff have brought in this area.
"It's something that we're working incredibly hard on, even at training if we see anyone that's off their feet or half an inch offside, we're trying to pull them up straight away. We just keep that message coming in to concede as few penalties as possible.
I think, almost like dogs, you get enough repetition and you start to get into a mindset that you get into the right place at the right time and try to create the right action."
Mindset
We'll leave it to the succinct Brian O'Driscoll to explain how Schmidt has changed Ireland's attitude and mental approach. Every single action the Irish players performed over the course of the championship boiled down to them being highly motivated to play for their coach and their country.
What's been different this year, Brian?
"Accountability. Joe instils a big confidence in those around him with his philosophy and his game plan, his strategy and his detail. People buy into that product."