"THERE'S NO POINT in having an overall game plan if you can't execute it."
Anthony Foley's response to a question on how he will look to set up his Munster team next season gives a clear indication as to where his priorities as a head coach will lie. The 40-year-old will assume the position when Rob Penney leaves the province at the end of the current campaign, taking on a role he has seemed destined to fill.
Having served under both Tony McGahan and Penney, the Killaloe man feels he is ready. Foley's legacy was created during his playing days with Munster but as countless other sportspeople have proved, being a great player does not necessarily translate into being a successful coach.
Foley points out that while there is a certain degree of overlap, the mindsets required are almost opposite.
It's a different way of life. You know what you want as a player and it's self-centred. You know what you want around you and what makes you tick. As a coach, you need to put those pieces together.
"You're really trying to put a group together, a group dynamic, and still cater for the individuals. As a player, you just worry about your own little work area. As a coach, you have to really look outside, bring everybody in and make sure you're all going in the one direction."
Excelling at a certain skill when playing the game is an entirely different thing to having the ability to transfer that expertise to another person. It can be a stumbling block for many ex-players, that ability to impart their technical know-how.
©INPHO / Ryan Byrne Foley faces the media after he was announced as Penney's successor. ©INPHO / Ryan Byrne / Ryan Byrne
Foley points out that as a coach he has learned that simply explaining or demonstrating a skill isn't enough. Following that process up with demanding deliberate practice is the real key.
"You've got to teach it. You've got to sit back, explain it. As a player, once you understand why something has to be done, then it's easier to transfer it across. It's about getting the 'why', then doing the 'how', and then making sure you preach it on a continuous basis.
"It's not just a once-off, because to form habits you have to think about doing them. Once you master the habit, it's about doing it, and not thinking about it. In order to formulate habits, it's a lot of repetitive stuff, it's a lot of making sure it's done right.
You can build a bad habit as well as a good habit, so it's about making sure the good habits are really hammered home as part of what we're looking for as a collective unit."
Foley's excellent standing among the players at Munster has been built up through the close individual skills and unit work he carries out in his current capacity as an assistant coach. His focus has been on the forward pack, as well as the defence and the entire area of the breakdown.
Moving into the head coaching position, Foley acknowledges that the "worst thing I could do would be to step away" from the technical side of things, but he understands that he "won't be able to do everything."
Without going into specifics, the Shannon clubman says the process of appointing his backroom staff is developing, and stresses that a vital part of his new role will be making sure he has "enough people around you that you trust to get the little bits done."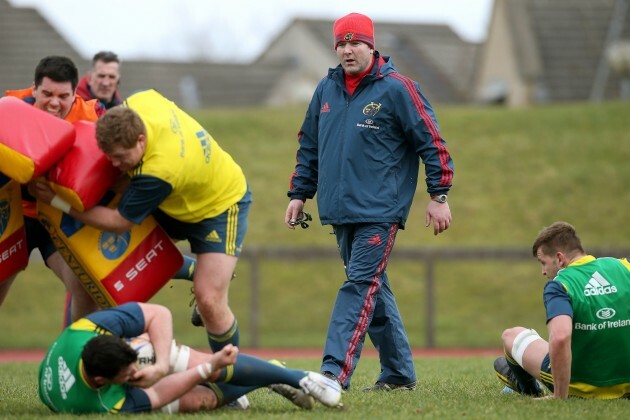 ©INPHO / Ryan Byrne ©INPHO / Ryan Byrne / Ryan Byrne
Foley's role will become more about overseeing the entire operation, with his demands feeding into the work his own assistant coaches carry out in the day-to-day training. That will all relate back to how the former No. 8 wants his team to play the game, an issue that has perhaps concerned some Munster supporters.
Foley is of the belief that success in rugby is based around constantly improving the core skills of the players. While the game plan and the tactics are certainly of high importance to him, Foley says better players will mean a better team display.
"I think the most important thing, the one thing I've seen as a coach and a player, is that the core skills – the catch-pass, decision-making, tackling, understanding when to do things – are vital.
If you don't have the core skills – an ability to run a line, the ability to create space, the ability to put away passes, the ability to tackle, the ability to do breakdown work – there's no point in having an overall philosophy."
Nor does Foley want his Munster team to become overly slavish to one particular pre-agreed pattern or shape. The 62-times capped Ireland international sees adaptability as an important element.
Exclusive Six
Nations Analysis
Get Murray Kinsella's exclusive analysis of Ireland's Six Nations campaign this spring
Become a Member
"You get your fundamentals right first, then you get a structure in place and that structure can change from week-to-week, opposition-to-opposition, depending on conditions and weather. It's got to be a small bit flexible, so I'll try not to lock us into something that isn't flexible and make sure it's well within our playing ability to do it.
"To be honest, there isn't too much within this group that we can't do in terms of the ability of player we have. It's about not being vague or not being too broad in our strokes.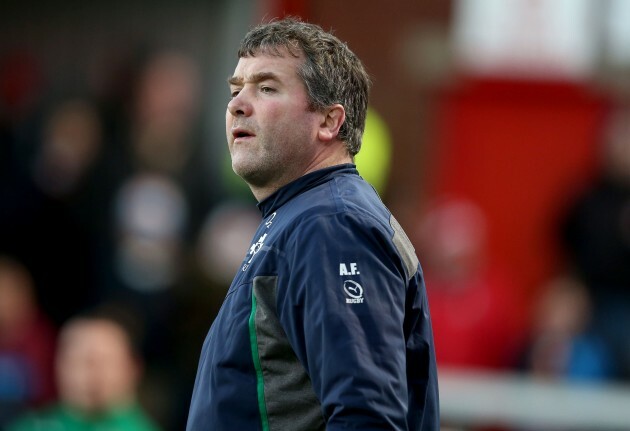 ©INPHO / Dan Sheridan Serving as the Ireland Wolfhounds head coach has been a stepping stone for Foley. ©INPHO / Dan Sheridan / Dan Sheridan
"It's about being nice and tight, accurate in what we're doing and a lot of that will be about improving our catch-pass, a lot of it will be about improving our decision-making, a lot will be running lines, creating space. That will probably take up most of pre-season, to be honest."
As Penney's demands that Munster move the ball wide repeatedly when in possession have begun to pay real dividends this season, some critics have suggested that by appointing Foley as their next head coach, the province are regressing.
Those assertions are loosely based around the idea that Foley is heavily indoctrinated in 'the Munster way' of playing the game, a forwards-orientated style that resulted in so much success in the 2000s.
But that theory snags upon an underlying stereotyping of rugby in the southern province, according to Foley.
We have a great laugh about that. Niall [O'Donovan, Munster's team manager and a man Foley says will be vital for him as head coach] dropped a DVD into me of Shannon's '97/98 season, back in the good old days of Rhys Ellison, Mick Galwey, all those lads. Jesus, we played some rugby.
"I know you're only looking at the highlights, but even when you go onto YouTube and look at some of the games we played for Munster, obviously we had forward dominance, but our backs were excellent and our inter-change and continuity, our ability to take on fellas, it was all part of the game.
"I just think at times it gets very lazy in spectators or commentators about pigeon-holing what we used to do. We had a brand of rugby that we were very comfortable playing because all our club sides played it.
"When we went from our club sides to Munster, it became very much based around keeping the ball alive, keeping continuity, keeping that pace on the game that we could live at, while also making sure that we won the physical battles."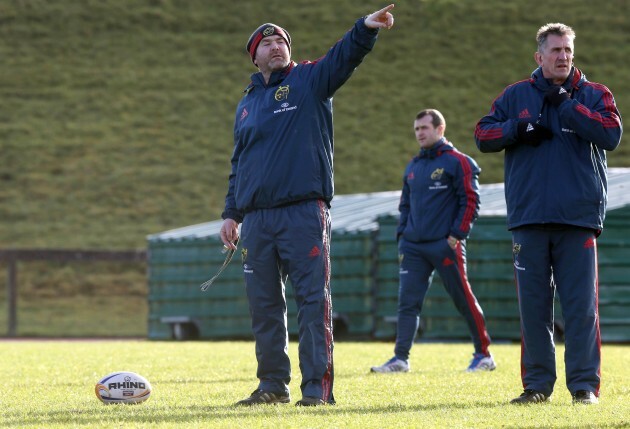 ©INPHO / Donall Farmer Foley says he has learned about different ideas and philosophies under Penney. ©INPHO / Donall Farmer / Donall Farmer
These words will perhaps offer encouragement to any Munster fans with reservations, but the real judgement on Foley's ability as a head coach will come in the next two [or three] seasons with the results on the pitch.
He stresses that this is something of a step into the unknown for everybody involved, but says he will ensure "every rock is turned over" with Munster's success in mind. Foley has interacted with coaching mentors as part of his learning curve, aware that he is still moving upwards along that arc.
Penney has been part of that procedure, being "the most positive man you'll ever come across." Former Munster head coaches Declan Kidney, Alan Gaffney and McGahan have all been involved in the cross-pollination of ideas too.
I rang Tony on a number of occasions over the past couple of years. I've rung Alan, I constantly talk to Declan Kidney. They've been through this, they've lived this, they've had their questions, doubts and successes.
"Rather than making the same mistakes they made, you can talk to them and get their ideas, the reasons they do things. Nobody has all the answers; it's about having a circle of trust, I suppose, having people that you can call upon that you know and respect.
"It's always good to be constantly communicating and it's important. It's the same with the players. It's about allowing them to have their views as well. It's great to have those rugby chats, because different ideas pop up and you can bounce ideas off people."
"Everybody here loves the game, everybody here loves Munster."
Anthony Foley is an ambassador for the Guinness Plus App, which is giving fans the chance to win some epic prizes, including the opportunity to join current Irish International Sean O'Brien for a one-of-a-kind rugby masterclass. The Guinness Plus App is available to download for iPhone and Android smartphones from the iTunes App Store and Google Play Store now.