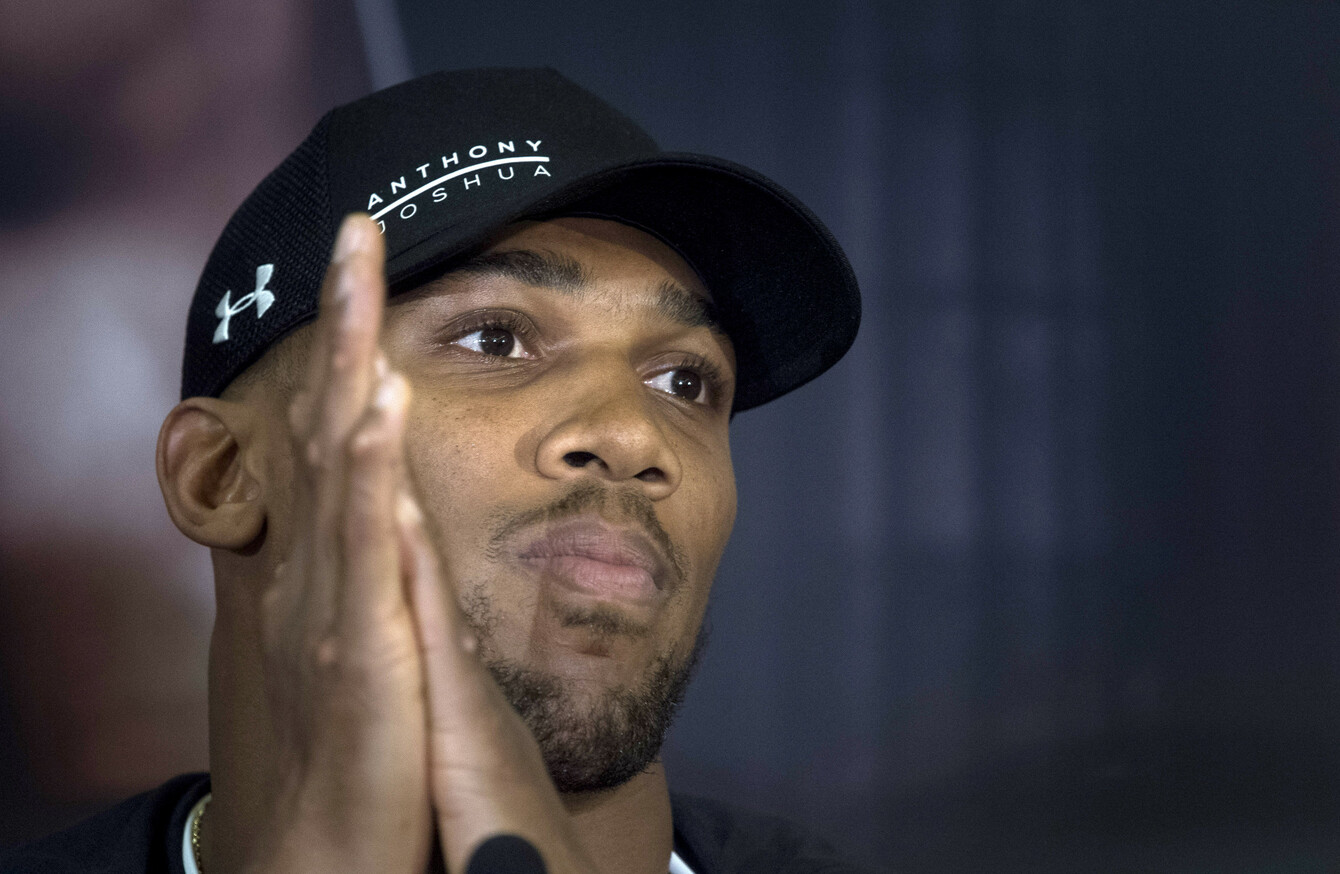 Image: Victoria Jones
Image: Victoria Jones
ANTHONY JOSHUA HAS laughed off defamatory claims from his upcoming opponent, WBO World heavyweight champion Joseph Parker, that he is 'the king of steroids'.
Parker's jibe at the British superstar was delivered in response to Graham Norton labeling him 'the king of pies' during Joshua's appearance on the Cork man's BBC talk show last Friday – a joke made at the expense of Parker's less-than-ripped physique.
Speaking to UK reporters after yesterday's first Joshua-Parker press conference, 'AJ' dismissed Parker's accusations and claimed that if he had been doping for past fights, he'd be found out against Parker due to the stringent nature of drugs test he'll be forced to undergo in the lead-up to their unification bout on 31 March.
He also insinuated that Parker was 'putting on an act' in order to sell their fight – an approach Joshua has shirked while still managing to sell out Wembley Stadium and the Principality Stadium in his past two fights.
"In this sport, your life's on the line. Anything to do with that type of stuff you have to be careful," said Joshua. "People's lives are on the line, it's not like a game of golf.
"I've heard so much in boxing trash talk that nothing's new anymore.
"Can I sue him?" he asked to laughter from newswire reporters at London's Dorchester Hotel.
"I know my records are clean. That's why I don't bite at it.
It is what it is. If I'm not clean, you'll find out this fight. If I haven't been clean for all my other fights, you'll see me struggle against Parker because anything I have been taking will be out of my system.
"Trash talk has a place in boxing if it's natural but you shouldn't use it as a tool to sell the fight. I would never put on an act to sell a fight."
Joshua also welcomes the prospect of British rival Tyson Fury walking Parker to the ring in Cardiff in March.
Parker controversially defeated Fury's cousin, Hughie, to retain his WBO belt in September, but remains friendly with the former World heavyweight champion; the pair partook in a 'haka' together following Parker's points victory in Manchester.
Parker told the UK Daily Mail of Fury yesterday: "I might give him a text and say, 'Bro, do you want to walk in with me?' He may just walk in with me or he may just sit in the front row and watch the fight. But I know I have a lot of support from Tyson, which is awesome."
Victory for Joshua would potentially benefit Fury's coffers more so than a Parker upset, with the former champion eyeing a bout with his successor should he regain his British boxing licence as expected.
Fury, however, has predicted Parker will shock the boxing world in March – a notion Joshua hasn't paid much heed to.
"It's good. It brings attention to the sport," Joshua told Sky Sports News about Fury attending his upcoming bout.
"It will be interesting because I am sure Fury will try and do a little tag-team and do a few rounds for him. He's just got that in his locker.
No matter what he says outwardly, he has a lot of underlying respect for me and that's just as a far as I know but I just take it with a pinch of salt.
"I don't take anything from him to heart and if he wants he is welcome to walk to the ring."