ANTRIM'S U21S SURPRISED everyone by making it to an unlikely All-Ireland final — even themselves, captain Jackson McGreevy admits.
Kevin Ryan's men had the odds stacked against them when they came up against 1/80 shot Wexford in Semple Stadium last month.
An early goal set them on the road to a shock two-point win and today they make history as the first Ulster side to compete in the Bord Gáis Energy U21 hurling final.
Standing in their way are defending champions Clare who stuffed them by 29 points in last year's All-Ireland semi-finals.
That hammering followed equally demoralising defeats against Tipperary (28 points) and Dublin (26 points) in the 2010 and 2011 semis.
"It was definitely a surprise when we won", McGreevy, 19, said. "We had been struggling for numbers in training that week but we got the lucky goal at the start and that's what we needed, the bit of luck.
We still have a few players on the panel that lost against Clare last year. They didn't want to go down against Wexford and get the same treatment we got every year.
"We stuck to our job but we were surprised we were even in the game at half-time.
"Our preparation wasn't what you'd expect from a team that was playing an All-Ireland semi-final. But we stuck to our job, played well and got the win."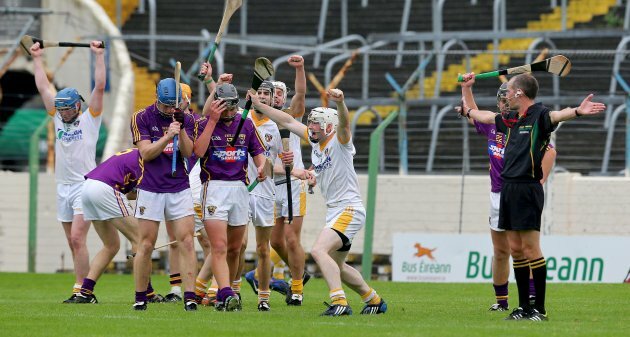 Unlikely lads: Antrim celebrate against Wexford (INPHO/Lorraine O'Sullivan)
Two nights before that semi-final Antrim had just 14 players at training, and getting enough commitment to form a full panel is still an issue.
"We're still stuck for numbers," McGreevy said. "Every player has a different excuse but that's up to them. They could be valid enough excuses, they might not.
"Sure what you can do? There's so much other stuff fellas have to commit to, work and so on. Fellas can only give what they can.
Inter-county does take up a huge amount of your time. All I can do is play my part, do what I can do.
While Antrim struggle, Clare can call on David McInerney, Colm Galvin, Podge Collins and Tony Kelly as well as nine or 10 others who have been involved with Davy Fitzgerald's senior panel.
"We have to be realistic, Clare are hot favourites. They have 14 of the senior panel from last Sunday against Cork while in Antrim we have less than 20 players who have prepared for this.
"We just have to do what we can."