THE MAYO LOCALS remembered her immediately.
They might not have known her name, but to them, she was That Little Red-Haired Girl who spent summers in Kilmaine with the Kellys.
To the wider world, she is Aoife Mannion — recently-capped Republic of Ireland international and Manchester United defender.
In February, after a few weeks of whispers, Mannion was called up to Vera Pauw's squad for a training camp in Spain and impressed on her debut against China PR.
A former England underage international, the 27-year-old was born in Birmingham to two Irish parents. Her father Bernard is from outside Athenry in Galway, her mother Kathleen hailing from near Kilmaine across the border.
Her uncle, Pat Kelly, played for Mayo.
In her first interaction with the Irish media, Mannion spoke fondly of her relationship with Kelly. His status as a Mayo footballer was her "personal claim to fame," she explained.
Perhaps now, it's the other away around as he follows her World Cup dream.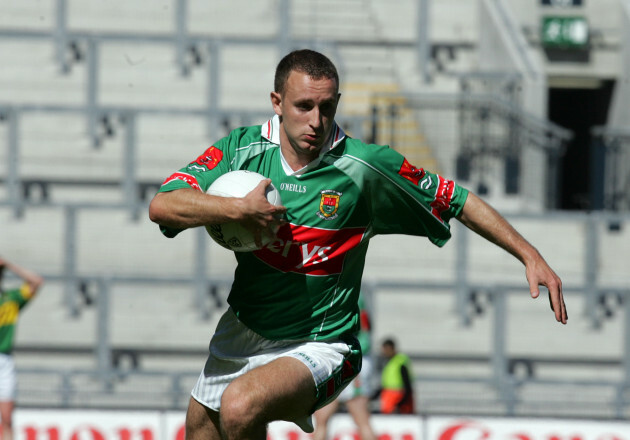 Andrew Paton / INPHO Pat Kelly in action for Mayo in 2005. Andrew Paton / INPHO / INPHO
To Kelly, she's just Aoife. Always has been, always will be.
The early memories come flooding back, from babysitting her to football in the garden.
"I suppose from the age of three, she would have come home for the first 10 summers," he tells The42. "When school shut down over there, she'd come home and stay with us.
"Really like a little sister in one way. She's a good few years younger than me but if we were playing soccer outside, she'd be out playing. You'd be keeping the ball off her, she couldn't get onto it too easy just because she was that good amount of years younger than you! She wasn't afraid to get stuck in.
Since the last squad, the amount of people that have said to me locally, 'I remember that little red-haired girl hanging around with your parents during the summers!' I suppose the red hair stood out locally as well.
Mannion shared those same memories of playing football in the garden and wearing his old jerseys. She piped up with a "Mayo for Sam," as she explained her GAA allegiances: Mayo in the football, Galway for the hurling. Generally, anyway.
Kelly confirms as much, but can't help but laugh as he casts his mind back through the years.
"In terms of Gaelic, she'd wear any kind of jersey really. Being at Mayo-Galway games, she'd have the two jerseys on — Mayo first, but if Mayo had lost, she wouldn't be too long whipping off the Mayo jersey with the Galway one underneath.
"She was actually coming out of MacHale Park one year as a little kid, Galway had beaten Mayo and she had taken off the Mayo jersey. Sure she was bawling coming out, but wearing a Galway jersey. There were one or two comments passed: 'You're the only Galway person coming out today crying!'
"She'll say herself in terms of the football side of it, it was always Mayo and she would always say Galway for the hurling to keep everyone happy."
Delighted to get a call up for @FAIreland women's national team 🍀💚 pic.twitter.com/ktTI2PRfvm

— Aoife Mannion (@aoifemannion_) February 10, 2023
It's been a special few weeks for Mannion and her family.
From that excellent debut in Marbella to a recall for the upcoming USA double-header as World Cup competition heats up, and a full United return after two cruciate ligament knee injuries, the Solihull native is living the dream again.
A rollercoaster few years capped in the green of Ireland.
"England nabbed her first underage," Kelly says. "Look it, we were delighted for her — I won't lie, I was delighted for her. We would have always held out some kind of hope that she would at some stage maybe change allegiance back.
"For it to happen then… it's not just the World Cup, she had made that decision far before qualification, that's what she wanted to do. There probably were a few people out there that might have thought at the time that she jumped on the bandwagon or something like that, that's not the case, she had her mind well made up long before that.
We're delighted for her. If there's one downside of it, it's a pity her two Grandfathers aren't around to see it. They'd have been delighted to see that.
Particularly after the challenging road she has travelled.
Kelly proudly watched her Ireland debut from work that day — "I have the lads hooked on women's football now! It will be a big summer, that's for sure" — enjoying the highs, having also been there for the lows.
Her uncle was in attendance the first time she tore her cruciate in Champions League action with former club Manchester City. "I don't think she realised how serious it was," he recalls, having met her the following morning.
Most of her rehabilitation and recovery took place in her family garden in Birmingham amidst the first Covid lockdown, and unfortunately, Mannion was back to square one a few short months later.
"She's just been through a long, long time of the injuries so to see her back playing now and coming back playing well and fit, it's great," Kelly beams. "We're all delighted for her.
"We genuinely couldn't be more proud of her here. My little one is six, she adores her. If she doesn't want to eat this or that, we always say that Aoife's eating it and she doesn't be too long eating it then!"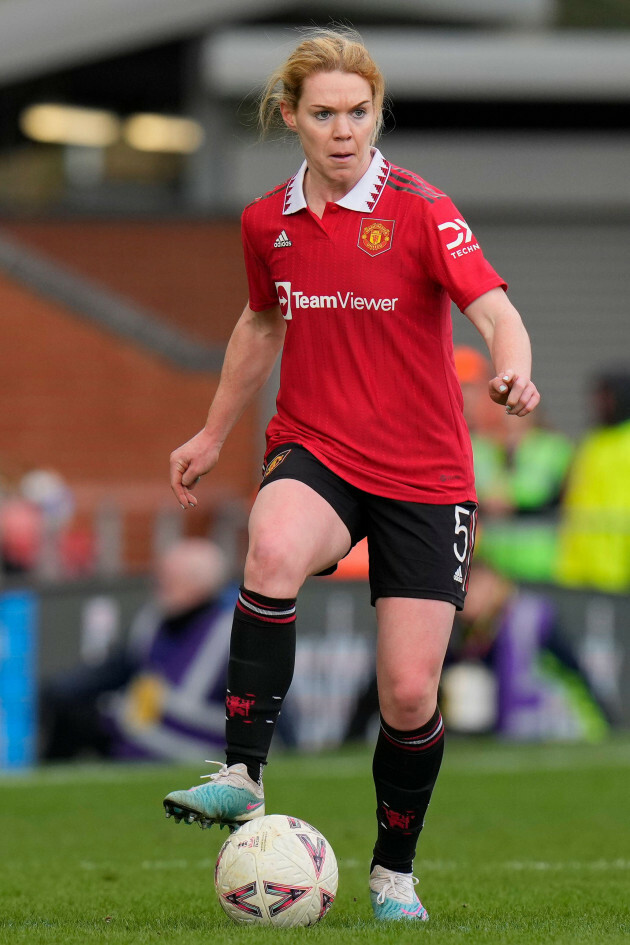 Alamy Stock Photo On the ball for Manchester United recently. Alamy Stock Photo
A blockbuster Easter weekend of sport lies ahead.
On Saturday, Kelly will be tuning in to RTÉ Two at 7.30pm as Mannion targets her second Irish cap against world champions, the USA.
On Sunday evening, all eyes will be on Mayo's Connacht senior football championship opener against Roscommon at MacHale Park.
"There'll be a lot of television watched, that's for sure," Kelly grins.
The focal point for the Kellys in Kilmaine will be That Little Red-Haired Girl.
Aoife Mannion.
Just Aoife.
"We can't say enough how proud everyone is around here," Kelly concludes. "She's a really genuine and lovely person, even away from the football. She's a role model really.
"We're very proud of her."