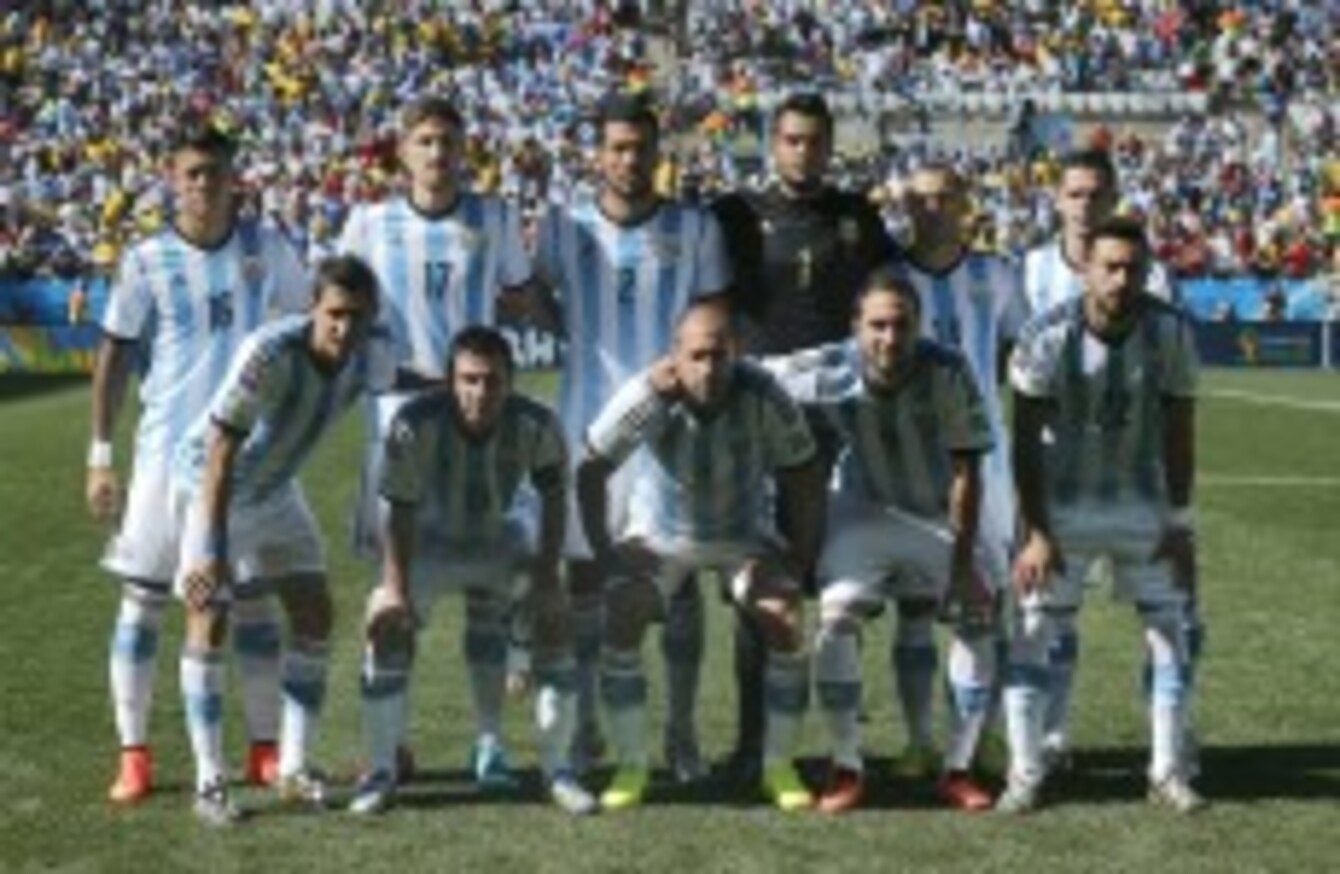 The team which started against Switzerland.
Image: Victor R. Caivano
The team which started against Switzerland.
Image: Victor R. Caivano
How many times have they won it before? Twice – in 1978 and 1986.
Predicted starting lineup v the Netherlands: Romero, Zabaleta, Garay, Demichelis, Rojo,  Mascherano, Biglia, Perez, Aguero, Messi, Higuain.
Random fact: Tomorrow's semi-final lands on 9 July, which also happens to be Argentina's Independence Day.
What are their strengths?
For the first time since 1990, Argentina have made it to the last four. The last time they won the World Cup, in Mexico 28 years ago, a supremely-talented number 10 led La Albiceleste out of the group stages, narrowly past their opponents in the knockout rounds and all the way to the final — where they overcame West Germany.
This time around, the narrative could end up being remarkably similar. Ear-marked as the man hell-bent on securing his place among greats such as Diego Maradona and Pele.
Lionel Messi has certainly come up with the goods so far — scoring four vital goals and providing a wonderful assist for Angel Di Maria's winner against Switzerland in extra-time of their last-16 tie. As the tournament has progressed, so has Messi's influence on how the team play.
Alejandro Sabella is also been boosted by news that striker Sergio Aguero has recovered from an ankle injury which ruled him out of the last two games with the help of intensive treatment.
The Manchester City man may not have been in top form at this tournament and risking him from the start against the Netherlands would be a gamble, but his brilliance is undeniable and he offers a bigger goal threat than alternatives like Ezequiel Lavezzi or Rodrigo Palacio.
Further back, Aguero's team-mate Martin Demichelis was picked ahead of Federico Fernandez for the quarter-final win and, despite a couple of high profile mistakes for City last season, he significantly improved the Argentine backline alongside Ezequiel Garay.
Another factor is that this is a united team all pulling in the one direction. Players like Garay, Javier Mascherano and Pablo Zabaleta aren't spectacular but will always be tough opponents to face.
What are their weaknesses?
The loss of Angel Di Maria is a significant blow. The Real Madrid winger suffered a thigh injury against Belgium and has been ruled out of the semi-finals. As well as offering a goal threat, Di Maria acts as a link between the defensive midfielders and the attacking trio.
Benfica's Enzo Perez came on in his place and is likely to start on Wednesday. Picked over Ever Banega in the Argentine squad, last season's Player of the Year in the Portuguese League is a solid midfielder but offers a fraction of Di Maria's vision going forward and Argentina are in danger of suffering from a lack of creativity against the Dutch.
Elsewhere, Marcos Rojo of Sporting Lisbon was a left-field choice to start at the beginning of this World Cup but the 24-year-old has made a name for himself as an attacking left full-back over the past month.
Suspended last Saturday, he looks set to return to Argentina's defence but will have the unenviable task of trying to contain Arjen Robben, and his defensive capabilities are going to be put to the test against one of the best players in the world.
Who is their star man? 
You've guessed it… that man Messi. He's already the one his team-mates look to for a moment of magic but, with Di Maria missing, the Barcelona star will have to carry even more responsibility in attack.
Nigel de Jong would no doubt have been tasked with trying to stop the supply to Messi had he not been ruled out of the World Cup through injury and Louis van Gaal's three-man defence will have to be at their best to contain him.
Prediction: Third place.