Updated 17.15pm
MARTIN CASTROGIOVANNI AND Delon Armitage are to face misconduct complaints brought to them by the EPCR at a hearing next Wednesday in London.
The EPCR confirmed this evening that they were bringing the complaints against the Toulon players.
It was revealed last Monday that an investigation was taking place into the alleged use of "offensive language" by Castrogiovanni and Armitage in seperate incidents during and after last Sunday's Champions Cup clash between Toulon and Leicester.
The official complaint against Castrogiovanni is that after the game he made "a number of comments to the media in which he attacked, disparaged, criticised, damaged and/or brought into disrepute Leicester Tigers, the club's Director of Rugby, Richard Cockerill, EPCR, the European Rugby Champions Cup and the sport of rugby union."
The official complaint against Armitage is "that during and after the match he is alleged to have conducted himself in an unsportsmanlike manner by making a number of comments to, or within earshot of, spectators using foul and abusive language."
An EPCR statement on Monday had revealed that both incidents were "referred" to them by Leicester Tigers.
Toulon prop Castrogiovanni made headlines across the rugby world for the remarkable quotes The Guardian reported he made post-match at Welford Road.
Dan Sheridan / INPHO Leicester head coach Richard Cockerill. Dan Sheridan / INPHO / INPHO
"I never want to speak with Cockers any more," Castrogiovanni is alleged to have told the English newspaper in regards to his former coach at Leicester, Cockerill.
"I am the kind of guy that if I hate you, if you are not clear with me or if you have been a cunt, how you say in English, I never want to speak to you any more.
That's it. That's how I am. I am not fake. If I hate you, I say in your face and I will never speak to you again. Love me or hate me. I don't hate anyone. Peace and love. I just don't like cunts."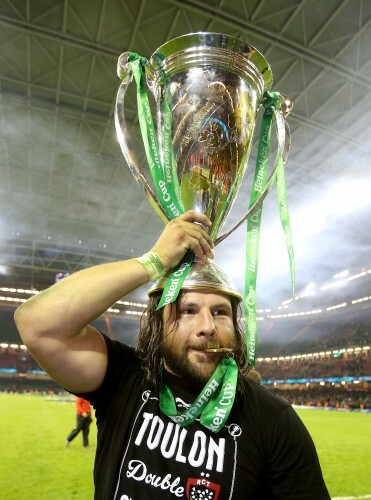 Dan Sheridan / INPHO Martin Castrogiovanni celebrates winning the Heineken Cup final last May. Dan Sheridan / INPHO / INPHO
******
- This article was originally published on 8 December at 20.03pm