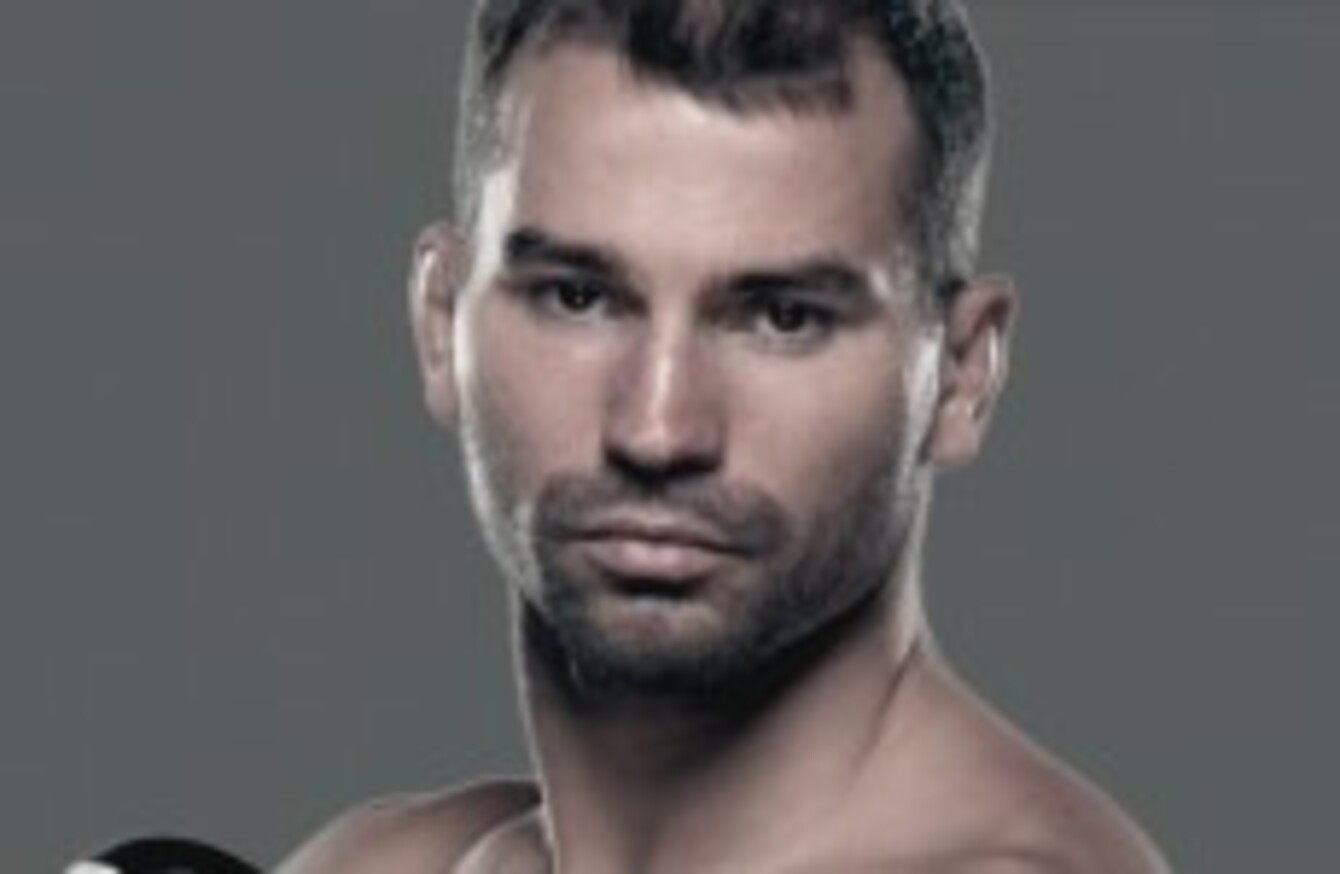 Artem Lobov
Image: Ultimate Fighting Championship
Artem Lobov
Image: Ultimate Fighting Championship
ARTEM LOBOV FINALLY got the chance to prove if he was worthy of a spot on the current season of The Ultimate Fighter last night.
In the latest instalment of the 22nd series of the UFC's reality show, Lobov — representing Conor McGregor's Team Europe — took on James Jenkins from Team USA, who are being coached by Urijah Faber.
*The episode aired in the early hours of this morning but it will be repeated tonight at 10pm on BT Sport 2. If you're planning to avoid any spoilers until then, don't read any further.*
Lobov, who was born in Russia but has lived in Dublin for 12 years, is one of McGregor's team-mates at Straight Blast Gym, so the UFC interim featherweight champion has a vested interest in the 29-year-old's progress.
"Artem is my team-mate," said McGregor. "This team I'm with currently [on The Ultimate Fighter] are not my team-mates. We don't know each other. Of course I will have a stronger bond and a deeper connection with Artem. I'm not going to fake it, say I don't and it's all equal, because it's not. I was here for Artem."
However, a stroke of good fortune has kept Lobov in the competition until now. He was originally eliminated following a majority-decision defeat to Mehdi Baghdad in the round of fights to secure a place in the house.
But in an unprecedented move, UFC president Dana White gave each coach the option to bring back one of their defeated fighters. Unsurprisingly, McGregor decided to hand Lobov a second chance and he was keen to justify that move when he took on Jenkins.
"When Dana said to me you're going to get a second chance to go back into the house, I was very happy but I said it to him right away: I don't think I deserve this but I'm sure as hell going to take it," Lobov said.
The final two fighters in the competition will clash in Las Vegas on 11 December, when a UFC contract will be on the line. Lobov aimed to move one step closer to that goal when he and Jenkins locked horns in the latest episode.
Fighting with his trademark hands-by-his sides approach, Lobov had the better of the exchanges from the outset, controlling his opponent with punches and leg-kicks. As the first round entered its final minute, Lobov clipped Jenkins with a nice right-counter and followed up with ground-and-pound to seal the stoppage at the 4:05 mark.
"I think, after that performance, there'll be no more questions about who should be here and who shouldn't. Everybody knows that Artem Lobov belongs in this place," said Lobov.
Lobov's performance also received plenty of praise from Dana White, who said: "Artem went in there and destroyed Jenkins. He hit him with some big punches; bombs, he hit him with. Artem proved, to me and everybody else, that he deserves to be in this competition."
A delighted McGregor added: "Artem's fight against Jenkins was a solid performance by Artem. James is tough, he's durable, he's got some good skill, he's got good heart… when Artem cracks you on the chin, heart is not enough."
Last night's episode also featured a second fight — between David Teymur of Team Europe and Team USA's Johnny Nunez, with Teymur emerging victorious by unanimous decision after a sudden-death third round.
What are they
really like?
Rare insights on sport's biggest names from the writers who know them best. Listen to Behind the Lines podcast.
Become a Member
One of the main talking points, however, was the absence of Coach McGregor, who didn't show up for the fight until just before the beginning of the third and final round.
"Every fight for TUF is scheduled for 4pm. It's 4.15pm and Conor's not there yet so the Nevada State Athletic Commission came in and said we're not going to wait any longer, so we had to start the fight without Conor," explained Dana White.
McGregor, who has previously been criticised by Urijah Faber for apparently neglecting his team, said: "For the first two rounds of this fight I was running a little bit late and unfortunately somebody messed up and didn't hold the fight for me. I was instantly upset but I got in there and then that was it. I enjoyed the final round and it was what I thought it would be."
The victories for Lobov and Teymur mean that McGregor's Team Europe hold a 5-3 lead over Team USA heading into next week's final preliminary fight between Abner Lloveras and Jason Gonzalez.
Next week's episode will also see one of the nine winners cut from the competition, but having secured the first (T)KO of the season so far after a dominant display, Artem Lobov should be safely through to the quarter-finals and he'll fancy his chances of going all the way.