LEE CHIN IS no stranger to trying his hand at different sports.
Hurling is his first love, but the 24-year-old is also a talented Gaelic footballer and was a dual player with the Wexford seniors in 2013.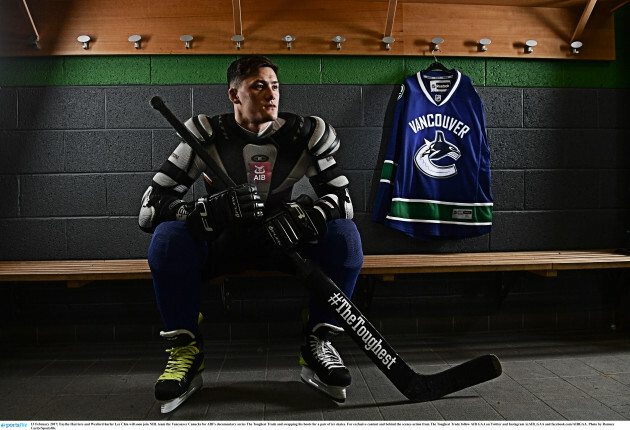 Ramsey Cardy / SPORTSFILE Chin is off to Canada as part of AIB's 'The Toughest Trade'. Ramsey Cardy / SPORTSFILE / SPORTSFILE
On one occasion that year he dashed home from Armagh, after Wexford's Division 2 league game was postponed, and made it to Wexford Park 10 minutes before their Walsh Cup final threw-in. He played as a second-half substitute in that defeat to Dublin.
In his younger days, Chin made a name for himself on the soccer scene and was even scouted by some clubs in England as a 15-year-old.
He featured for Waterford United in 2011 and late last year signed with Wexford Youths for the final six games of their battle for Premier Division survival.
liam ogrady / YouTube
His ability to quickly adapt to other codes meant Chin was an obvious candidate to partake in the latest season of 'The Toughest Trade.'
After Wexford play Galway in Division 1B of the league this weekend, the versatile hurler is off to the west coast of Canada where he'll link up with ice hockey side the Vancouver Canucks for six days.
He admits he had little hesitation when the idea was pitched to him.
"There is that little kid inside me that wants to try everything," Chin says.
"I don't know much about the sport but I am interested in the speed of it and it will be nice to see a bit better what is going on out there.
"I've watched The Toughest Trade the last few years and found it very interesting getting the insight into other sports and other lifestyles.
"When I first got the call I asked for a few days just let Davy know in my own time, because he was just newly appointed and I knew it wouldn't be something he would want to hear in the middle of the National League.
"He was more than happy to let me proceed."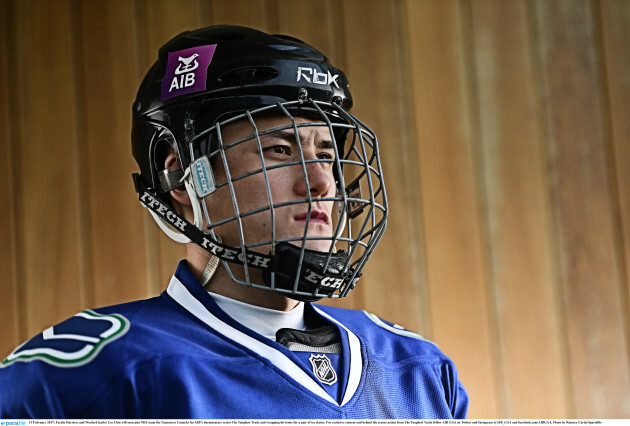 Ramsey Cardy / SPORTSFILE Ramsey Cardy / SPORTSFILE / SPORTSFILE
A brainchild of GAA football championship sponsors AIB, Chin is following in the footsteps of small ball stars like Jackie Tyrell of Kilkenny, who tried his hand at baseball, and Tipperary's Brendan Maher, who sampled cricket.
Former Canucks goalie Alex Auld spent the last week in Wexford training with Chin's club Faythe Harriers, and the 2016 All-Star nominee will return the favour next week.
His experience on the ice is limited, although he did get some practice in over the festive period when a Winter Wonderland stopped off in Wexford town.
"In fairness to the lad that owned it he gave me the run of the place when I was there. I got a couple of sessions in there but nothing much."
The risk of injury is very real, particularly in one as violent as ice hockey. By the time he returns Wexford will be preparing for the latter stages of the league campaign with the championship on the horizon.
Chin is well aware of the dangers involved.
"I suppose, being unstable on the ice and not having too much experience, it will be a difficult one. It's something that I hope they'll be able to show me how to protect myself when I get over there and maybe be a little bit more stable on the ice.
"It's like anything, same in hurling, if you go into a game trying to avoid injury you'll be more prone to getting one.
"I'm not really thinking about it at the moment. I did think about it at one stage obviously: 'I hope I come back in one piece', but I don't think what I'll be doing is going to be too dangerous.
"It will be nearly down to myself, me injuring myself than anybody else doing it, so I'll just have to keep the wits about myself and try to get back here in one piece."
The42 is on Instagram! Tap the button below on your phone to follow us!